China awards Donald Trump valuable trademark days after he agrees to honour 'One China' policy
US President struggled for nearly a decade to win the rights but see court rule in his favour shortly after his election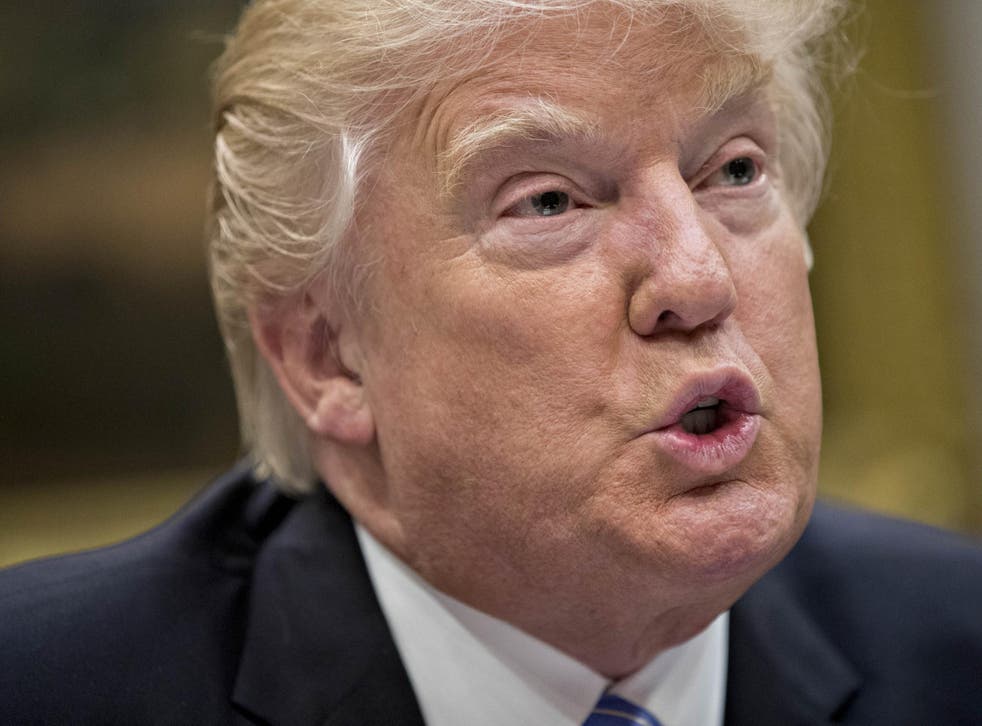 China has awarded Donald Trump a 10-year trademark for construction services in his own name, a decade after the businessman began his attempts to have the measure approved.
It is thought to be the first trademark awarded to Mr Trump's real-estate business since he was elected.
It comes days after the US President said he would stick to the country's "One China" policy, ending weeks of speculation he could break four decades of foreign policy by addressing Taiwan directly rather than as part of "One China".
Mr Trump previously stirred up diplomatic concerns after he arranged a phone call with Taiwanese President Tsai Ing-wen shortly after the 2016 election.
The call was the first by a US president-elect or president since Jimmy Carter switched diplomatic recognition from Taiwan to China in 1979.
Following the phone call, China lodged a protest with US officials.
But last week, the White House confirmed that after a "lengthy phone call" with China President Xi Jinping, the White House said that the two "discussed numerous topics and President Trump agreed, at the request of President Xi, to honour our 'One China' policy".
Mr Trump won the legal dispute over the right to use his name in China shortly after he was elected US President.
The trademark, which aims to provide real-estate-agent services in commercial and residential properties in China, was then provisionally approved after a year-long legal fight, The Wall Street Journal reports.
The reasons for Mr Trump's victory in the case are unclear and come more than 10 years after Mr Trump first registered his trademark in China, in 2006.
The U-turn over Mr Trump's trademark shortly after his election has raised questions about the extent to which his political status may be helping his family business.
He has 49 pending trademark application in China and 77 have already been registered in his own name, most of which will come up for renewal during his term.
World news in pictures

Show all 50
The US President critics say these business interests could be used by foreign government as leverage over Mr Trump. This would violate the first article of the Constitution, which bans holders of public office from receiving financial benefits from foreign governments unless explicitly approved by Congress.
Any special treatment from China would mean Mr Trump was effectively accepting gifts from Beijing.
Chief White House ethics lawyer under President George W Bush, Richard Painter, said: "A different conclusion might be reached if Trump had been treated like everyone else seeking a trademark, but the evidence does not point in that direction."
Alan Garten, chief legal officer of the Trump Organisation, said Mr Trump's trademark activity in China started well before his election and that Mr Trump handed over the management of his company to his children and a team of executives to remove himself from his business and its trademark.
China's State Administration for Industry and Commerce, which oversees the Trademark Office, and the foreign ministry could not be reached for comment.
Register for free to continue reading
Registration is a free and easy way to support our truly independent journalism
By registering, you will also enjoy limited access to Premium articles, exclusive newsletters, commenting, and virtual events with our leading journalists
Already have an account? sign in
Register for free to continue reading
Registration is a free and easy way to support our truly independent journalism
By registering, you will also enjoy limited access to Premium articles, exclusive newsletters, commenting, and virtual events with our leading journalists
Already have an account? sign in
Join our new commenting forum
Join thought-provoking conversations, follow other Independent readers and see their replies