Colombia plane crash: Video shows co-pilot and football team's excitement before doomed flight
Seventy-one people, including most of the players of a leading Brazilian football team, were killed in the crash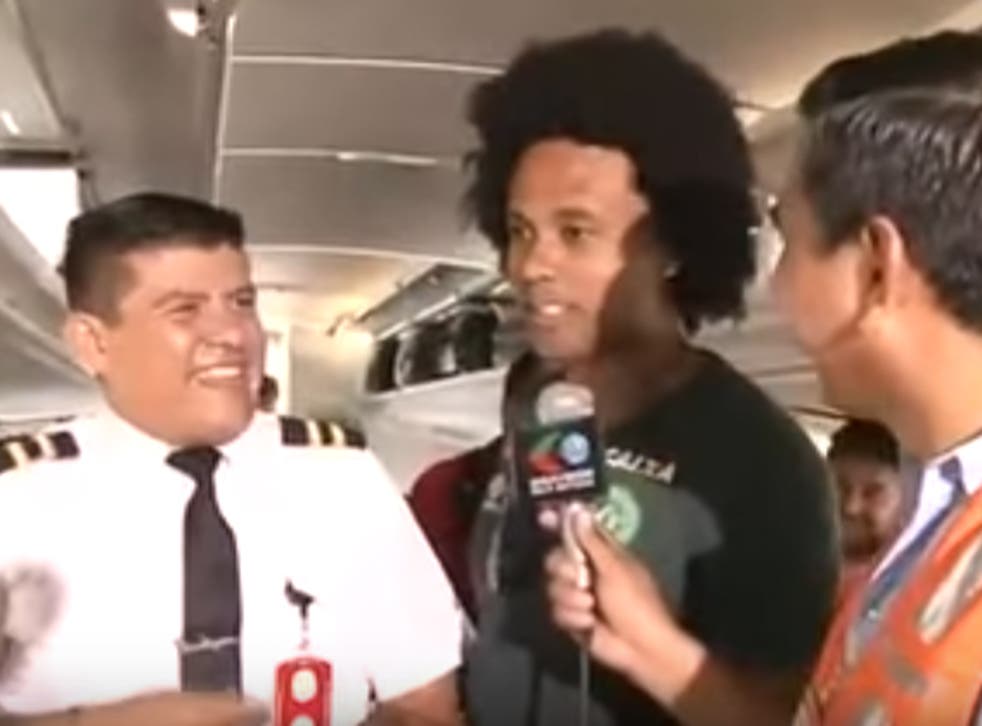 Footage has emerged of the Chapecoense football team and a co-pilot being interviewed hours before their plane crashed into a mountainside in Colombia.
Seventy-one people, including most of the players of the leading Brazilian football team, were killed after LaMia Flight CP2933 crashed on the approach to Medellín's main airport leaving just six survivors.
They had departed from Santa Cruz in Bolivia on Monday for the first leg of the Copa Sudamericana final.
Speaking to the Bolivian TV channel Gigavision before takeoff, the team and air crew are seen in the footage expressing their excitement about the forthcoming finals and the flight ahead.
Sisy Arias, who was on her first flight as a civilian co-pilot and was killed in the incident, is interviewed by the channel in the jet's cockpit and spoke of being proud that the football team were using a Bolivian airline.
The 29-year-old, who is also a well-known model, said: "One of the things that is very important to know is that the team is using a Bolivian airline to take them to Medellin, even if they are a Brazilian team," the Daily Mail reports.
Her father, the journalist Jorge Arias, announced his daughter's death on social media, saying: "I hope God will keep her in his glory. My girl, I love you, I loved you and I will always love you."
Medellin Plane Crash

Show all 17
Her brother, Junior Arias Paravicini, wrote on Facebook: "Dear Sister I'm going to miss you the rest of my life I have left, I have no words to express all the pain and emptiness I feel."
The footage also shows one of the crew members congratulating the team on reaching the final of the contest, saying "I think we will return good results", the BBC reports.
Everton dos Santos Goncalves, striker for Chapecoense, then approaches the crew member saying "everything is fine because he is in charge".
The disaster has prompted a full investigation that involves Colombian, Brazilian, Bolivian and British authorities, with the plane's two 'Black Boxes' being flown to the United Kingdom for analysis.
Aviation authorities have already suggested the plane ran out of fuel after being put into a holding pattern, having already exceeded its maximum time and distance of travel.
Join our new commenting forum
Join thought-provoking conversations, follow other Independent readers and see their replies