Dallas police shooting: Everything we know about the police officers killed
All five slain officers have been identified
Katie Forster
,
Feliks Garcia
Saturday 09 July 2016 00:01 Comments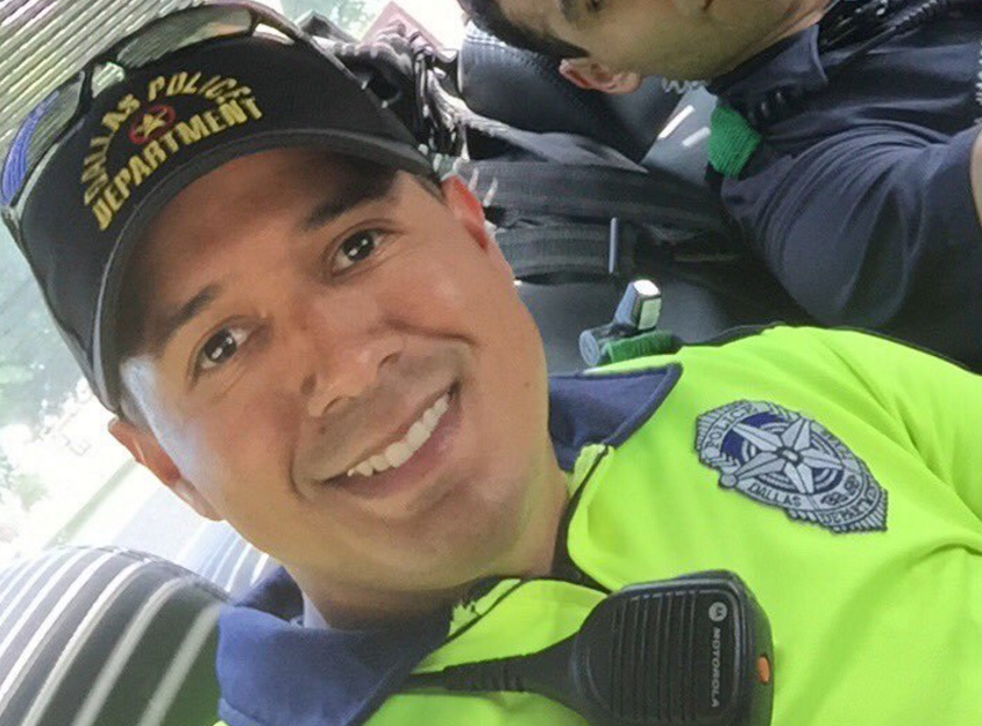 All five victims have been identified after a shootout at a protest in Dallas over the police shooting of two black men left five police officers dead and six others injured.
Snipers opened fire at around 8.45pm local time on Thursday at the demonstration, which was organised in response to fatal police shootings of black men this week in Louisiana and Minnesota.
Dallas Police identified officers Patrick Zamarripa, Michael Krol, Lorne Ahrens, and Michael Smith. Dallas Area Rapid Transit officer Brent Thompson was also killed in the attack.
Dallas Mayor Mike Rawlings, in a press conference with Texas Gov Greg Abbott, confirmed that only one shooter – identified as 25-year-old Micah Xavier Johnson – was responsible for killing the officers. He was killed after police deployed a bomb squad robot after 45 minutes of negotiations.
Protests were also held in several other cities across the country Thursday night after a Minnesota officer fatally shot Philando Castile on Wednesday while he was in a car with a woman and a child.
The aftermath of the shooting was livestreamed in a widely shared Facebook video.
Five officers killed in Dallas
A day earlier, Alton Sterling was shot in Louisiana after being pinned to the pavement by two white officers. That, too, was captured on a mobile phone video.
Video footage from the Dallas shooting showed protesters were marching along a street in downtown Dallas, about half a mile from City Hall, when shots erupted and the crowd scattered, seeking cover.
Police officers killed by sniper at protests in Dallas

Show all 20
Dallas Police Chief David Brown told Associated Press it appeared the shooter "planned to injure and kill as many officers as they could."
Here's what we know about the victims so far:
Brent Thompson
The first police officer to be announced dead was 43-year-old Brent Thompson, one of four officers from the Dallas Police Department killed by snipers.
Mr Thompson had worked as an officer on the DART transport system since 2009.
DART said in a statement that Mr Thompson was the first officer killed in the line of duty since the agency formed a police department in 1989.
"This is something that touches every part of our organisation. We have received countless expressions of support and sympathy from around the world through the evening. We are grateful for every message. Thank you," the statement said.
Three other DART officers were injured, including Misty McBride, 32, who was reportedly shot twice. All were expected to survive, according to local media reports.
Patrick Zamarripa
Patrick Zamarripa, 32, went to high school in Dallas' neighbouring city of Fort Worth, after which he joined the Navy, according to CBS. He was deployed to Iraq and served eight years on active duty.
The Dallas Morning-News reported that Mr Zamarripa was stationed in Iraq guarding oil reserves in 2004.

"We're protecting the backbone of Iraq," he told the reporter. "A terrorist attack here would send the country down the drain."
Dylan Martinez, Mr Zampirra's stepbrother who is also a police officer, posted a picture on Twitter of Mr Zampirra in uniform standing next to his father.
Mr Martinez wrote: "No father should have to bury his son. You are a hero, Patrick. Love you man. #PrayForDallas"
A member of the Dallas Police Department's response team, Mr Zamarripa's twitter bio reads: "Addicted to the thrill of this job… I love my Country, Texas, Family, God, Friends, and Sports!"
Michael Krol
Michael Krol, 40, served on the Dallas police force for eight years. Prior to his work in Dallas, he worked as a jail worker in Detroit, Michigan, from 2003 to 2007, according to NBC DFW.
"He got into law enforcement and worked really hard to be a police officer," Mr Krol's uncle Jim Ehlke said. "He spent some time at the correctional facility. It wasn't quite what he was looking for, so he worked pretty hard to find a job and got one in Dallas."
Mr Krol was born in Massachusetts and graduated from East Longmeadow High School in 1994.
Lorne Ahrens
Senior Cpl Lorne Ahrens, 48, was a former semi-pro football player according to the Washington Post. He had served with Dallas Police for 14 years.
Mr Ahrens was originally from the Los Angeles area, where he worked for a local sheriff's department.
The officer made it through a round of surgery, the Post reported. Still, he died after complications despite the surgery.
He is survived by his wife and two children.
Michael Smith
Michael Smith, 55, was a native of Port Arthur, Texas. He joined the Dallas Police in 1989.
Mr Smith served in the Army prior to joining the force and was an Army Ranger for a time.
He attended the Lamar Institute Academy police academy before his time as an officer.
Register for free to continue reading
Registration is a free and easy way to support our truly independent journalism
By registering, you will also enjoy limited access to Premium articles, exclusive newsletters, commenting, and virtual events with our leading journalists
Already have an account? sign in
Join our new commenting forum
Join thought-provoking conversations, follow other Independent readers and see their replies