Donald Trump at US-Mexico border: Tycoon jets in to Laredo 'to make America great again' but only manages to block the traffic
Mogul demands 'fairness' from Republicans - or he will run as an independent
David Usborne
Friday 24 July 2015 12:11 Comments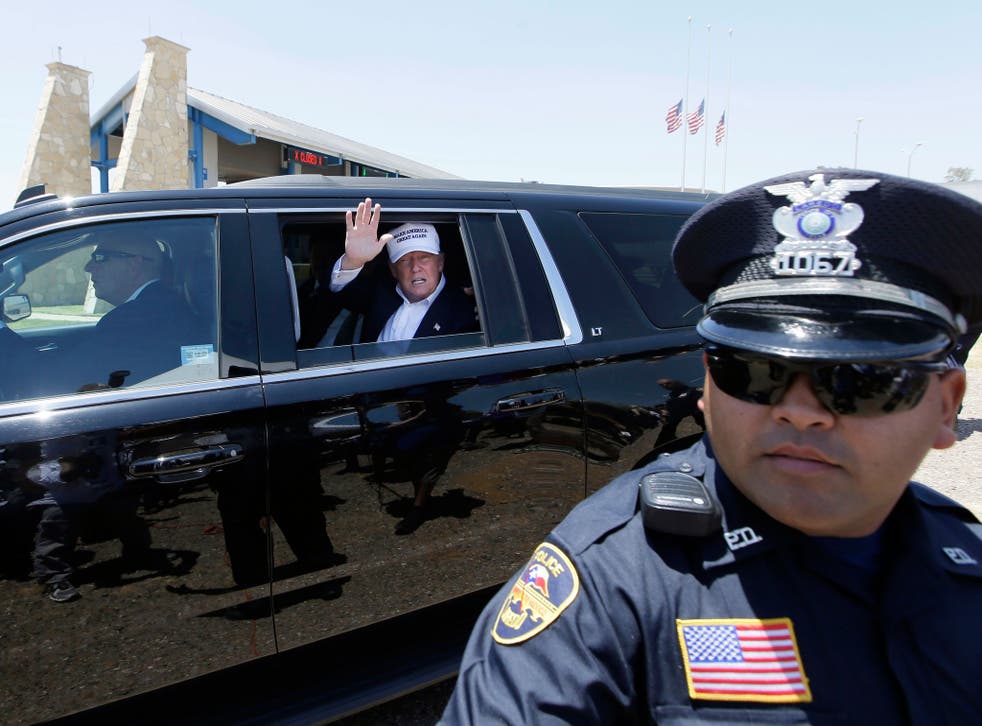 Accompanied by scores of police outriders, Donald Trump, the mogul turned presidential candidate, rolled to the United States border with Mexico near Laredo, all in the name of what it said on the white golfing cap perched on his buttery-fluffed hair: "Make America Great Again!"
Buffoon or patriotic apostle, Mr Trump knows how to make a presidential arrival. His huge private jet, only "2016" missing from its black and red livery, rumbled to a halt at the executive terminal here. Later at the border itself, local officials halted all lorry traffic from the US to Mexico for all the 50 minutes he was there. There will be no drowning out Donald. Ironically, traffic into the US kept flowing.
That he doesn't always talk like a president – or a politician – is exactly what propels him. And a touch of self-delusion perhaps also. How touched he was that so many had been at the airport to greet him, he shared. "They were all in favour of Trump and what I'm doing. I mean virtually everyone we saw there was such a great warmth," he said.
Well, not quite. Actually most had come to protest against his visit. "Dump Trump," they yelled. "Trump's hair is illegal," said a banner.
He had arrived a man rebuffed in another way too. The local border control union which, having invited him here in the first place, had abruptly announced hours before his arrival that it had withdrawn that invitation. But it's on such things that every political insurgent thrives, especially this one. "They're petrified," he declared of his erstwhile hosts, suggesting they had been sat on by superiors in Washington.
"They're afraid of saying what's happening," he purported. "They invited me here then all of a sudden it's 'silencio'. They want silence. If I win, believe me, I will straighten things out" at the border. "There is nothing more important than what I am doing."
A statement by his campaign as his jet was in the air said that Mr Trump was coming in spite of the "great danger" involved. Exactly what peril he thought he would face in Laredo, he couldn't say. But then, of course, he was the one who said that Mexicans entering America illegally were so dangerous. "They say there's great danger," he repeated, "but I have to do this. I love this country."
Immigration became the toxic core of Mr Trump's bombastic bid the minute he turned to the topic when he made his original declaration speech in New York in June. The Mexicans, he said, are "bringing drugs" into the United States. "They're bringing crime. They're rapists."
At the third press conference of the day, he drew cheers from supporters when he accused the press of taking his comments about Mexicans and others out of context. "They take half a sentence, then they take a quarter of a sentence," he said.
But it was his swipe at Mexicans that spurred some of his rivals and the Republican party as a whole to condemn him. The opprobrium grew when he belittled the war record of Senator John McCain, suggesting he couldn't be a war hero because he got captured in Vietnam. He said he preferred those who don't get captured.
He has been a called a "jackass" by Senator Lindsey Graham, also a candidate, and this week Rick Perry, who has his own record on immigration to defend as the former Governor of Texas, labelled Mr Trump a "cancer on conservatism". After the insults levelled at Mr McCain, the Republican National Committee (RNC) also piped up saying the comments had "no place in our party or our country".
Mr Trump's campaign has catapulted him to the top of most recent polls of likely Republican voters. But it also has an almost carnival-like seat-of-pants quality. Aides emailed GPS co-ordinates to reporters in Laredo to direct them to the border spot he intended to visit. The trouble was, the co-ordinates pinpointed a remote location in south-western China close to a different border, the one with Burma.
The panic in the party about Mr Trump seemed set to enter nervous breakdown territory after he said in an interview that he may bolt the fold and run as an independent candidate. The only thing worse than his running as a Republican would be his running not as a Republican, because it could split the conservative vote and hand victory to Democrat front-runner, Hillary Clinton, next year.
"The RNC has not been supportive. They were always supportive when I was a contributor. I was their fair-haired boy," he told The Hill, a political newspaper. "The RNC has been, I think, very foolish …I'll have to see how I'm being treated by the Republicans. Absolutely, if they're not fair, that would be a factor."
In Laredo, Hector Garza, leader of the union that abruptly uninvited The Donald, said he'd done so "after careful consideration of all the factors involved in this event and communicating with members of the National Border Patrol Council".
In another sign he means to keep going, Mr Trump complied with election rules handing over a full financial disclosure to the Federal Election Commission, a step some thought he would never take. Over 92 pages, it shows that he is worth at least $1.35bn. Because the forms request a range of values for his assets, the document neither confirms nor undoes an earlier boast that he is worth $10bn.
A small knot of protesters had gathered at the airport to greet him. "We are greatly offended by the words of Mr Trump," said local immigration lawyer and Mexican American Nelly Vielma. "Labelling us all as criminals just shows his ignorance. It's a lie and it's not fair and we demand an apology."
But Rosalinda Palacios, 59, whose family lives by the border and the river, said she was here to beg Mr Trump to keep going. "I hope he keeps his word. The houses and shacks where I lived are abandoned and occupied by criminals and drug dealers. I hope he keeps his intentions."
Register for free to continue reading
Registration is a free and easy way to support our truly independent journalism
By registering, you will also enjoy limited access to Premium articles, exclusive newsletters, commenting, and virtual events with our leading journalists
Already have an account? sign in
Join our new commenting forum
Join thought-provoking conversations, follow other Independent readers and see their replies