Donald Trump could face 'impeachment issues' as soon as he becomes President, legal experts warn
'The unequivocal message so far from the Trump Organisation is that ethics, conflicts of interest just don't matter,' says Professor Schooner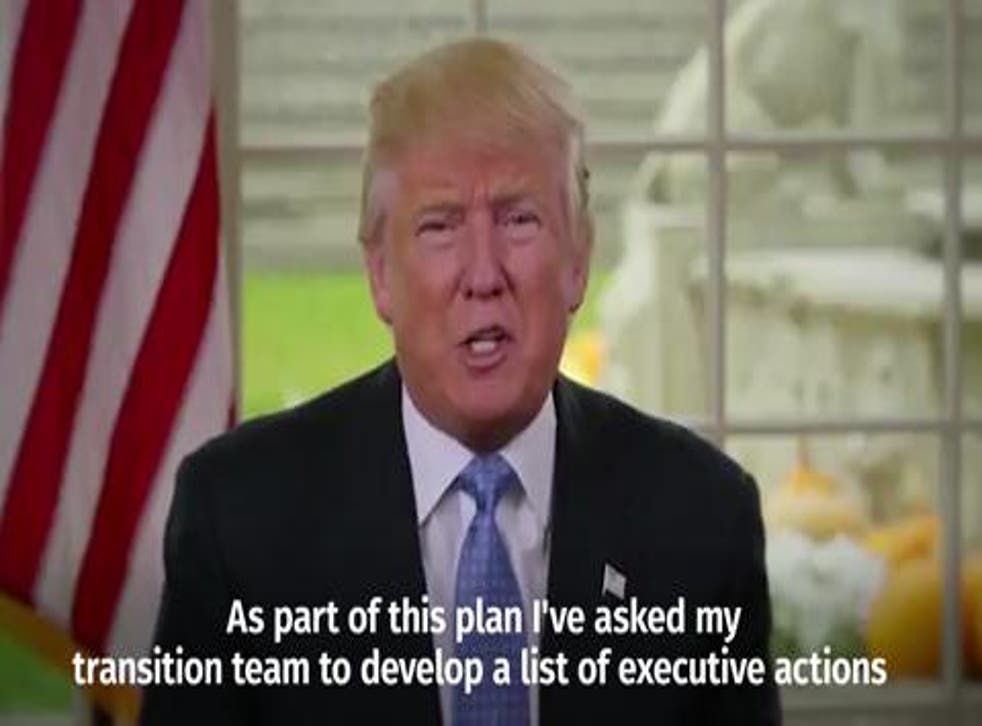 Donald Trump could be impeached on his first day in office due to conflicts of interest that would arise from him running the country and maintaining his business at the same time, legal experts have warned.
Steven Schooner, a law professor at George Washington University, told MSNBC on Monday that because the President-elect does business in various countries, he could have an "impeachment issue" because there are "foreign states basically paying money to the Trump Organisation by using their hotels."
Professor Schooner said: "The contract [with the General Services Administration] specifically says that no elected official of the United States government can share or benefit from the lease. It's a 60-year lease with the GSA but the language is unequivocally clear."
Donald Trump outlines plans for first 100 days in office
In order to open Trump International Hotel in Washington, Mr Trump entered into that contract, explained Mr Schooner, pointing to this as grounds for impeachment.
The law professor added: "The unequivocal message so far from the Trump Organisation is that ethics, conflicts of interest … in terms of ethical behaviour just don't matter."
It is not the first time law experts have warned Mr Trump that he could face breaching the constitution when he enters office with things as they stand.
On Sunday two top law professors urged Mr Trump to divest from his new hotel in Washington DC after it was allegedly used to entertain and give a sales pitch to foreign diplomats, potentially violating the US constitution as soon as he enters office
They warned he could be in breach of the Emoluments Clause, which prohibits presidents from buying influence with federal officials or receiving special treatment.
The clause states: "No person holding any office of profit or trust under" the United States "shall, without the consent of the Congress, accept of any present, emolument, office, or title, of any kind whatever, from any king, prince, or foreign state."
During his campaign Mr Trump agreed that, if elected, he would leave his businesses to be handled by his children.
In January, the businessman stated: "If I become president, I couldn't care less about my company. It's peanuts. I have Ivanka, and Eric, and Don sitting there. Run the company kids, have a good time."
But since his presidential victory, his children have been seen sitting in on meetings and working with his transition team, indicating there will not be "necessary separation" between the future president and his business interests.
Professor Schooner added that as long as the Trump family are in ownership of the business there would not be "necessary separation", and he did "not expect the Trump Organisation to do the right thing".
World reaction to President Trump: In pictures

Show all 29
"As long as his family is owning the family-owned business of which he is the primary share owner and beneficiary, we do not have the necessary separation that we need to expect from our chief executive and our commander-in-chief," Mr Schooner added.
"There's no confidence whatsoever, so we're going to have to see some important action, some difficult choices, made by government officials and by congress.
"I think it would not be very difficult for GSA to do the right thing and get out of this contract before the inauguration, and as for the later issues, I think it's going to take congressional action and I think the private sector is going to have to move through public interest litigation, but I don't expect the Trump Organisation to do the right thing."
Join our new commenting forum
Join thought-provoking conversations, follow other Independent readers and see their replies