Donald Trump inauguration: 19 Democrat lawmakers boycott as President-elect dismisses Congressman John Lewis
Six of those not attending the event said their decision was due to Mr Trump's claims that Rep John Lewis was 'all talk, no action'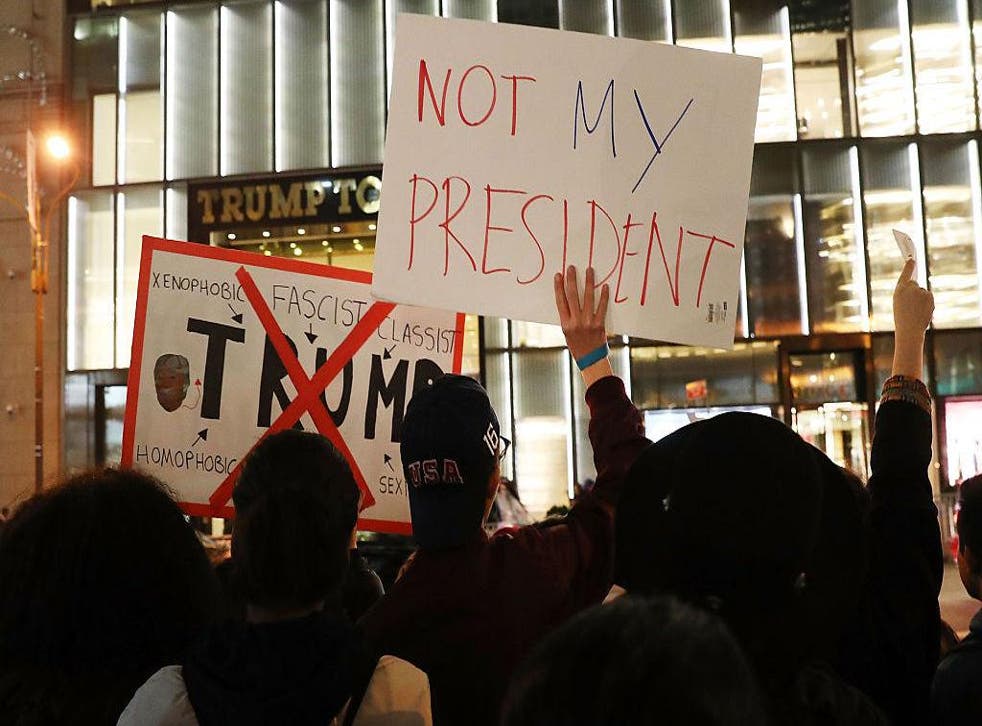 Hillary Clinton and Bill Clinton may be attending Donald Trump's inauguration, but a growing number of their Democratic colleagues have decided to boycott the event.
The 19 house representatives, including civil rights leader John Lewis, have decided to skip Mr Trump's inauguration on 20 January in Washington DC. The dissenting politicians span eight states from Arizona and California to New York and Oregon.
Six Democrats - four of them in the Congress - made the decision to skip the ceremony after the President-elect dismissed Mr Lewis, who marched alongside Martin Luther King and was beaten up by the Ku Klux Klan in the 1960s, claiming he was "all talk, no action".
Mr Trump was responding to a perceived attack from Mr Lewis, who had earlier questioned Mr Trump's legitimacy as the 45th President.
The President-elect then tweeted: "Congressman John Lewis should spend more time on fixing and helping his district, which is in horrible shape and falling apart (not to mention crime infested) rather than falsely complaining about the election results.
"All talk, talk, talk - no action or results. Sad!"
New York representative Yvette Clarke responded on Twitter that she would not attend the inauguration.
"When you insult [John Lewis], you insult America," she said.
She was joined by New York representative Jerrold Nadler and three California representatives - Ted Lieu, Mark Takano and Judy Chu.
Vice President-elect Mike Pence said Mr Lewis' comments about his boss were "disappointing" and that Mr Trump had "a right to defend himself".
Dress rehearsal takes place ahead of Donald Trump's inauguration
Mr Trump has done little to assure he has a positive message for African-Americans when he carried out a relatively last-minute attempt to woo their vote, asking a black audience in Ohio, "What the hell do you have to lose?"
His team cancelled plans to visit the Smithsonian Museum of African American History and Culture on Martin Luther King Day within five hours of leaking them, saying Mr Trump will visit the museum after he becomes president.
Other representatives revealed they would not attend the inauguration before the spat over Mr Lewis.
Massachusetts Rep Katherine Clark told the Boston Globe on 5 January: "I support the peaceful transition of power, but I don't feel that I need to attend the pageantry associated with and for this President."
New York Rep Adriano Espaillat said on Facebook that Mr Trump wanted to take the country "back in time". Mr Espaillat protested against his "hate-filled rhetoric".
While colleague Nydia Velazquez said she would not attend the inauguration, she said she would be at the women's march in the capital on the same day.
Donna Brazile, the interim head of the Democratic National Committee, is also skipping the ceremony. She allegedly funnelled several debate questions to Ms Clinton's team ahead of time during the primary debate season - a fact that Mr Trump and his team have repeatedly called out to deflect more pressing questions about his ties with the Kremlin.
Many Democratic donors will reportedly gather on the day to discuss what went wrong in the election and plot Mr Trump's downfall in the next election.
Register for free to continue reading
Registration is a free and easy way to support our truly independent journalism
By registering, you will also enjoy limited access to Premium articles, exclusive newsletters, commenting, and virtual events with our leading journalists
Already have an account? sign in
Register for free to continue reading
Registration is a free and easy way to support our truly independent journalism
By registering, you will also enjoy limited access to Premium articles, exclusive newsletters, commenting, and virtual events with our leading journalists
Already have an account? sign in
Join our new commenting forum
Join thought-provoking conversations, follow other Independent readers and see their replies