Trump and Trudeau on best behaviour despite political chasm between them
Neighbouring leaders, polar opposites in nearly every way, discuss thorny subjects from trade to immigration during White House talks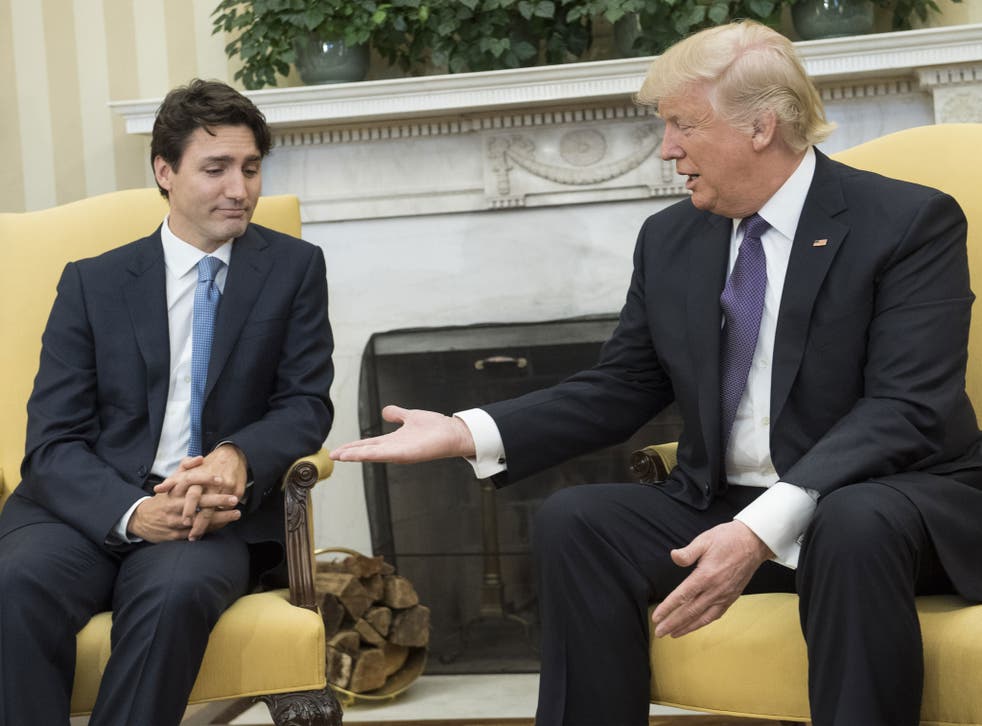 They may be neighbours but the political chasm that now separates the United States and Canada was plain to see during a press conference held by Donald Trump and Justin Trudeau at the White House on Monday evening.
From refugees to women's rights, 45-year-old Mr Trudeau and 70-year-old Mr Trump are often diametrically opposed.
But the Canadian PM did his utmost not to ruffle any feathers as Mr Trump repeated his mantra of Mexican wall building and the perceived dangers of immigration.
Mr Trudeau is a liberal who champions free trade and has welcomed 40,000 Syrian refugees. He calls himself a feminist and half of his Cabinet are women.
Whereas Mr Trump has few women in his Cabinet, he has taken a protectionist stance on trade and wants to crack down on the inflow of migrants and refugees.
Their differences were encapsulated in a photo released after the Oval Office meeting, when the US President appeared to invite a high five with an extended hand.
But for a split-second, Mr Trudeau stared blankly at the outstretched palm, his expression summing up how many Canadians feel about the newly installed leader of the free world.
Earlier, as the world watched on, cameras caught an equally uncomfortable greeting between the two leaders as Mr Trudeau arrived at the White House.
Mr Trump could be seen extending his right arm for a handshake while grabbing the Canadian PM on the shoulder.
Mr Trudeau responded with a strong grip on the president's upper arm.
The apparently awkward first meeting in Washington was followed by a press conference when Mr Trudeau attempted to mend relations by emphasising the "deep abiding respect" between the two countries.
When The Donald banned refugees from entering the US, the Canadian premier responded with a tweet declaring that those "fleeing persecution, terror and war" would be welcomed to his country.
But both men stuck to the script and highlighted their shared goals and a commitment to working together after their first face-to-face meeting.
Justin Trudeau vows to defend women and stick up to Trump
Observers on Twitter were quick to dissect the meeting, with many Canadians voicing their pride in having Mr Trudeau as PM.
One wrote: "Canada is proud today more than yesterday. Trudeau is just a brilliant leader."
Another commented: "Trudeau resisting Trump's weird handshake is the biggest display of dominance in the history of Canada."
Join our new commenting forum
Join thought-provoking conversations, follow other Independent readers and see their replies