Donald Trump calls on supporters to hold 'biggest ever rally' as protests continue against President
The President has sparked global protests including a pre-Oscars rally for immigration rights
Lizzie Dearden
Saturday 25 February 2017 13:34 Comments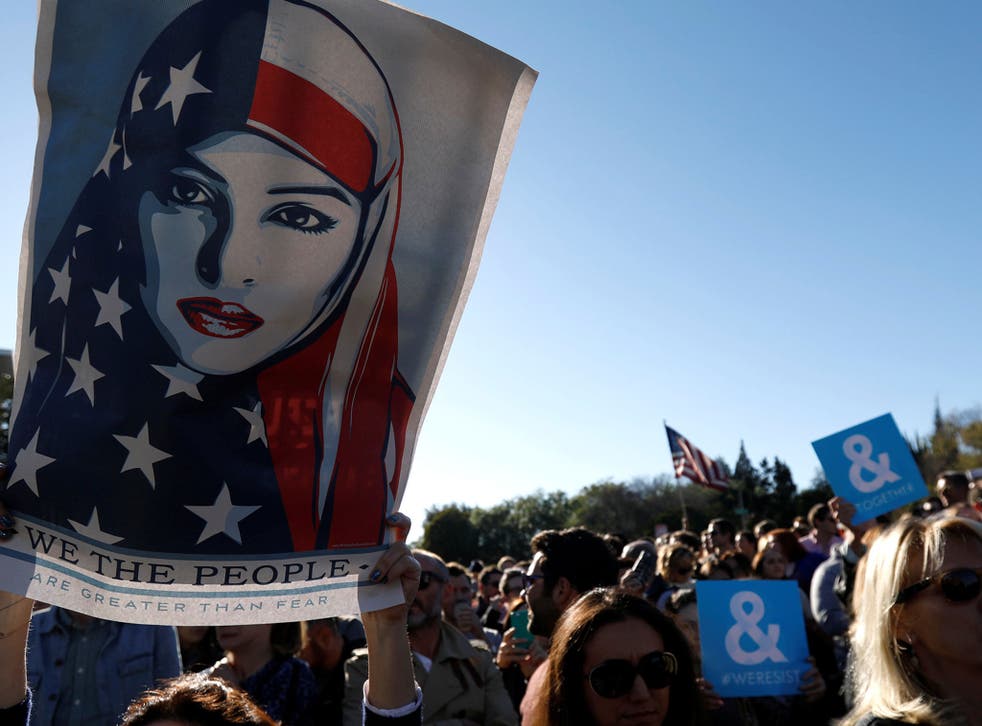 Donald Trump has called on his supporters to hold their own protest after some of Hollywood's biggest stars joined a high-profile rally against his administration.
"Maybe the millions of people who voted to MAKE AMERICA GREAT AGAIN should have their own rally," the President wrote on Twitter. "It would be the biggest of them all!"
Former Democratic presidential candidate Bernie Sanders was among those ridiculing the suggestion.
Tweeting a photo comparing the turnout at Mr Trump's inauguration to the crowds at Barack Obama's, he wrote: "They did. It wasn't."
Thousands protest over Donald Trump's state visit
The President's message came the morning after actors including Jodie Foster and Michael J Fox spoke at a rally for immigration rights in Beverly Hills.
Canada-born Fox, who became a US citizen 20 years ago, said turning away immigrants was "an assault on human dignity".
The Oscar-nominated Iranian filmmaker Asghar Farhadi also spoke via video from Tehran to praise the show of unity, while planning to boycott Sunday's Academy Awards ceremony over the President's attempted immigration ban.
"It is comforting to know that at a time when some politicians are trying to promote hate by creating divisions between cultures, religions and nationalities, the cinema community has joined the people in a common show of unity to announce its opposition," Farhadi said.
"I hope this unity will continue and spread to fight other injustices."
The event was one of countless global protests against Mr Trump's policies, including for women's rights, migrants, press freedom and opposing moves to scrap protections against laws governing how transgender students use bathrooms.
The President's supporters have turned out in their thousands to show support at official events but have not launched demonstrations comparable in scale to those of his opponents.
In pictures: Women of the world march against Trump

Show all 32
Mr Trump has hit out at the events, including participants of being "professional anarchists, thugs and paid protesters".
After millions of people joined the worldwide Women's March in protests stretching from Washington to Sydney last month, the President jibed: "Was under the impression that we just had an election…celebs hurt cause badly."
He later backtracked, tweeting: "Peaceful protests are a hallmark of our democracy. Even if I don't always agree, I recognise the rights of people to express their views."
His attempt to ban immigration from seven Muslim-majority countries has been one of the major rallying points, as a new executive order is planned after the first was suspended by a federal judge.
Mr Trump has attempted to characterise the executive order as a security measure but a draft Homeland Security report found no support for the assessment, saying nationality is "unlikely to be a reliable indicator of potential terrorist activity".
There have been concerns over a link between Mr Trump's rhetoric on immigrants, Muslims and terrorism driving hate crime across the US.
Two Indian engineers were shot by an American man who allegedly shouted racial slurs and told them to "get out of my country" in Kansas on Wednesday.
Register for free to continue reading
Registration is a free and easy way to support our truly independent journalism
By registering, you will also enjoy limited access to Premium articles, exclusive newsletters, commenting, and virtual events with our leading journalists
Already have an account? sign in
Join our new commenting forum
Join thought-provoking conversations, follow other Independent readers and see their replies