Donald Trump adviser Steve Bannon registered to vote in two states – which US President wrongly calls voter fraud
It is not illegal to register in two states – it is only illegal to cast two ballots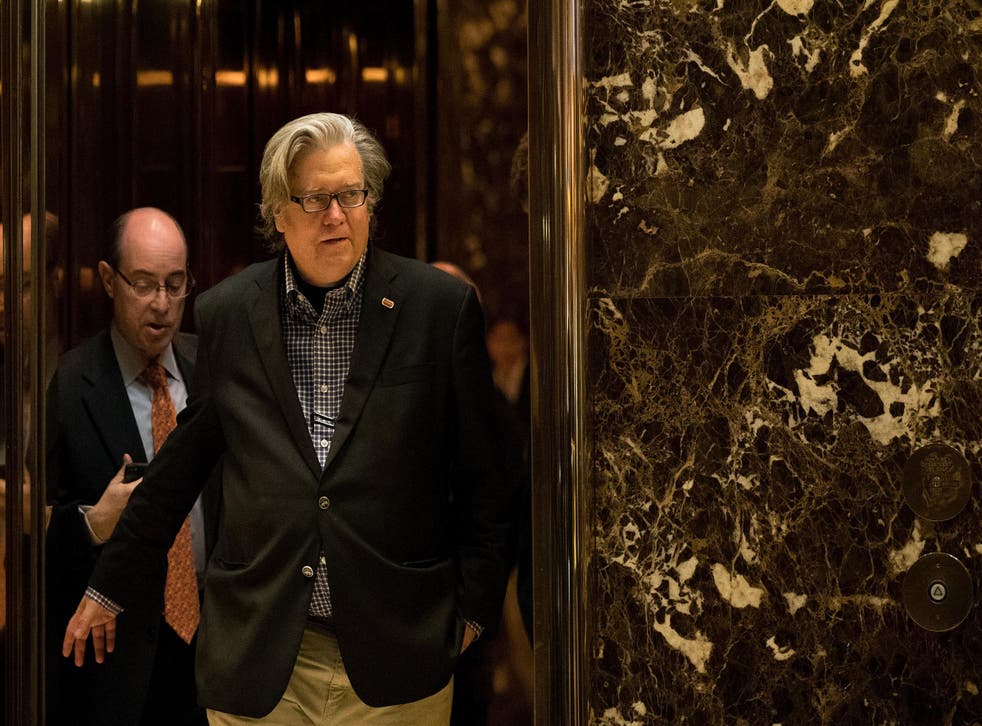 One of President Donald Trump's top advisers is registered to vote in two states – which the New York business man incorrectly classified as "voter fraud".
Stephen Bannon registered to vote in New York prior to the election, but he still is registered to vote in Florida. He cast only one ballot in New York.
Florida state records show that Mr Bannon is registered at the home of a former Breitbart colleague, Andy Badolato. It remains unclear whether Mr Bannon actually lived at the property – a requirement of Florida registration rules – at the time of his registration.
During a controversial first week in office, that saw the President signing a number of executive orders to revoke Obama administration policies, Mr Trump has circulated the lie through Twitter and via his Press Secretary that millions of people voted illegally.
The White House has not provided any evidence for their claim – as it has been exhaustively debunked by state election commissions. But the minority President points to 'illegal votes' that resulted in his loss in the popular vote by nearly three million.
"I will be asking for a major investigation into VOTER FRAUD, including those registered to vote in two states, those who are illegal, and ... even those registered to vote who are dead (and many for a long time," he wrote. "Depending on results, we will strengthen up voting procedures."
Donald Trump claims Hillary Clinton is 'protected by a rigged system'
The controversial orders Donald Trump has already issued

Show all 9
Incidentally, Mr Trump's daughter, Tiffany, is also registered in two states. According to the libertarian blog Heat Street, and addtionally confirmed by the Washington Post, Ms Trump is registered in both Pennsylvania and New York.
It is not illegal to register to vote in two states – only if more than one ballot is cast.
Earlier this week, Sean Spicer told reporters that "anything is possible" when asked if the White House would launch an investigation into Mr Trump's baseless claims.
"The President does believe that [millions voted illegally], I think he's stated that before, and stated his concern of voter fraud and people voting illegally during the campaign and continues to maintain that belief based on studies and evidence people have brought to him," Mr Spicer said.
Still, analysts and even Mr Trump's lawyers have asserted that there is absolutely no evidence of voter fraud in the 2016 election.
"All available evidence suggests that the 2016 general election was not tainted by fraud or mistake," the President's lawyers said, in objection to a Michigan recount effort led by Green Party candidate Jill Stein.