President Donald Trump will 'keep James Comey on as FBI director'
He recently publicly praised the FBI director, who is accused of influencing the election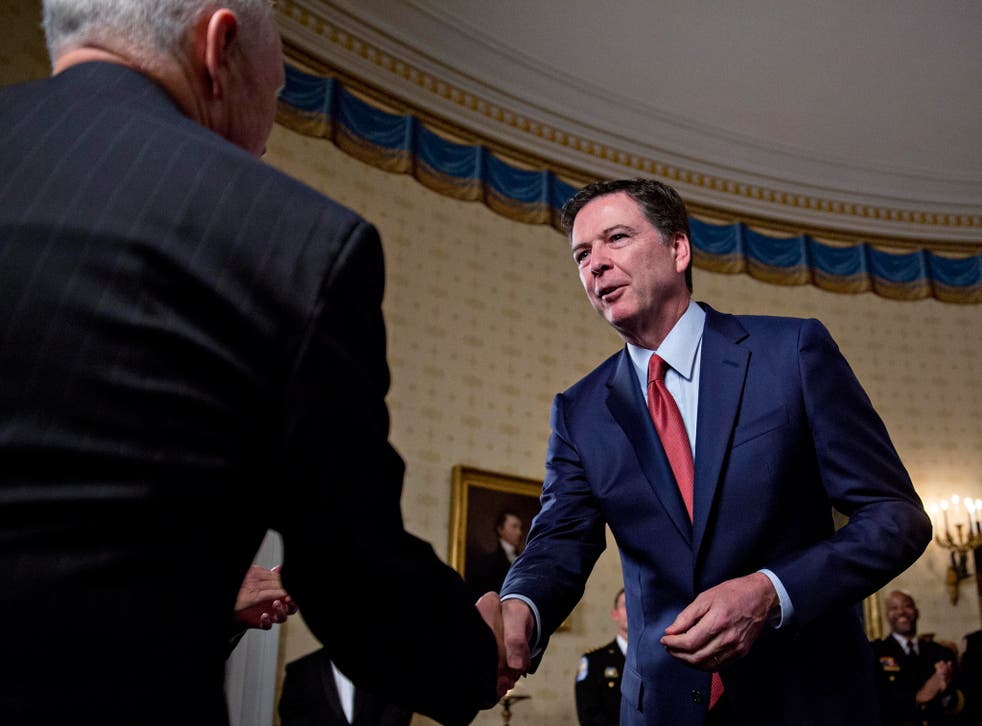 President Donald Trump is expected to keep James Comey in his post as FBI director, according to reports.
Mr Comey faced significant criticism in the contentious finale of the presidential election, after he divulged that the FBI would reopen the investigation into Hillary Clinton's use of a private email server during her time as Secretary of State. Many believe he played a role in swaying the electorate in Mr Trump's favour.
According to the New York Times, Mr Comey told top agents in the bureau that the President had asked him to remain at his post.
The President praised Mr Comey at a law enforcement Inaugural reception, thanking him publicly. In video captured by pool reporters, Mr Trump invited Mr Comey across the room for a hug and a handshake. He also appeared to blow the FBI director a kiss.
Donald Trump thanks James Comey at intelligence meeting
Mr Trump said that Mr Comey had "become more famous than me", to laughter and applause.
Eleven days before the 8 November election, Mr Comey issued a letter to Congress announcing that he had reopened the probe into Ms Clinton's emails – despite his summer conclusion that investigators found no evidence of criminal wrongdoing.
After losing the election, Ms Clinton blamed Mr Comey for the downfall of her campaign in the final days of the race.
The Justice Department inspector general opened an investigation into Mr Comey's alleged mishandling of the investigation.
"Allegations that decisions regarding the timing of the FBI's release of certain Freedom of Information Act (FOIA) documents on October 30 and November 1, 2016, and the use of a Twitter account to publicise same, were influenced by improper considerations," Inspector General Michael Horowitz said earlier this month.