El Salvador: Flight for life from the world's most dangerous country
Scores are leaving El Salvador to escape gang murders and suspected extrajudicial killings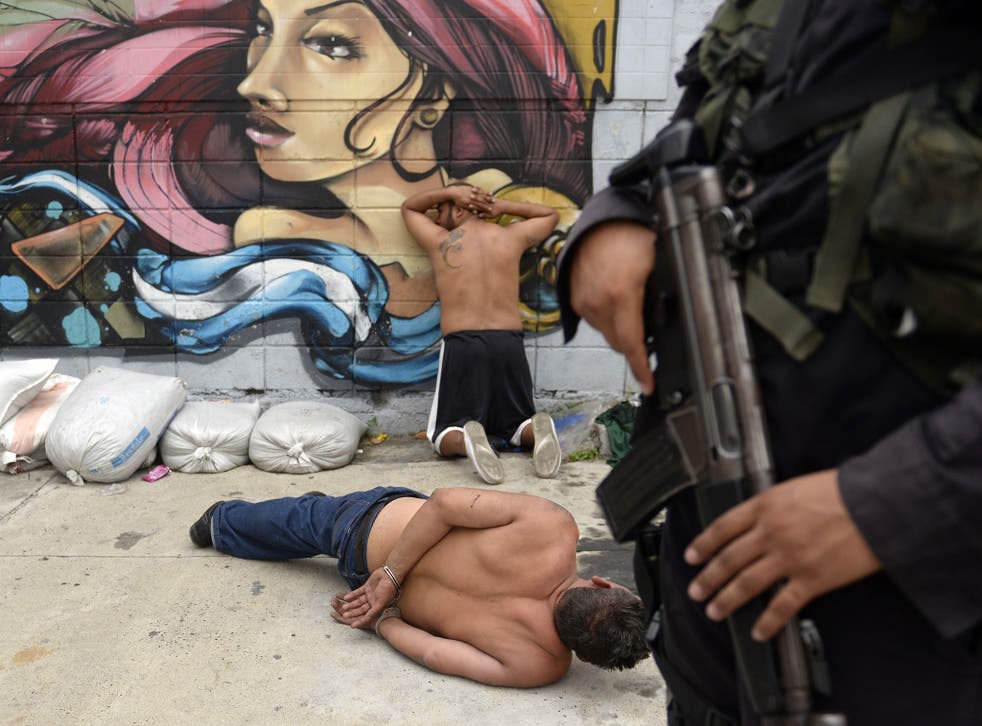 Josue Salomon looks bewildered. The 18-year-old has been deported back to El Salvador after being caught trying to make his way north to the United States.
Mr Salomon, a peasant farmer from the rural San Miguel region, cannot return home. He fled the country last month after six masked, armed gang members came to his house to demand he attend a meeting with gang leaders the next day, or die.
He reported the threat, but police said there was little they could do and advised him to run. So he left immediately and hid at his grandmother's house in another town until the family borrowed enough money to pay a guide to take him to the US, where he planned to seek asylum. He was detained en route by Mexican immigration officials.
Now, he doesn't know what to do. "I didn't want to leave my village. I miss my family – but if I go back, the gang will kill me, like they've killed other boys who wouldn't do what they wanted," said Mr Salomon, clutching his Bible, inside of which he keeps the police report. "Where should I go now?"
10 countries with the highest murder rates

Show all 10
He is among thousands of desperate people fleeing violence in El Salvador – the most dangerous country in the world outside a war zone.
A staggering 3,400 people were murdered in the first seven months of this year – the bloodiest period since El Salvador's brutal, 12-year civil war that ended in 1992 with 80,000 people dead and one million displaced. In the first three days of August, police reported 74 fatalities – 95 per cent of crimes go unsolved. To put the stark figures in perspective, El Salvador is roughly the size of Wales with a population of five million.
The death toll is crushing, but the clandestine wave of forced migration linked to escalating violence is also causing widespread misery and the disintegration of communities. In 2014, almost 300,000 people abandoned their homes to escape threats or violence and sought refuge in another part of the country, according to the Internal Displacement Monitoring Centre. No one knows how many have left the country, but in the first half of 2015 almost 24,000 adults and children were deported back to El Salvador after being caught trying to reach the US.
Families flee fearing for their safety when they are unable to afford weekly extortion payments demanded by local gangs. Some have witnessed a murder or are accused of snitching to authorities, while others have been forcibly evicted by criminals who wanted their home. Those with money or relatives in safer areas often seek refuge within El Salvador. Others attempt the perilous journey through Mexico to the US.
"All of a sudden families are just gone leaving everything behind, but they are hard to track as they are scared and there is no recognition, monitoring or support from the state," said Jeanne Rikkers, a gang-violence expert.
An astounding 10 per cent of the population – 500,000 to 600,000 people – are linked to gangs dedicated to extortion, drug dealing and territorial battles, the Defence Minister said recently.
But there is also growing concern about state-sponsored atrocities against suspected gang members.
The chief of police has told rank-and-file officers to shoot criminals without fear of reprisals. In March alone, police killed 140 people, a third of all violent deaths that month. Police always claim victims were gang members killed in self-defence during shootouts.
But Jose Miguel Fortin Magana, director of the Institute of Forensic Medicine in El Salvador, told The Independent: "We have several recent fatalities which police claim happened in shootouts, where the victims were actually shot in the back."
The police control ballistics investigations, even when officers are involved. Social worker Veronica Reyna said: "There's a climate of fear in which people are becoming more afraid of the authorities than gangs... Extra-judicial killings aren't investigated, and the government is openly encouraging security forces to kill gang members. If this isn't war, what is it?"
Truckloads of masked police and soldiers armed with machine guns patrol the streets and carry out house-to-house searches. There are 6,000 troops deployed alongside around 23,000 police officers.
Fears have intensified since an explosive investigation by a respected local news website, El Faro, exposed major flaws in the police version of events during an alleged shootout at a farm in March that left eight young people dead.
Eyewitnesses testimonies and forensics point to extrajudicial killings.
Deputy Police Chief and ex-guerrilla fighter Howard Cotto said: "The gangs are opening fire against police officers with rifles and machine guns. We have to overcome them. It's a very complicated situation. The military presence isn't ideal and I understand people's fears… we will never justify or tolerate torture or extrajudicial killings. That is not why we fought the war."
Join our new commenting forum
Join thought-provoking conversations, follow other Independent readers and see their replies