Face transplant patient says he feels 'normal' again after woman donated son's face
The transplant turned Pat Hardison's life around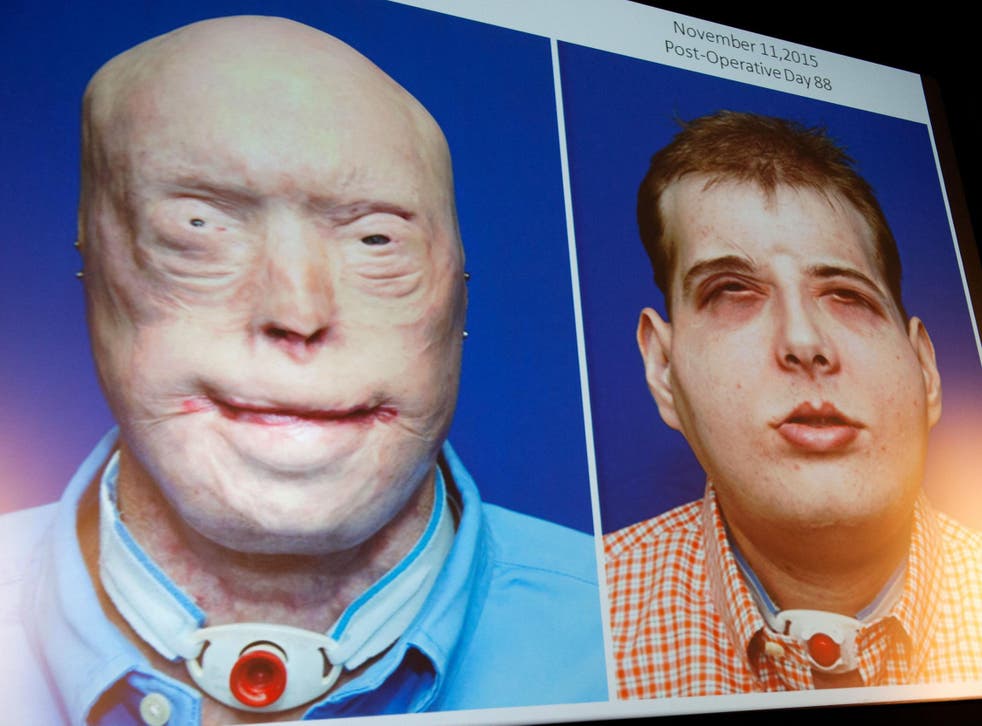 A firefighter said he is feeling "normal" again after receiving a face transplant - 15 years after he suffered horrific injuries.
Pat Hardison was battling a burning house in Mississippi in 2001 when the roof fell down on top of him. He only survived as he closed his eyes and held his breath, saving his eyes and lungs.
The 42-year-old underwent 72 surgeries since the accident in 2001, sleeping with his eyes open as he had no eyelids and staying inside the house.
A year ago he received a new face, donated by the mother of a 27-year-old man from Ohio, David Rodebaugh, who was killed in a cycling accident.
The face was a good physical match with the patient, according to the NYU-Langone Medical Centre, which performed the procedure.
He can now drive again and go outside without people staring at him, he said.
Mr Hardison recently went to Disney World with his five children, where he swam in the pool for the first time since 2001.
"I can't express the gratitude enough," he said, as reported by ABC News, referring to the donor's mother.
"It's amazing. And I don't think she acknowledges what she has given myself and my family, especially my kids. She's given us our life back. She lost her only child."
His daughter, Alison Hardison, wrote in a blog detailing her father's recovery: "I was talking with my dad recently and I asked him, 'What is one thing you've learned in the last year since your surgery?' His response was simple. 'Enjoy life,' he said."
Dr Eduardo Rodrigues explained that the face transplant extended behind the back of the head and up the hair line, concealing the incisions.
"We have entered a new era in transplant surgery," he told the National Post.
The surgery took hours and required thousands of stitches inside his mouth, nose and around his neck.
Stem cells from the donor were used to help stimulate the growth and to prevent Mr Hardison's body from rejecting the transplant.
He added that it was the first such surgical procedure that had ever been performed.
Join our new commenting forum
Join thought-provoking conversations, follow other Independent readers and see their replies