A Pennsylvania family waited weeks to be evacuated from Gaza. Then they were bombed
Palestinian-Americans say they have been treated like second-class citizens by the US government in their efforts to evacuate from Gaza, Richard Hall writes.
Wednesday 15 November 2023 14:58
Comments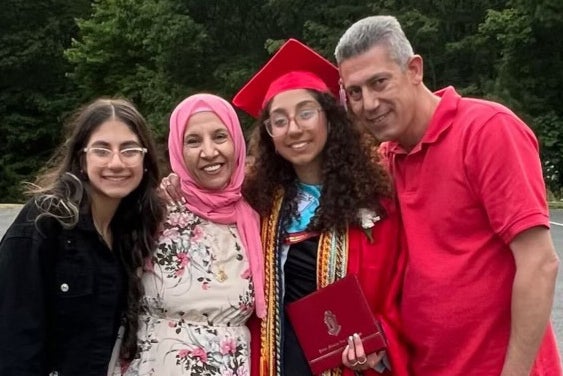 Pennsylvania mother Noha Abuolba and her two teenage daughters were travelling south on a bus through Gaza on their way to the border. They didn't know if they would be able to cross, since only a limited number of American citizens had permission to leave each day, but after weeks of being stranded in a warzone, they were desperate enough to try.
As the family made their way along the coastal road, what they believe to be an Israeli airstrike hit their vehicle, followed by gunfire. Multiple people died around them. Eighteen-year-old Saja Abuolba suffered shrapnel wounds in her shoulder and back. Her sister, 17-year-old Farah, lost two fingers on her left hand.
The family had to walk more than a mile to the nearest hospital. There, 51-year-old Noha was filmed by an Al Jazeera reporter on the floor, in tears, and brandishing their American passports in desperation.
"There they are, our American citizenships, look what they did to us!" she shouted, as medical staff treated her daughter's wounds in the background. "May God take revenge for us, here, see for yourself."
That moment encapsulated the frustrations felt by many Palestinian-Americans trapped in Gaza who feel abandoned by their government.
Ahmed Abuolba, Noha's son, had been desperately trying to help his mother and siblings escape the warzone from their home in Stroudsburg, Pennsylvania. He and his father had repeatedly asked the State Department and the US consulates in the region for assistance, to no avail.
"It makes us so furious. We're being treated like we are second-class citizens," 26-year-old Ahmed told The Independent. "We have our citizenship, we have our papers, we have our passports, we work in this country, we pay our taxes just like everybody else, but they are treating us like we're nothing. Other people's lives matter more than ours."
Noha Abuolba speaks to reporters feorm the hospital where she and her daughers were taken after the strike
The Abuolbas are among dozens of American dual-citizen families still stuck in Gaza after more than a month of relentless Israeli bombardment that has killed more than 11,000 Palestinians, including more than 4,500 children.
Ahmed, a microbiologist, saw the video of his mother sobbing on television from the family home.
"I can't bear watching my mother like that," Ahmed said. "It completely breaks my heart. Anytime any of my siblings see it, they just break down crying."
Since the war began, those wishing to escape it have been navigating a chaotic process to evacuate Gaza that came about as a result of negotiations between the US, Israel, Egypt and Qatar, which acted as a mediator with Hamas.
Americans must submit their names to the embassy in Jerusalem, which then passes it on to the other parties for approval. People must then check a Facebook page maintained by the Palestinian Authority every day to see if their names have made the approved list, published on a Google document, to cross the border. Who is approved and when is a murky and bureaucratic process, leaving US citizens in the dark.
The US State Department has insisted that it is doing all it can to assist its citizens and their families escape the war-torn territory, but Palestinian-Americans have recounted to The Independent weeks of confusing communications with the agency, and a chaotic process that left them stranded in the line of fire.
These delays almost cost the Abuolba family their lives.
The family hails from Gaza, and all of Noha and Karam's six children were born there. But in 2010, after several successive wars, they came to the US as refugees in search of safety. This summer, Noha took Saja and Farah back to Gaza for the first time since they left as young children, to visit family and see their birthplace. Saja had just graduated from high school.
Israel launched its war in Gaza in response to a deadly massacre of some 1,200 people by Hamas, who also took more than 200 hostages. Israeli forces quickly imposed a total siege on the territory, blocking aid deliveries of food and medicine, in addition to cutting water and electricity to the 2.3 million who call it home.
Ahmed said they first sought help from the State Department, which is responsible for US citizens abroad, on 8 October, the day after war broke out.
The first dual-citizen Americans began to leave Gaza on 3 November, almost a month after the war began. US president Joe Biden told reporters in the Oval Office that 74 "American folks, dual citizens" had been able to leave the territory on that day, and that more would follow.
That same day, Noha received notice from the US consulate that her name would be on the list of names approved for evacuation at the Rafah crossing into Egypt. But when they checked the list, her daughter's names were not there. She didn't know whether they would all be able to cross, but with the situation in Gaza getting more dangerous, they decided to try, packing their bags and getting on a bus to the border. Then, disaster struck.
The IDF did not respond to a request for comment about the strike that hit the vehicle from The Independent. A video showing what appeared to be the aftermath of the attack that injured the Abuolba family, taken on al-Rashid street on the same day, showed at least seven bodies lying in the road. Israel ordered all civilians to leave northern Gaza last month and its forces have targeted vehicles and ambulances travelling along the main roads through the territory.
Israel has cut internet access for Gaza, so Ahmed didn't receive news of the attack against his mother and sisters until the next day. He only knew that there had been a shooting and that they suffered severe injuries. It took many more hours to confirm they hadn't been killed. "It was absolutely horrifying," he said. "My older sisters were crying nonstop. We were very worried, constantly trying to find people to call, trying everything to make sure that they're still alive."
Ever since, Ahmed's communication with his mother has been fleeting and sporadic. Most of Gaza is without power, and the internet is down most of the time. Noha has been staying in the hospital with her daughters.
In an interview with CNN from her bed in the Quds Hospital, broadcast on Tuesday, Farah recounted the attack on their vehicle and losing her fingers.
"I could have given up. All my blood dripped all over me," she says, as the sound of bombs can be heard from outside the hospital.
"When I sleep, I dream of what happened to me. I can hear the rockets when they hit me and my sister and my mum," she tells the interviewer.
Since the attack, Farah's father Karam has been in almost constant communication with the US consulate in Jerusalem and the State Department. He too believes their family is not being given the proper help by the US government.
"We are US citizens. We are loyal to this country. Send the Red Cross," he told CNN.
A State Department spokesperson told The Independent that the US does not control the Rafah border crossing into Egypt and that the list is determined by a "series of negotiations and discussions about process, procedure, and security vetting."
"The situation remains fluid, and there have been delays and periodic, unexpected closures. Nonetheless, we expect exits to continue, and we will not stop working to get U.S. citizens and their immediate family members out as safely as possible," the spokesperson added.
Over the weekend, after weeks of waiting, Ahmed's sisters' names appeared on the list for evacuation — but the family was too afraid to make the journey after their last attempt, and there have since been further reports of ambulances being fired upon on the road to Rafah.
The hospital where they were being treated announced on Sunday that it was "no longer operational" because it didn't have any fuel for its generators. Ahmed got word on Tuesday that his mother and sisters had been evacuated from the hospital and were attempting to make their way to the border again. He is now waiting to hear if they made it through.
— Additional reporting by Bel Trew
Join our commenting forum
Join thought-provoking conversations, follow other Independent readers and see their replies