Woman who put Gorilla Glue in hair travels to LA for surgery
Beverly Hills surgeon has offered to perform $12,500 procedure for free
Graeme Massie
Los Angeles
Wednesday 10 February 2021 20:43 Comments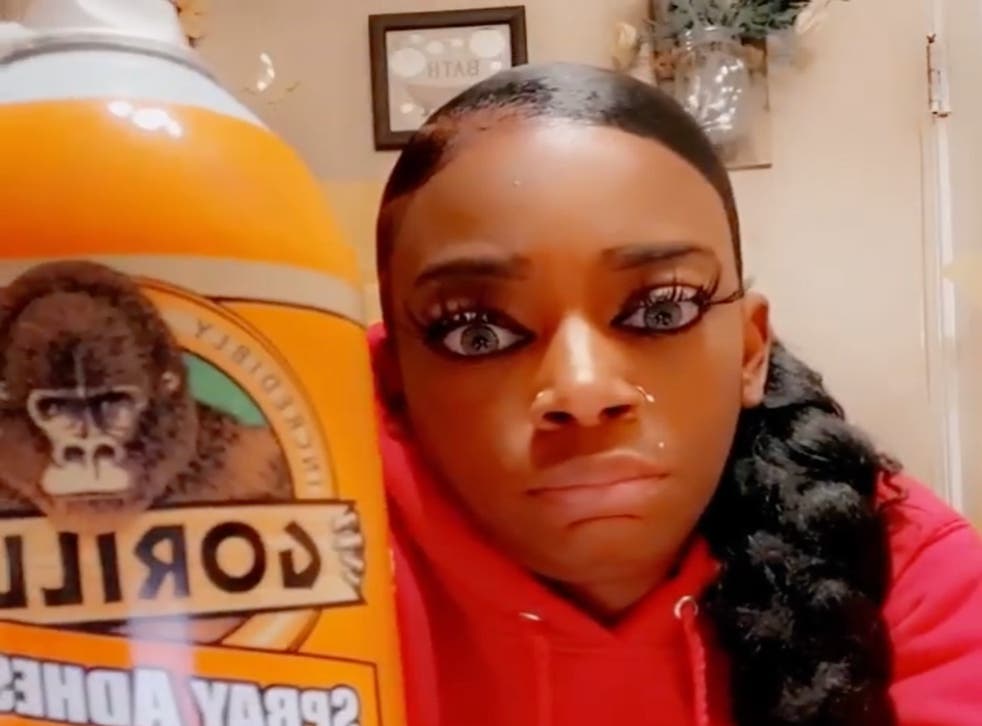 Leer en Español
The woman who used Gorilla Glue instead of hair spray has flown to Los Angeles for surgery.
Tessica Brown, who has been dealing with the sticky problem for a month, jetted to California to see a Beverly Hills surgeon.
Dr Michael Obeng has offered to perform a $12,5000 procedure for free using medical-grade glue remover to help Tessica.
Her story went viral after she posted a video of her predicament to social media asking for help.
"I never was going to take this to social media. The reason I took this to social media was because I didn't know what else to do," Ms Brown told Entertainment Tonight.
Read more: Opinion - We need to talk about why the 'Gorilla Glue Girl' did what she did
"And I know somebody out there could have told me something. I didn't think for one second when I got up the next morning it was gonna be everywhere," she added.
The mother of five said she quickly used the glue after running out hair spray and assumed that it would just wash out.
She used olive, tea tree and other oils to try and remove it before spending 22 hours in the ER department of a Louisiana hospital.
"I told my son today, 'I wish I could just go back,' because I'm over it. I'm over it," Ms Brown added. 
"I'm usually the person that I don't care what people say. I just move at my own pace. 
"I don't care what people say, but it's just getting to the point where people are on TV saying stuff about me."
Ms Brown has already been donated more than $16,000 in an online fundraiser and been offered support from the likes of Missy Elliott and Chance the Rapper.
The glue manufacturer took to Twitter to address the "unfortunate situation" and pointed out that the product was not intended for hair use and was "considered permanent".
Register for free to continue reading
Registration is a free and easy way to support our truly independent journalism
By registering, you will also enjoy limited access to Premium articles, exclusive newsletters, commenting, and virtual events with our leading journalists
Already have an account? sign in
Join our new commenting forum
Join thought-provoking conversations, follow other Independent readers and see their replies