Growing popularity of e-cigarettes pushes Hawaii to raise legal smoking age to 21
The measure is aimed at reducing the number of teenage smokers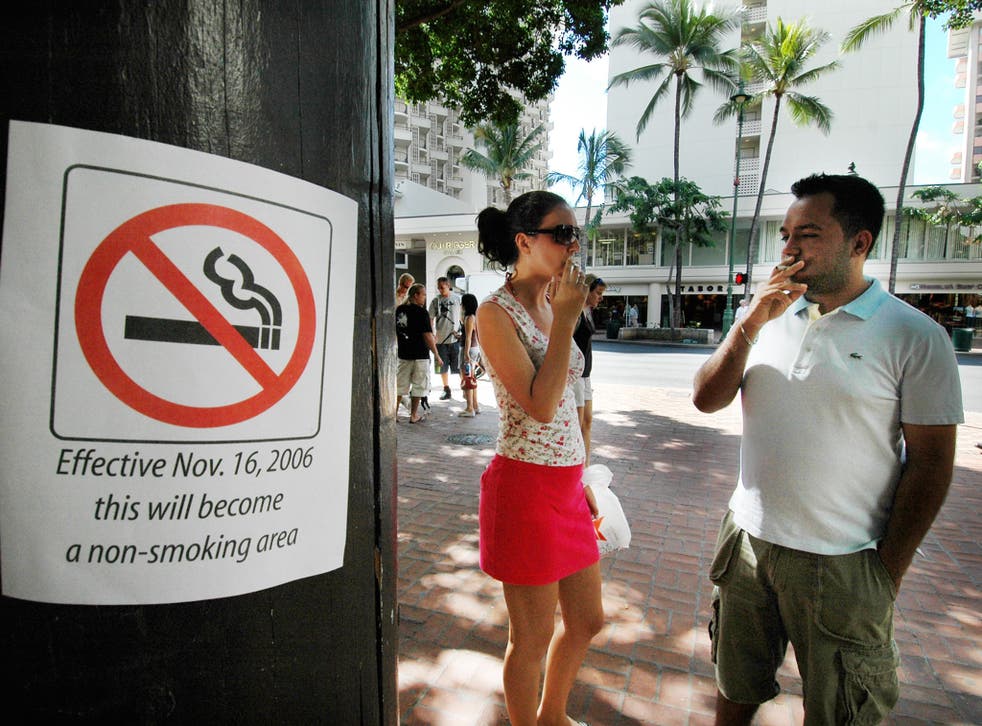 Hawaii has become the first US state to raise the legal smoking age to 21, amid fears that the growing popularity of e-cigarettes is encouraging teenagers to develop a taste for tobacco.
The state's Democratic governor, David Ige, signed a bill raising the smoking age, following the lead of dozens of local administrations including Hawaii County and New York City, in a move that is likely to embolden other state governors across the US.
The measure was aimed at reducing the number of teenage smokers, Mr Ige said. "Raising the minimum age as part of our comprehensive tobacco control efforts will help reduce tobacco use among our youth and increase the likelihood that our keiki [children] will grow up tobacco-free," he said.
Those caught breaking the rules, which come into force next year, will be fined $10 (£6.30) for a first offence and up to $50 for subsequent offences, as part of an effort to reduce the 1,400 deaths in the state each year from smoking. According to campaigners, 86 per cent of adult smokers in Hawaii began smoking when they were teenagers.
Cigarette smoking kills more than 480,000 people in the US annually, or one in every five deaths.
"I think it's going to have a tremendous impact," said Jessica Yamauchi, executive director of the Coalition for a Tobacco-Free Hawaii. "By really limiting the access, it will really help to curb the prevalence."
The US has a federally mandated minimum age of 18 for smoking tobacco. While many states have raised this to 19, Hawaii is the first to take such strong action. California, New Jersey, Washington and Utah are all reported to be considering following the Pacific state's lead.
The new law in Hawaii comes after researchers at the University of Hawaii reported that 30 per cent of 14- to 16-year-olds had experimented with e-cigarettes. It was feared that this would encourage them to consider smoking conventional cigarettes.
Despite this, the law has proved controversial, with some suggesting that it unfairly penalises people regarded as adults in other areas.
"I can't stand cigarette smoking. It's disgusting," said Democratic Representative Angus McKelvey, who voted against the bill in the state legislature. "But to tell somebody you can go and fight for your country and get killed but you can't have a cigarette, that's the thing. You can enter a contract. You're an emancipated adult in the eyes of the constitution, but you can't have a cigarette any more."
Join our new commenting forum
Join thought-provoking conversations, follow other Independent readers and see their replies