As it happened
ended
1542645694
Guatemala Fuego volcano eruption - as it happened: Thousands told 'evacuate immediately' as glowing lava appears at summit
Communities urged to flee
Monday 19 November 2018 12:37 GMT
Comments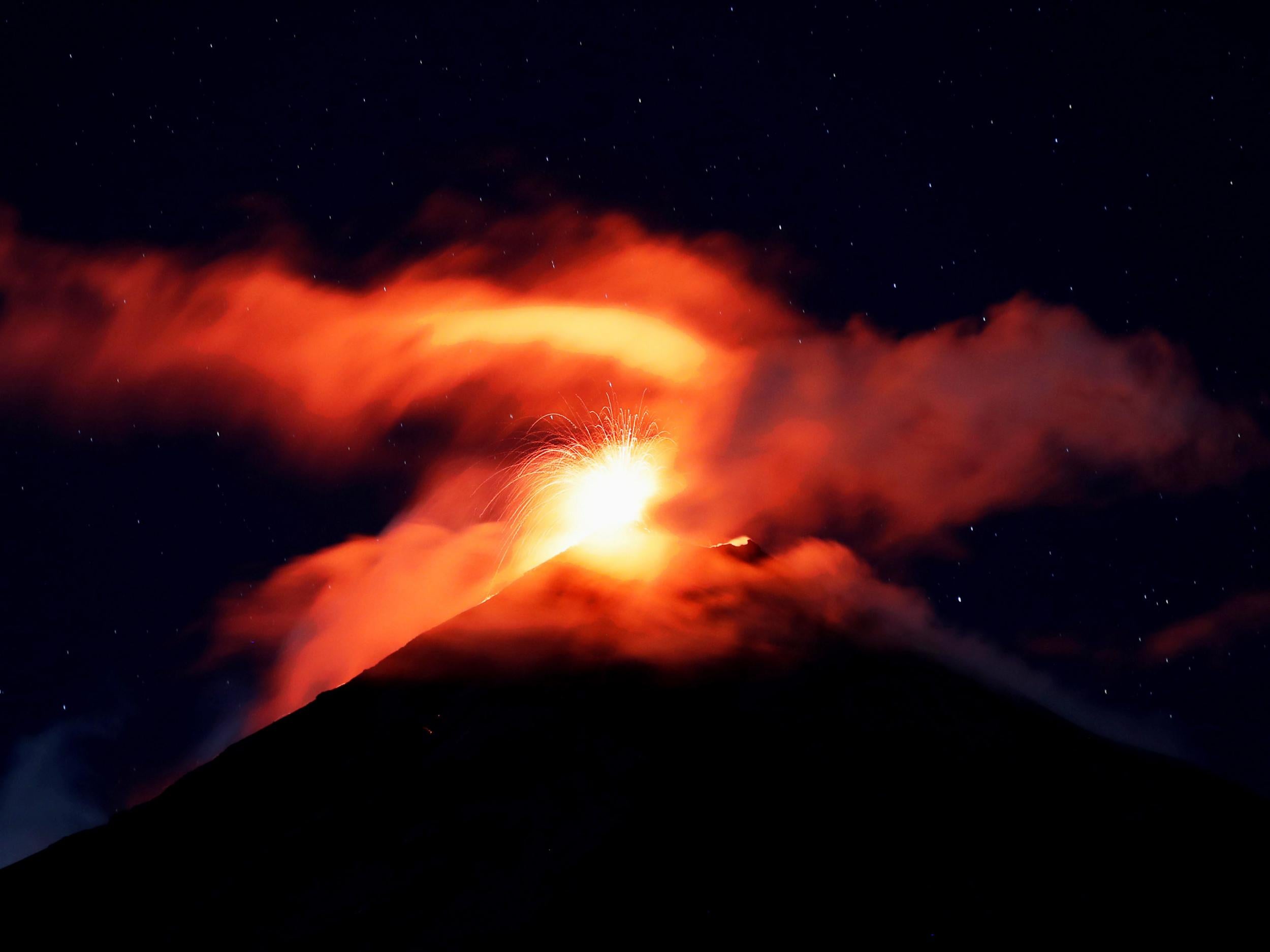 About 4,000 residents fled Guatemala's Volcano of Fire Monday as red-hot rock and ash spewed into the sky and cascaded down the slopes towards an area devastated by a deadly eruption earlier this year.
Guatemala's volcanology unit said that explosions from the 12,300-foot (3,763-metre) high mountain shook homes with "constant sounds similar to a train locomotive".
Incandescent material burst as high as 1,000 meters (3,200 feet) above the crater and flows of hot rock and ash extended nearly 2 miles (3 kilometres) down one flank of the volcano. Hot blasts of pyroclastic material pushed down canyons on the slopes, while a column of ash rose nearly 23,000 feet (7,000 metres) above sea level and drifted towards Guatemala City to the east.
Hundreds of families heeded the call of disaster coordination authorities to evacuate 10 communities, piling into yellow school buses for trips to shelters. The national disaster commission said 3,925 people had been evacuated by early Monday.
The Volcano of Fire is one of the most active in Central America and an eruption in June killed 194 people. Another 234 are officially missing, although organisations supporting the communities have insisted there are thousands of missing persons.
It spewed more ash and hot rock in October, prompting warnings for the nearby communities.
The biggest danger from the volcano are lahars, a mixture of ash, rock, mud and debris, that can bury entire towns.
Please allow a moment for the liveblog to load
1542617308
News of the volcano's eruption broke only a short while ago. Here's our full story:
Harriet Agerholm
19 November 2018 08:48
1542617702
June eruption deadliest in Guatemala for 89 years
Then, around 3,100 people were ordered to evacuate but the eruption moved quickly and communities around the volcano had very little time to flee.
Dramatic video filmed at the time showed a fast-moving lahar, or flow of pyroclastic material and slurry, slamming into and partly destroying a bridge on a road between Sacatepequez and Escuintla.
Harriet Agerholm
19 November 2018 08:55
1542619849
Evacuation order not mandatory
At least three of the communities told to leave have started to flee, rescue group Antigua al Rescate has said.
The organisation posted a photograph to Facebook that showed the volcano with a ball of flame at its summit surrounded by a plume of smoke. It also posted a diagram illustrating the seismic activity in the area.
Harriet Agerholm
19 November 2018 09:30
1542621177
To give you an impression of the size of the eruption earlier this year — here is footage of it from space.
The video shows ash and lava being fired high into the air before raining down on the area close to the volcano.
Harriet Agerholm
19 November 2018 09:52
1542623901
Authorities rush to set up emergency accommodation 
Guatemala's defence ministry has been setting up tents at a nearby municipal stadium to accommodate evacuees, the country's coordinator for disaster response has said.
Harriet Agerholm
19 November 2018 10:38
1542624807
Guatemala's national institute for Seismology, Volcanology and Meteorology has issued a diagram showing the ash is expected to travel around 30km in southwest and northeast directions from the volcano's summit.
Harriet Agerholm
19 November 2018 10:53
1542625157
Only women evacuated from village
Panimaché 2, which lies at the foot of the volcano, decided at a meeting to only evacuate women, Guatemala's disaster coordinator has said.
Harriet Agerholm
19 November 2018 10:59
1542626052
Communities still undecided about whether to flee
Representatives from the village of Chuchú, Escuintla, which lies around 10 kilometres to the south of the volcano's summit, were set to decide whether to evacuate at a meeting this morning, officials said.
They also who claimed many of the 300 families living there did not want to leave.
Harriet Agerholm
19 November 2018 11:14
1542632034
Disaster officials have said pyroclastic clouds, which contain ash, lava and vapour, are flowing down the Las Lajas and Honda ravines. 
Harriet Agerholm
19 November 2018 12:53
1542645648
Thanks for following The Independent's live coverage of the volcanic eruption in Guatemala. That's all for today.
Harriet Agerholm
19 November 2018 16:40
Join our commenting forum
Join thought-provoking conversations, follow other Independent readers and see their replies