Lawmakers trying to stop the production of 3-D-printed guns. But it might be too late
Lack of serial numbers on printed firearms makes them near-impossible to trace, say gun-control campaigners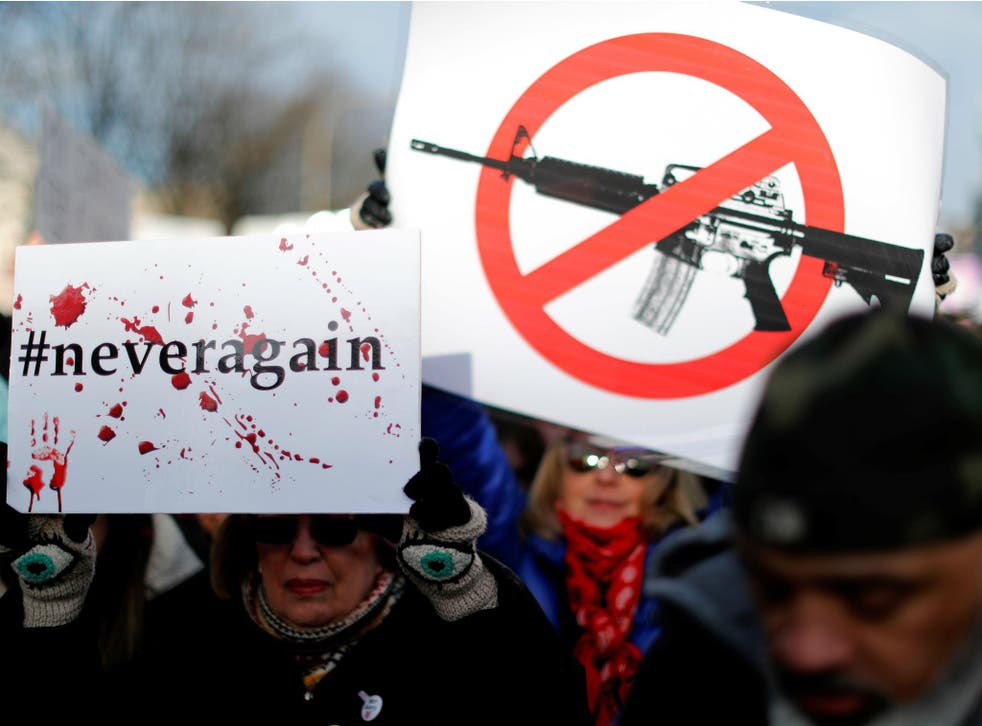 US gun safety campaigners have expressed their anger over Congress' failure to regulate the manufacture of 3-D printed guns.
Following a multi-year legal battle, the federal government last month entered into a settlement with Defense Distributed founder, Cody Wilson.
Mr Wilson rose to fame after manufacturing the the first fully 3-D printed pistol in 2013, when he was just 25. Within days of publication, Mr Wilson's design files had been downloaded more than 100,000 times.
The settlement allows Mr Wilson to publish his arsenal of fire arm blueprints online from 1 August. With no serial numbers the blueprints are nearly impossible to trace, gun-control campaigners have warned.
A federal judge has since rejected an emergency injunction brought forward by gun-control groups.
One campaigner outraged by law-makers' acquiescence was Fred Guttenberg, whose 14-year-old daughter was killed in the Stoneman Douglas High School shooting in Parkland, Florida.
Florida teacher speaks on gun control: 'our founding fathers didn't have this in mind'
"I don't know how we got to this place and no one was paying attention," Mr Guttenberg lamented. "This is the safety of this country and its citizens who are now at risk in their offices, in courthouses and on airplanes."
Democratic senator for New York, Charles "Chuck" Schumer, was equally as critical of Congress' inaction.
"Ghost guns are as scary as they sound – a terrorist, someone who is mentally ill, a spousal abuser, or a felon can essentially open a gun factory in their garage. No background check, no training," he said.
Five other Democratic senators – Edward Markey, Bill Nelson, Richard Blumenthal, Chris Murphy, and Dianne Feinstein – have sent a letter to Attorney General Jeff Sessions, demanding he explain the government's decision to settle.
The famous for and against US gun control

Show all 31
Senator Nelson also plans to introduce a bill that would prohibit online publication of any digital file that can be downloaded or programmed to print a 3-D gun part.
"All the letters are nice, but they do nothing," Mr Guttenberg reflected. "At 12:01 on the 1st of August, it's going to be too late."
The Department of Justice declined to comment.
"Once the plans are up on the Internet, it's impossible to un-ring the bell," said Jonathan Lowy, vice president of litigation at the Brady Center, a Washington-based gun-control campaign group. "The genie is out of the bottle and you can't put it back in."
The Washington Post
Register for free to continue reading
Registration is a free and easy way to support our truly independent journalism
By registering, you will also enjoy limited access to Premium articles, exclusive newsletters, commenting, and virtual events with our leading journalists
Already have an account? sign in
Register for free to continue reading
Registration is a free and easy way to support our truly independent journalism
By registering, you will also enjoy limited access to Premium articles, exclusive newsletters, commenting, and virtual events with our leading journalists
Already have an account? sign in
Join our new commenting forum
Join thought-provoking conversations, follow other Independent readers and see their replies