Hand sanitiser can explode if left in car on hot day, officials warn
'Keeping it in your car during hot weather can lead to disaster,' fire district says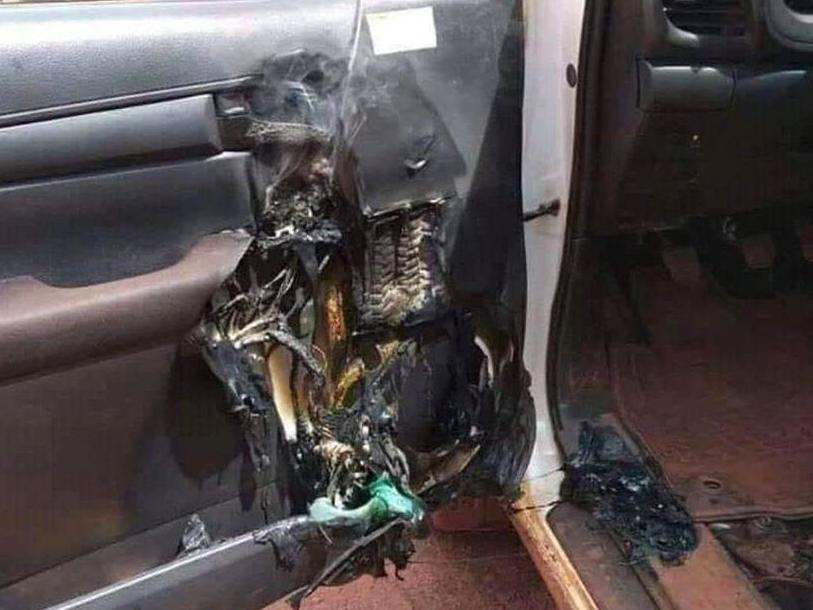 Experts in Texas are warning that leaving hand sanitiser in vehicle on a hot day could lead to "disaster".
In a Facebook post showing a melted car door, the Western Lakes Fire District warned residents that the alcohol content of hand sanitisers makes them flammable.
"Keeping it in your car during hot weather, exposing it to sun causing magnification of light through the bottle, and particularly being next to open flame while smoking in vehicles or grilling while enjoying this weekend, can lead to disaster," the department said.
The photograph shows serious damage to the driver's side door of a car caused by "hand sanitiser igniting in a hot vehicle that reached 95 degrees Fahrenheit inside the vehicle", according to CBS Dallas.
The Texas Department of Public Safety also shared the image to warn the rest of the state about the hazard, according to the report.
"It's flammable and it's an irritant," retired Dallas firefighter Sherrie Wilson told the broadcaster.
"When it's venting and if it's venting in a small space like a car, and vapour is released, it can explode."
Officials explained that in a confined space such as a car, flammables turn to vapour and if there is an introduction of static energy into the environment this can lead to a flame.
"And that could simply be somebody getting in and pulling down on a sweater or jacket or anything like that," Ms Wilson said.
Additionally, leaving sanitising products in hot environments for a prolonged period of time can reduce their alcohol content and make them less effective, officials warned.
"If the alcohol evaporates, the hand sanitiser is less efficient. It is the alcohol that kills the germs," Dr Mihaela C Stefan, of The University of Texas at Dallas Department of Chemistry and Biochemistry told the outlet.
Last month, the state's Department of Health Services also published a public service warning against "improper use of hand sanitisers and disinfectant products during the Covid-19 pandemic".
According to the statement, the health department has seen a steep 64 per cent increase in health concerns from accidental ingestion of hand sanitiser.
Amidst the coronavirus pandemic, supermarket sales of hand sanitiser soared by 255 per cent in the four weeks leading up to 23 February as the pandemic escalated, according to a UK report.
Texas has almost 50,000 recorded cases of the novel coronavirus and over 1,300 deaths as of Friday.
Join our commenting forum
Join thought-provoking conversations, follow other Independent readers and see their replies