American Isis fighter says 'war on Islam' has made US more vulnerable to attack in video message to Donald Trump
African American Isis fighter appears in propaganda video saying Islamophobia will help fuel support globally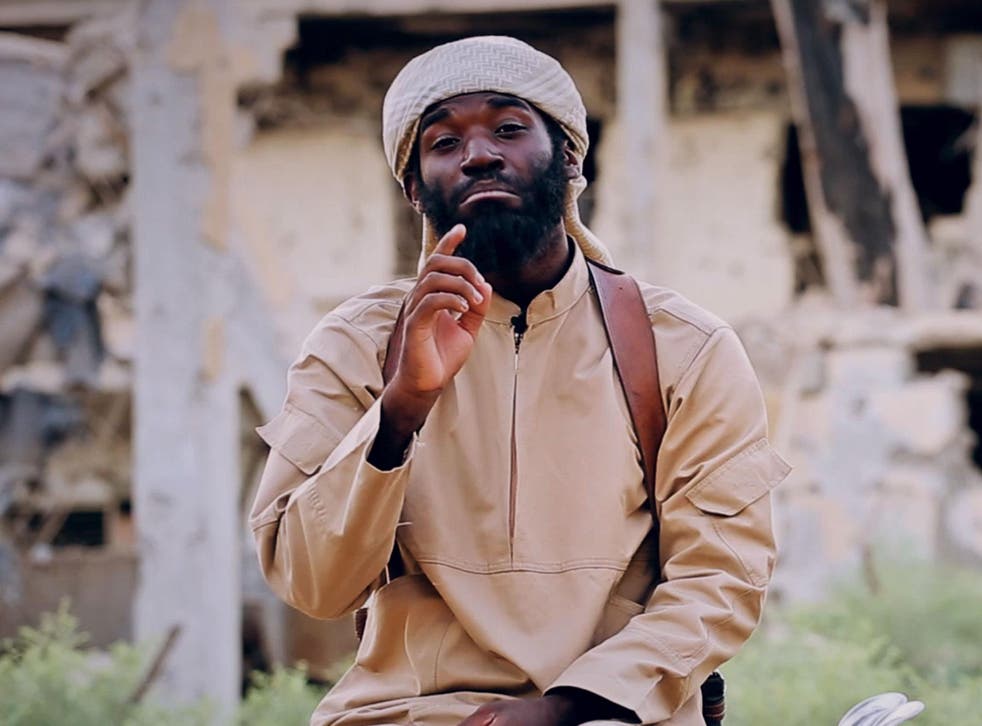 Isis has claimed Donald Trump's "war against Islam" is making the US more vulnerable to terror attacks while calling for further atrocities.
In a propaganda video released on Wednesday, an African American Isis fighter using the war name Abu Salih al-Amriki delivered a message to the President.
"You entered into the White House on the back of your crusader rhetoric, which the fake media has pressured you to tone down," he said.
"Your feelings and hatred towards Islam has already been revealed… you are now witnessing your fake victory.
"Your war against Islam has only made your homeland more vulnerable and your society is cracking into chaos."
The American Isis fighter, whose true identity was not immediately known, was shown attaching a prosthetic leg and walking on crutches amid the ruins of buildings that appear to have been hit by air strikes.
Wearing battle fatigues and carrying a pistol, he repeated calls for Isis supporters to "rise and strike the kuffar [disbelievers]" and claimed the Isis flag would be "raised over the White House".
Gov. Cuomo: NY attack suspect was associated with Isis and radicalised domestically
The propaganda message suggested that rising Islamophobia and terror attacks in the US could help drive supporters to Isis's cause, with the fighter saying: "Take advantage of the fact you can easily obtain a rifle or a pistol in America and spray the kuffar with bullets so that their fear of Muslims rises, and they continue to reveal their hatred towards Islam for the ummah [community] to rise."
Isis has continually sought to exploit political tensions across the West to fuel its narrative of a holy war between its supporters and anyone, including Muslims, who oppose its brutal interpretation of sharia law.
The group's message to Mr Trump came as activists told The Independent American Muslims were more vulnerable to Islamophobia under Mr Trump's presidency than in the wake of the 9/11 attacks.
"It's not just Americans Muslims [who feel anxious]," said Ibrahim Hooper, a founder of the Council On American-Islamic Relations. "We have seen white supremacists emboldened under Trump."
Experts have warned of the danger of "reciprocal radicalisation", where Islamists and far-right extremists feed off each other to boost their own popularity.
The President has been heavily criticised for what critics labelled a "Muslim ban" on travel from selected countries, as well as his wider remarks on Islam and alleged failure to confront white supremacism.
Isis's latest video, released via its main propaganda channels, incorporated footage of the aftermath of terror attacks including those in Las Vegas and Orlando, which were both claimed by the group.
Isis also claimed responsibility for a vehicle attack that killed eight people in Manhattan on Halloween, but remained silent over a failed suicide bombing in New York's subway system earlier this month.
Investigators said the suspect, Akayed Ullah, had been radicalised by materials including Isis propaganda from 2014 onwards and had watched a video instructing supporters unable to travel to the group's territories to carry out attacks at home.
Shortly before the blast on 11 December, he posted a statement on Facebook reading "Trump you failed to protect your nation", as well as a declaration that the attack was carried out in the name of Isis.
Explosion in New York City

Show all 14
As the terrorist group's self-declared state in Syria and Iraq has dwindled, it has been increasing its calls for attacks around the world, issuing detailed guidance on how to obtain firearms, make bombs or use knives and vehicles to inflict mass casualties.
Another propaganda video released by Isis's affiliate in Somalia on Christmas Day, incited attacks on New Year's Eve celebrations, Christmas markets, bars and the Pope.
It also featured an English-speaking Isis militant, who called on the "brothers who live among the kuffar" to commit atrocities until the group's black banner "rises from Washington to Moscow, from Europe to China".
British security services have warned that the risk of Isis-inspired terror attacks continues to grow and evolve despite the group's huge territorial losses, with the "battle of ideas far from won".
Military officials say the group's remaining fighters are regrouping in the desert border between Syria and Iraq, parts of Afghanistan, Egypt and Libya.
On Wednesday, US Central Command said there had been a series of raids targeting cave networks used by Isis militants in Syria's Hamad desert.
A spokesperson said coalition forces and US-backed rebel group Maghawir al-Thawra conducted "ground clearance operations" on 23 December.
It followed previous operations in a fledgling deconfliction zone recognised by the US-led coalition, Syrian government and its Russian backers.
Major-General James Jarrard, Commander of Operation Inherent Resolve's special operations joint taskforce, said they had disrupted Isis fighters' movements by clearing caves historically used to store weapons, explosives and communications equipment.
"Isis was using the area to transit from the Euphrates river valley, where they have enjoyed relative freedom of movement while fleeing the coalition's successful Syrian Democratic Forces partners," a statement added. "Isis has repeatedly surfaced in the Hamad desert."
Join our new commenting forum
Join thought-provoking conversations, follow other Independent readers and see their replies