Isis claims responsibility for New York terror attack that killed eight people
Sayfullo Saipov, 29, drove truck into pedestrians in Manhattan
Lizzie Dearden
Friday 03 November 2017 10:34 Comments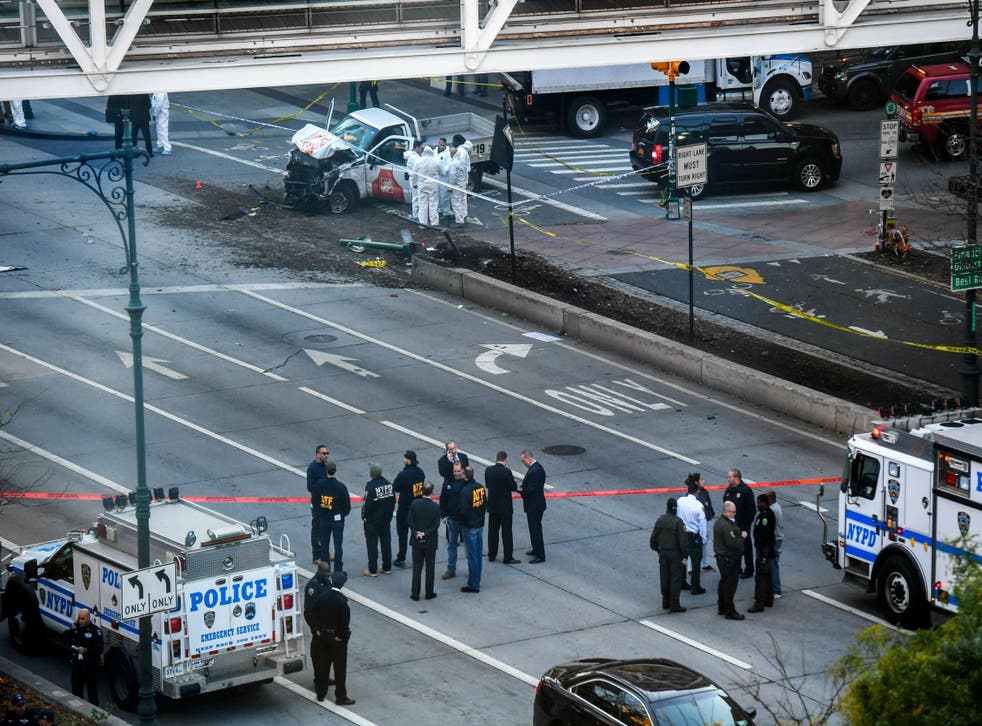 Isis has claimed responsibility for the New York attack in a propaganda article describing the perpetrator as a "one of the soldiers" of its self-declared caliphate.
Investigators have already confirmed Sayfullo Saipov was inspired by the terrorist group's propaganda to carry out a rampage leaving eight people dead in Manhattan.
But nothing in either Isis' own statement or the criminal complaint against Saipov suggests he was in direct communication with the group.
An article in its weekly Arabic language newspaper, which was released overnight, hailed the attack by "soldier of the Islamic State" and noted its proximity to the National September 11 Memorial.
Repeating details of the attack that appeared to be taken from news reports, it celebrated calls to increase security measures and tighten restrictions on immigration, following warnings that Isis seeks to profit from growing division.
Isis repeated its claim for the Las Vegas shooting, which has still not been confirmed in the article, adding: "The attacks come in response to calls to target the citizens of Crusader countries that participate in the coalition against the Islamic State."
The article did not name Saipov or include a kunya, an Arabic nickname commonly used to identify terrorists who have been in direct contact with the group.
Trump calls New York attack suspect an 'animal' and signals scrapping lottery visa scheme
Isis normally releases claims initially via its Amaq "news agency", with articles in al-Naba and its Rumiyah propaganda magazine later providing more detail.
Despite widespread scepticism about the group's statements, Isis is selective with its claims for terror attacks.
Investigations have shown the vast majority of its "soldiers" had directly contact with militants or had communicated their allegiance.
Isis has not claimed responsibility for several attacks where perpetrators have been inspired by the group but had no contact, particularly when they have been detained.
An Isis flag was found inside a van ploughed into pedestrians in the Canadian city of Edmonton last month, by an extremist who attacked a police officer with a knife before being arrested.
A Palestinian asylum seeker who killed one person and injured six in another knife rampage in Hamburg was also a "known Islamist", and the man who detonated a bomb that injured 30 victims in New York as part of a wider attack plot had written a journal saying he had been inspired by both Isis and al-Qaeda.
By contrast, Isis has claimed responsibility for minor incidents including an arson attack in Sweden that injured no one, when they have communicated with the perpetrator.
A criminal complaint filed against Saipov said he "was inspired to carry out the truck attack by Isis videos he had watched" on his mobile phone, which was found containing 90 Isis-related propaganda videos, including executions and bomb-making instructions, and 3,800 images.
New York Truck attack

Show all 6
He allegedly started plotting the massacre a year ago but settled on the plan to use a truck two months ago and appeared to closely follow Isis instructions to followers by carrying secondary weapons including a bag of knives.
The attack started at 3pm local time on Tuesday, seeing Saipov drive a rented pick-up truck into a bicycle lane and pedestrian walkway in Manhattan, hitting as many people as possible before crashing into a school bus.
Saipov emerged carrying a paintball gun and pellet gun and shouting "Allahu Akbar", meaning "God is Great", in an apparent attempt to be killed by police and become an Isis martyr.
He was shot by police and taken into custody, where he remains awaiting trial for killing five Argentine tourists, a Belgian woman, a New Yorker and a New Jersey man, and injuring a dozen more victims.
Investigators said a document found in the truck was written in Arabic and English, including the phrase meaning "Isis will endure".
They also found a black bag containing three knives and a wallet including a Florida drivers' licence for Saipov, two mobile phones and a stun gun.
In a police interview, the 29-year-old allegedly declared that he wanted to kill as many people as he could and initially planned to display Isis flags on the front and back of the truck before deciding it would draw too much attention.
While being questioned, investigators said Saipov asked to hang the terrorist group's flag in his hospital room and "stated that he felt good about what he had done".
The New York Police Department said he had followed Isis instructions "almost to a T" but no formal links to the group had been uncovered.
Isis has released detailed instructions on carrying out vehicle attacks while intensifying calls for global atrocities as its territories shrink in Syria and Iraq.
The first terror attack using a lorry came in Nice, where an Isis supporter killed 86 people in July 2016.
Vehicles have since been used in attacks in Berlin, Stockholm, London, Paris, Spain and the Canadian city of Edmonton.
Isis has released several rounds of instructions on how to use vehicles in deadly rampages, stipulating what kind to use and how to hire or steal them.
The group's propaganda has cited pedestrianised areas and crowded streets as prime targets after declaring murdering civilians "halal", meaning permissible under Islam.
An issue of its Rumiyah propaganda magazine released in November 2016 cited the Nice attack as a "superb demonstration" and urged jihadis behind the wheel to carry a "secondary weapon, such as a gun or a knife" to continue massacres after crashing.
Isis also advises supporters to leave letters or other proof of their allegiance to be found by authorities "lest the operation be mistaken for one of the many random acts of violence that plague the West".
A propaganda article says flags can be used or "something as simple as a note" like that found in New York.
Isis says the best outcome is then to attain "martyrdom" by being killed by security forces.
Donald Trump has called for Saipov to be handed the death penalty, sparking fears lawyers may use the statement to argue his trial has been prejudiced.
In a tweet around 11 hours after Isis' claim was released, Mr Trump called Saipov a "degenerate animal".
He added: "Based on [the claim], the military has hit Isis 'much harder' over the last two days. They will pay a big price for every attack on us!"
There is no indication that American forces have changed their strategy supporting local forces in Syria and Iraq, while conducting air strikes, as a result of the atrocity.
The President has repeated calls for Congress to end the Bush-era Diversity Immigrant Visa program under which Saipov entered the US from Uzbekistan in 2010.
The FBI has located another Uzbek man, Mukhammadzoir Kadirov, 32, who was wanted for questioning as a person of interest in the attack.
Register for free to continue reading
Registration is a free and easy way to support our truly independent journalism
By registering, you will also enjoy limited access to Premium articles, exclusive newsletters, commenting, and virtual events with our leading journalists
Already have an account? sign in
Join our new commenting forum
Join thought-provoking conversations, follow other Independent readers and see their replies