Ivanka Trump 'calling Congress members about child care legislation'
President-elect's daughter tipped for a First Lady-style role in new administration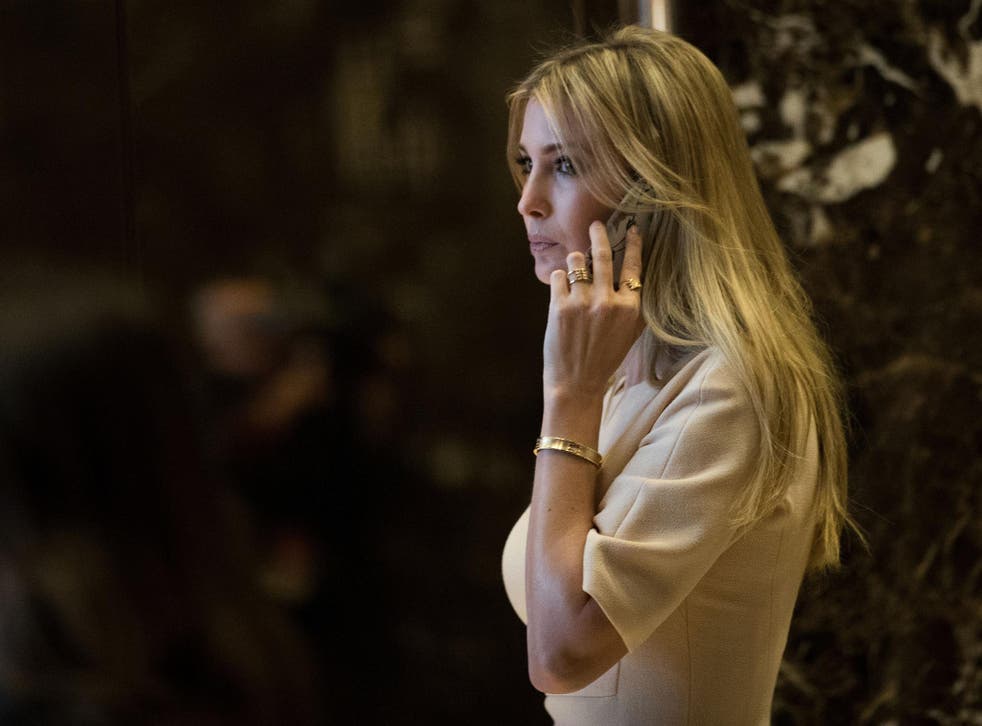 Donald Trump's daughter Ivanka has reportedly been calling elected government officials to discuss child care policy.
Ms Trump has been playing a key role in her father's presidential transition team and has joined in meetings with world leaders, despite holding no elected position.
It has now emerged that she has been calling members of the US Congress to talk to them about issues she is passionate about.
Ms Trump had been meeting with members of the Ways and Means committee, the House of Representatives group responsible for taxation, and other Congress representatives, particularly women, a source in the transition team told CNN.
Ms Trump has been making calls to politicians since her father's election victory "to talk about child care provisions" according to Sarah Chamberlain, the founder of the center right Republican Main Street Partnership, organistaion.
She told the Independent Journal Review, that Ms Trump has been lobbying strongly on child support issues and working mothers.
Kellyanne Conway says Donald Trump's team found 'an exception' in anti-nepotism law
"I think she's hoping to [play a large role in the administration]. It did come out she's gonna have an office in the East Wing and actually I think she's gonna be a great addition. I think she was a huge help in getting her father elected," she said.
Ms Trump has also come under scrutiny for featuring as a prize in a charity auction for the Eric Trump Foundation, which belongs to another one of the President-elect's children.
The bid for a coffee date was won, at a price of nearly £50,000, by Ozan Ozkural, a London based investment manager with links to Turkey.
He was clear that he bid to gain access to Ms Trump as a political figure for the benefit of his private interests.
"The nature of my business, we talk to a lot of different governments, a lot of politicians and lawmakers across the world," Mr Ozkural told the New York Times. "You end up getting a better sense of what the modus operandi will be."
Join our new commenting forum
Join thought-provoking conversations, follow other Independent readers and see their replies