Jeffrey Epstein: Saudi passport, 'piles of cash' and 'dozens of diamonds' found at paedophile's mansion, prosecutors hear
Prosecutors say Epstein should be denied bail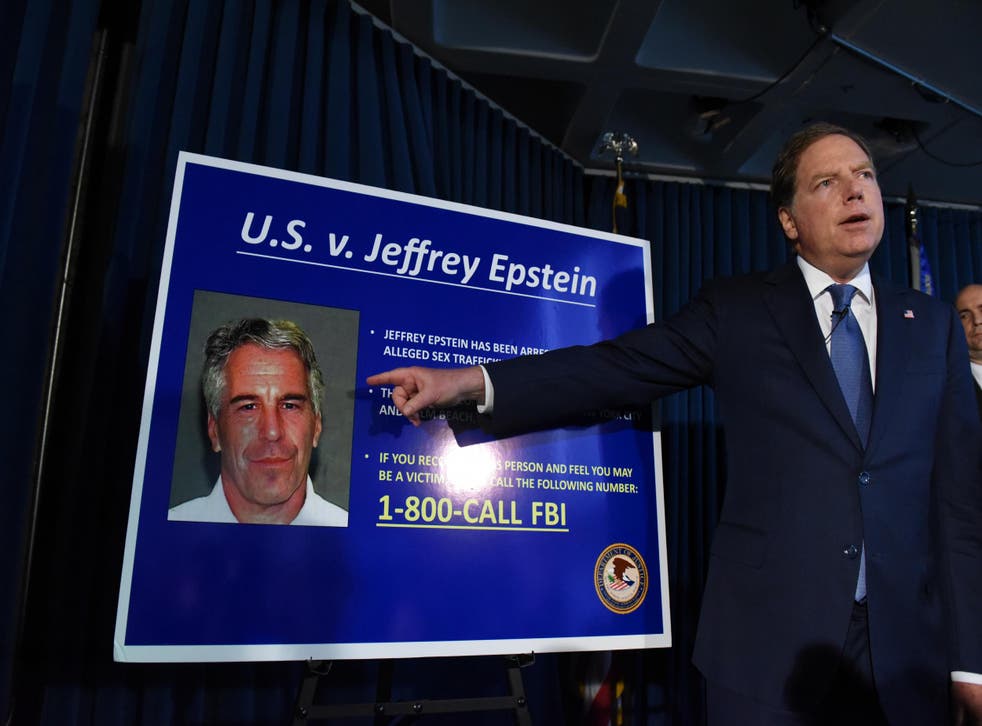 Jeffrey Epstein was keeping "piles of cash" and a passport that appeared to be issued from a foreign country in a locked safe in his New York City home, prosecutors have learned.
At a hearing Monday in Manhattan, Assistant US Attorney Alex Rossmiller told US District Judge Richard Berman that the government found the cash and passport, along with valuable art and "dozens of diamonds" hidden inside the accused paedophile's $77m Upper East Side mansion.
The passport, Mr Rossmiller said, appeared to be "issued from a foreign country with a photo of the defendant and a name on that passport that is not the defendant's name." CNBC reports that the found passport expired in the 1980s and had a stated residence of Saudi Arabia.
He said that "many, many photographs" of young-looking girls were also locked in the safe. Prosecutors have identified at least one person in the photographs who claims to be a victim of Epstein's.
The contents of the safe add to the prosecutors' position that Epstein should not be released on bail, which is currently set for $100m.
In a court filing last Friday, prosecutors said the accused sex trafficker, who was often referred to as a "billionaire" before more in depth looks at his fiances brought up questions not only of his worth but of his actual job, is worth at least $500m. On Monday, Mr Rossmiller said one account belong to Epstein holds more than $100m.
"He has every incentive to flee if he is released," Mr Rossmiller said in court.
Epstein was arrested July 6 at Teterboro Airport in New Jersey. He pleaded not guilty on July 8 in Manhattan, where a grand jury had indicted him on a one count of sex trafficking and a single count of conspiracy to commit sex trafficking.
Jeffrey Epstein: Controversies surrounding paedophile billionaire

Show all 9
Last week, Donald Trump's Labour secretary, Alexander Acosta, resigned following disgust over his signing off on a non-prosecution agreement with Epstein in 2007, when Mr Acosta served a federal prosecutor in Florida.
A lawyer for Epstein argued his behaviour since that deal makes him eligible for bail, saying "It's not like he's an out-of-control rapist."
Two newly named accusers, however, came forward Monday with attorneys to argue against Epstein's release.
Support free-thinking journalism and attend Independent events
"I was sexually abused by Jeffrey Epstein starting at the age of 14," said Courtney Wild. "I would just like to ask the court to not grant him bond, to keep him in detention just for the safety of any other girls out there that are going through what I'm going through. It is a public case, and it's just – he's a scary person to have walking the streets."
Alice Farmer said she was 16 when she alleged she was flown to Epstein's ranch in New Mexico, a state where he owned property but had avoided having to register as a sex offender following his deal in Florida.
"He was inappropriate with me, and I would prefer not to go into the details about labelling that at this time," she told the judge.
The judge will reportedly make his decision on Epstein's bail on Thursday.
Join our new commenting forum
Join thought-provoking conversations, follow other Independent readers and see their replies