Jeremy Meeks breaks silence from prison saying he's 'not some kingpin'
His mugshot went viral after being put on Facebook by police in California
Lizzie Dearden
Monday 23 June 2014 11:47 Comments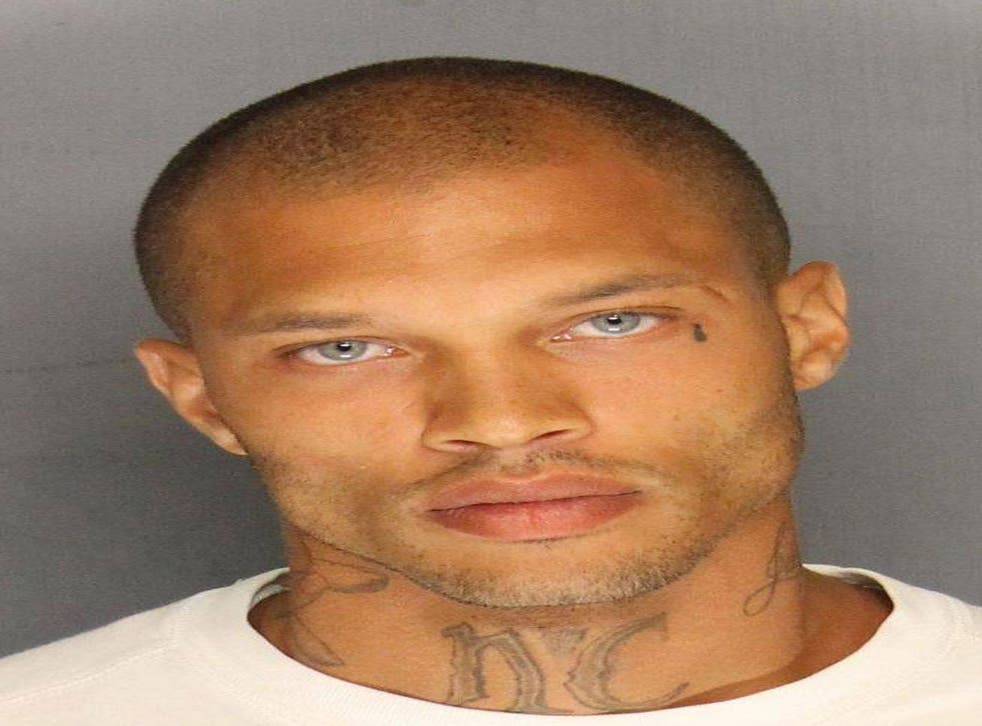 The smooth criminal who became an internet sensation after California police posted his mugshot on Facebook has broken his silence.
Jeremy Meeks, 30, was arrested on charges of illegal gun possession and gang crime but that didn't stop thousands of women and men swooning at his picture as it went viral.
His photo, posted on the Stockton Police Department's Facebook page, has so far been "liked" by almost 86,000 people, has been shared 11,100 times and has more than 23,600 comments.
The biggest sensation since Ridiculously Photogenic Guy, it has now spawned countless memes, often superimposing his head on models' bodies in designer adverts.
Many have predicted that when he is freed he will have little difficulty finding work as advertising companies try to capitalise on his new-found fame.
The attention has not gone unnoticed by the police, who reminded the public that he was a "convicted felon".
ABC's News 10 channel managed to interview him in prison, where he was awaiting his next hearing.
"I appreciate [the attention] but I just want them to know that this is really not me," he said. "I'm not some kingpin."
Meeks, who has a wife and son, has served years in prison for theft and was allegedly caught with a gun during an anti-gang operation involving the FBI on Thursday.
A statement from Stockton Police said he was stopped while driving a car with two passengers away from a house due to be searched.
It continued: "A search of the passenger compartment yielded a 9mm round of ammunition and a small amount of what is believed to be marijuana.
"A search of the trunk located an unregistered and loaded Springfield Armory .45 caliber XD(M) semi-automatic handgun along with two extended magazines for the firearm."
Meeks has previous convictions including grand theft from a person (a lesser offence than robbery) and has documented links with gangs including the Northside Gangster Crips.
The Crips, which have several factions, are one of the largest and most violent street gang groups in America.
In pictures of Meeks, the word "Crips" can clearly be seen tattooed on his forearm.
But his family insists he left that life behind years ago and had settled down with his wife and son.
Jeremy Meeks: 'Handsome felon' in pictures

Show all 10
His mother, Katherine Angier, started a GoFundMe page for her son, claiming he is being stereotyped because of his collection of tattoos, including a teardrop on his face.
She alleges her son is a "working man" with "no gang affiliations" and was on his way to work when he was arrested.
"He's my son and he is so sweet," she wrote on the gofundme page, which has already been shared 1,500 times. "Please help him to get a fair trial or else he'll be railroaded."
One post by Jazmon Mahan, who is apparently a member of Meeks family, criticises some of the responses, adding: "He changed his life around six years ago. He is a great father, husband, son, brother and uncle."
Meeks is next due in court on 27 June and his bail has been raised $1 million (£587,800).
Register for free to continue reading
Registration is a free and easy way to support our truly independent journalism
By registering, you will also enjoy limited access to Premium articles, exclusive newsletters, commenting, and virtual events with our leading journalists
Already have an account? sign in
Join our new commenting forum
Join thought-provoking conversations, follow other Independent readers and see their replies