Trudeau accuses Canada truckers of 'hate, abuse and racism' as he tests positive for Covid after evacuation
The Canadian capital is still facing occupation by truckers angry at Covid-19 restrictions that they say infringe their freedom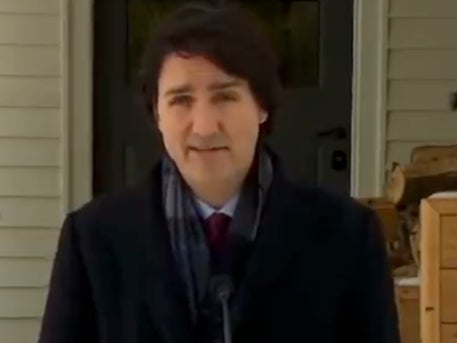 Leer en Español
Canadian Prime Minister blasted a convoy of truckers protesting vaccine mandates as showing "disrespect to science" and championing "hate, abuse and racism" hours after announcing he had tested positive for Covid-19.
Mr Trudeau delivered fiery remarks at a virtual press conference on Monday afternoon after he was evacuated to a safe location over the weekend as thousands of truckers descended on Ottawa to block roadways.
Police have said most demonstrators have been peaceful but local residents complain they are fed up with the non-stop blaring of truck horns and demonstrators using the streets as an open-air toilet. Some also forced a homeless shelter to give them food - the shelter said on Twitter - while others flew Nazi flags.
Addressing the media, Mr Trudeau said Canadians were disgusted by the behavior of some protesters.
"We are not intimidated by those who hurl abuse at small business workers and steal food from the homeless," he said. "We won't give in to those who fly racist flags. We won't cave to those who engage in vandalism."
He continued: "There is no place in this country for threats, violence or hatred. So to those responsible for this behaviour: it needs to stop.
"To anyone who joined the convoy, but is rightly uncomfortable with the symbols of hatred and division on display: join with your fellow Canadians. Be courageous and speak out. Do not stand for, or with, intolerance and hate."
Earlier in the day, as protests against vaccine mandates obstructed streets and businesses in the national capital, Mr Trudeau revealed his Covid diagnosis and implored citizens to get their shots.
The prime minister, who also had to isolate with his wife after exposure in March 2020, entered isolation on Thursday after it was confirmed he had been exposed to somebody with the virus – a requirement that meant he would have missed the upcoming reopening of parliament regardless of his own status. He joins a list of Canadian ministers who have tested positive over the past few months.
Mr Trudeau and his family have also been transported from their home to an undisclosed secure location over fears that the truckers' protest in Ottawa, aka the "freedom convoy", could carry the potential for violent threats against them and other mainstream Canadian politicians.
While the protest is ostensibly focused on the truckers' freedom to work and go about their everyday lives without proving their vaccination status, members of the crowd have been seen carrying Confederate flags and right-wing symbols while comparing vaccine mandates to fascism.
The Ottawa police have so far tried to de-escalate the protest rather than cracking down on it or arresting protesters for breaking various laws – an approach that has drawn criticism from those who see a largely white crowd of anti-government protesters being given leeway in a country where first nations people and people of colour are often subject to far harsher policing.
The protest, which shows no sign of abating, is apparently costing the force $800,000 a day to handle.
Additional reporting by Reuters
Join our commenting forum
Join thought-provoking conversations, follow other Independent readers and see their replies