Six missed warning signs before the Maine mass shooting explained
In the aftermath of the shooting, authorities are facing mounting pressure to explain whether they could have done more to stop the tragedy. Kelly Rissman reports
Thursday 02 November 2023 11:32 GMT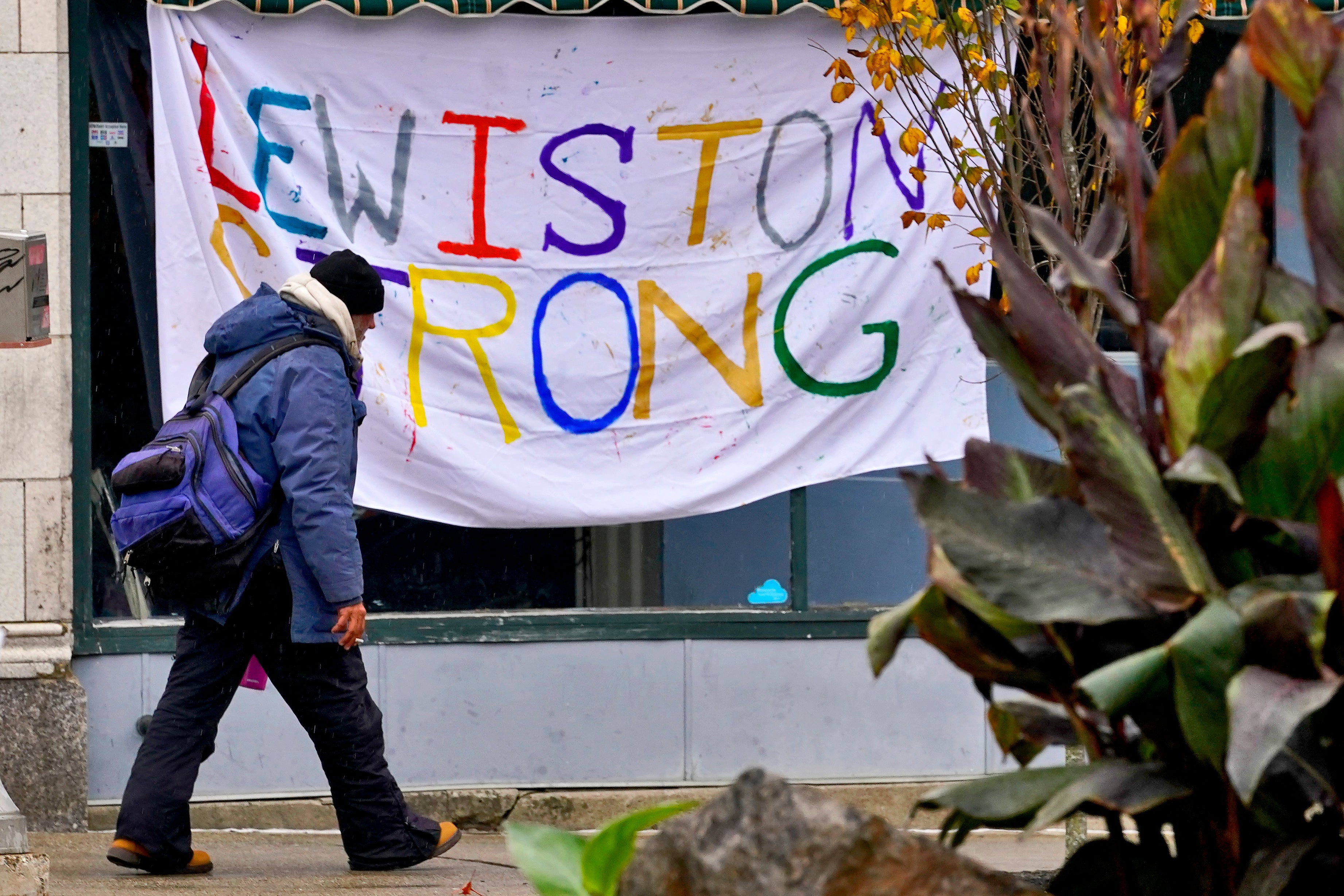 Almost a week after a horrifying mass shooting left 18 people dead in Lewiston, Maine, questions are mounting over whether the atrocity could have been prevented altogether.
Information continues to emerge about warning signs around suspected shooter Robert Card - including concerns raised by his family and the Army alike - stemming back months before the massacre.
The first known warning came back in May, five months before the shooting, when Card's family alerted the Sagadahoc County Sheriff's office with concerns about his mental health and his access to guns.
In July, Card was put under psychiatric evaluation for two weeks after an incident with fellow Army soldiers.
In September, the Army Reserve contacted the sheriff's office seeking a welfare check on Card over a fellow soldier's concern that he would carry out a mass shooting. Authorities responded by issuing an alert to law enforcement agencies statewide which cautioned that Card was "known to be armed and dangerous" and was suffering from psychotic episodes.
That alert was cancelled exactly one week before Card allegedly opened fire on two Lewiston businesses, killing 18 people and wounding 13 others. He was found dead by apparent suicide two days later.
In the aftermath of the shooting, authorities are facing mounting pressure to explain whether they could have done more to stop the tragedy, given the warnings on record.
Workplace concerns
NBC News reported that Card worked as a commercial driver at Maine Recycling Corporation from February 2022 to early June 2023. Coworkers detailed disturbing comments made by Card, underscoring his fixation on guns as well as what appears to be some paranoia.
One former coworker said that the shooting suspect displayed a "total mood shift" a year after he started working at the recycling plant.
"He irrationally snapped. We'd do good the whole day, but then would say that I touched him. He said I was sexually harassing him, calling him a pedophile," the source said.
This former coworker recalled Card frequently speaking about guns and even disclosed that he wanted to buy a silencer.
Although this source never heard Card expressly make workplace gun violence threats, the ex-colleague thought to himself: "One day, he's probably going to shoot someone up." The source added, "He was bringing up guns heavily and aggressively. It was a very weird situation."
Another former colleague, however, recalled that a supervisor had been alerted to alleged workplace gun violence threats made by Card. The source lamented that the complaint felt like "it was swept under the rug."
Family members' warnings
In May, family members contacted authorities, concerned about his mental health in combination with his possession of firearms.
Sagadahoc County Sheriff Joel Merry wrote in a statement that family members reached out to the sheriff's office on 3 May 2023. "The family said that Mr. Card's mental health had started to decline in January. They were concerned for his well-being and said that Mr. Card had access to firearms," the sheriff wrote.
According to the incident report obtained by ABC News, a warning at the top read "USE CAUTION IF RESPONDING" to Card's residence due to his "PARANOID BEHAVIOR." The report also noted that Card had "10-15 FIREARMS."
The responding officer wrote: "I learned from [Card's son] that his father's mental health is in question. [Card's son] told me that back around January, he noticed his father was starting to claim that people were saying things about him, while out in public," like others were talking about Card, whether he was nearby other people or not.
The shooting suspect's son believed his father was "likely hearing voices or starting to experience paranoia," which appeared to be a "re-occurring theme" as Card often claimed people were bashing him, "such as calling him a pedophile," according to the officer.
Card's ex-wife also said she "is very worried about [their son] spending time with Robert, considering what may be a deteriorating mental health condition."
Both his ex-wife and son expressed that they "both don't want Robert to know they are bringing this information forward to law enforcement, for fear it will aggravate the situation," the report stated. The pair were "simply going to try and avoid contact" and that "everyone agreed" the "best avenue of getting Robert some help" might be to contact the army reserves.
A sheriff's office deputy contacted officials from Card's army reserve unit, who confirmed they would talk with him and ensure he received the necessary medical care, Sheriff Merry wrote.
The May report stated that the officer did in fact get in touch with Card's command, where it became clear "there has recently been considerable concern for Robert."
The responding officer recorded that Card "had been accusing other soldiers of calling him a sex offender which seems to coincide with some of the behavior [Card's son] has witnessed." One sergeant even thanked the officer for bringing concerns about Card to his attention, as the unit was "scheduled for an upcoming training exercise involving crew-served weapons and grenades," according to the report.
Card's stint at a mental health facility
The next reported incident occurred on 15 July at West Point in New York.
On 15 July 2023, Card was staying at a motel near West Point with several other soldiers when they all went to a convenience store to get some beer, a sheriff's county report said. That's where Card accused three of his comrades of calling him a paedophile "and said he would take care of it."
Card approached one of his long-term friends in the group, and is described as shoving him and telling the fellow soldier "to stop calling him a pedophile." Card calmed down on the way back to the hotel, but echoed again that he would "take care of it." When Card was "pressed about what he meant by that Card didn't respond," the report stated.
Card then locked himself in his motel room and didn't respond when his comrades tried to engage with him. It wasn't until the next day that other soldiers got a keycard to Card's room, where he said that he "wanted people to stop talking about him." When a soldier told him that no one was talking about him, he slammed the door in the soldier's face, the report states.
The entire encounter prompted the officers to take him to a base hospital, where a psychologist determined he needed further treatment. He spent 14 days at Four Winds Psychiatric Hospital in New York, and then was released.
Card's desire to buy a gun silencer was stymied
Three months before he allegedly fatally shot 18 people, Card was denied the ability to buy a gun silencer, the store owner told ABC News.
"He came in and filled out the form, he checked off a box that incriminated himself saying that he was in an institution," said Rick LaChapelle, the owner of Coastal Defense Firearms. "Our staff was fantastic, let him finish filling out the form, and said, 'I'm sorry, Mr. Card, we cannot give you this… at this point in time, we cannot release this silencer to you because of the answers that you've given us."
The outlet obtained the form Card filled out. When presented with the question, "Have you ever been adjudicated as a mental defective or have you ever been committed to a mental institution," Card marked an X, indicating the affirmative.
Mr LaChapelle continued, "We did what we were supposed to do and hopefully saved a lot of lives by…just following the proper procedures."
Card 'punched' his fellow officer
In mid-September, an official at the Maine National Guard requested that the sheriff's office conduct a wellness check on Card after he punched one of his fellow officers, prompting concern that he would "snap and commit a mass shooting."
Card and one of his friends, a fellow soldier, were apparently driving home from a casino when Card "started talking about people calling him a pedophile again."
Card said he owned firearms and was going "to shoot up" the drill centre at the base in Saco, among other places, the report states. The soldier also relayed that Card said he was going to "get them," which was interpreted as the people who had him committed to a mental health facility.
Card apparently also blamed the soldiers, stating the reason he was unable to buy guns — following this two-week stay — was "because of the commitment." The soldier then "told him to knock it off because he was going to get into trouble talking about shooting up places and people," Card punched him.
This interaction prompted the Maine National Guard to request a welfare check.
The unsuccessful welfare check and alert
"I would rather err on the side of caution with regards to Card since he is a capable marksman and, if he should set his mind to carry out the threats made to [the soldier], he would be able to do it," the letter said.
After trying to find Card on 15 September, the sheriff's officer reported not being able to locate him, despite finding a jet ski and motorcycle registered to Card at what appeared to be his home. As a result, he issued a file 6 alert, which was sent to other agencies. "The alert included a warning that Mr. Card was known to be armed and dangerous and included details of his behavior," according to Sheriff Merry. "The alert urged that officers use extreme caution."
On 17 September, the officer spoke to Ryan Card, the brother of the suspect, confirming that Card was able to access Ryan's guns. Those firearms were located in a gun safe, the report said.
Ryan Card apparently told the authorities that he was working with his father to get the guns moved elsewhere, adding that he would try to ensure that his brother didn't possess any other guns.
The File 6 alert was cancelled on 18 October, Sheriff Merry wrote.
Why was Card allowed to own firearms?
The information about why, despite the glaring sequence of warning signs that should have prevented him from being able to possess a gun, he was still able to own over a dozen firearms, remains cloudy.
Authorities previously said that his guns appeared to have been "legally purchased."
This tragedy has brought renewed criticism over Maine's current gun laws.
While many other states have implemented red flag laws, which allow loved ones or law enforcement to petition to a court for an order that would temporarily restrict the individual's access to guns if the person poses a risk to himself or others, Maine has not.
Instead, the state has yellow flag laws, which require a family member to report the individual to law enforcement, who would then be taken into protective custody. Then, the individual has to be evaluated by a mental health professional, who determines whether this person poses a risk.
These laws are "very specific about an individual that's in protective custody from law enforcement to begin with" in combination with whether law enforcement has "probable cause to believe" that the individual could be in possession "of a dangerous weapons," Public Safety Commissioner Michael Sauschuck said.
So, he continued, "if we meet those criteria then you can take an individual in for a yellow flag assessment, a weapons restriction order assessment, and at that time your criteria change from the likelihood of serious harm the likelihood of foreseeable harm."
Mr Sauschuck clarified last week that there had been no record that Card had been "forcibly committed for treatment," although that detail is now under heightened scrutiny after more about his 14-day stint at a mental health facility has come out.
Jonathan Crisp, a former Army lawyer, previously told The Associated Press that when soldiers are committed involuntarily to mental health facilities, it is a "reportable" event under Army regulations, setting off a network of alerts and subsequent restrictions.
As it is supposed to work, he explained, an official notes the incident in a military database which alerts the FBI, so the agency can enter the name into a background list of people prevented from buying weapons.
"If they took him and he didn't want to go and he refused to be admitted, it's a slam dunk," Mr Crisp said. "This should have been reported."
The question of why it wasn't remains as the investigation into the atrocity — and the events that led up to it — is ongoing.