Nabra Hassanen: Memorial for murdered Muslim girl 'set on fire'
One man has been arrested in connection with the blaze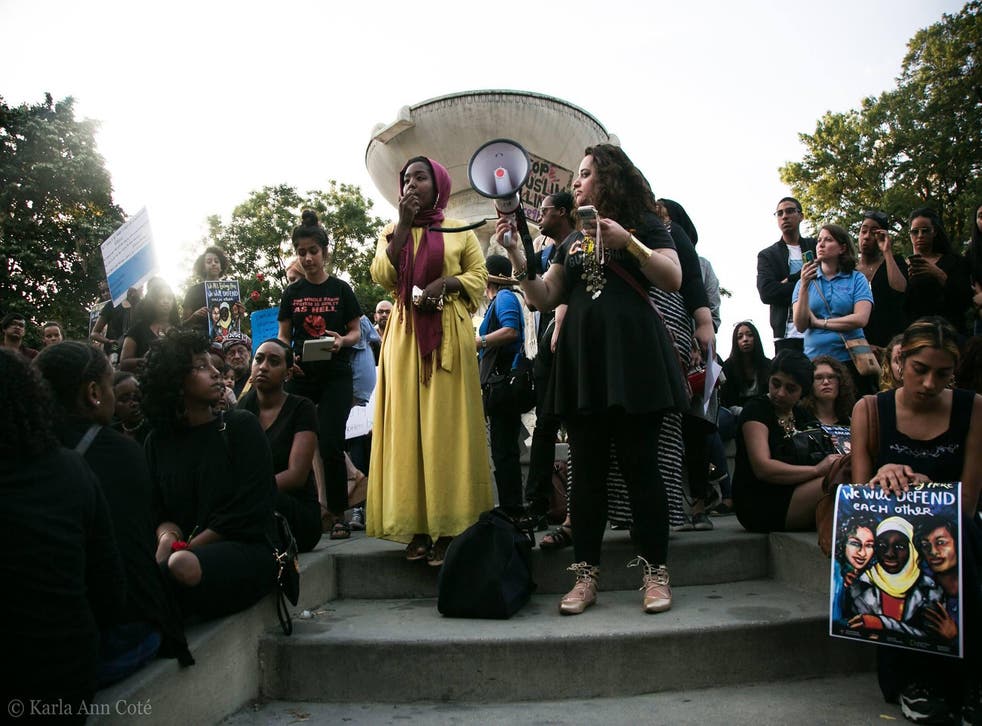 A memorial for murdered Muslim teenager Nabra Hassanen in Dupont Circle has caught on fire, Washington DC police sources said. It is unclear whether the memorial itself was the target of the blaze.
The DC Fire Department responded to a small brush fire at the historic roundabout at 8:24 on Wednesday morning, DC Fire Public Information Officer Vito Magiolo told The Independent.
The blaze was quickly extinguished, but officers deemed its start "suspicious". Fire investigators were called to the scene.
DC Police arrested 24-year-old Jonathan Soloman of South Carolina and charged him with vandalism in connection with the fire.
Sources told the New York Daily News and Fox 5 DC that the fire was set at the memorial site. A police spokesperson told the Daily News the incident "does not appear to be motivated by bias."
In an official statement, the US Park Police said only that Mr Soloman had "set fire to some items in the fountain".
"There is no evidence that this incident is related to the memorial held in the park the previous evening," they said.
World news in pictures

Show all 50
The circle was the site of a memorial for Nabra Hassanen, the 17-year-old who was allegedly murdered on her way to a mosque in Fairfax County, Virginia early Sunday morning.
Fairfax County police say Hassanen was abducted and killed by a passing motorist who had engaged her group of friends in a roadside argument. After the group scattered, the motorist allegedly pulled Hassanen into his car. Police are investigating whether she was also sexually assaulted.
Officials recovered Hassanen's body from a nearby pond on Sunday morning. The suspect, 22-year-old Darwin Martinez Torres, is currently incarcerated without bail.
The murder, which took place during the Islamic holy month of Ramadan, struck fear in the fear to the local Muslim community.
"When you knew her you might possibly begin to understand why this is so hard for this community: because an angel was taken," Joshua Salaam, chaplain at the All Dulles Area Muslim Society, told reporters.
More than 300 people flocked to Hassanen's memorial in Dupont Circle on Tuesday night, carrying signs reading "We all belong here," and "Standing with Muslims".
Some came to mourn Hassanen's passing, while others came to protest that her death had not been ruled a hate crime.
The Fairfax County Police Department is investigating Hassanen's killing as a murder, not a hate crime, despite her father's protestations otherwise. In a press release, the department referred to the killing as a "road rage incident".
"It appears the suspect became so enraged over this traffic argument that it escalated into deadly violence," police department spokeswoman Julie Parker said at a press conference.
Among the flowers, food and other trinkets left at the vigil on Tuesday was a poster reading simply, "Justice for Nabra".
Join our new commenting forum
Join thought-provoking conversations, follow other Independent readers and see their replies