Artist refuses to take down Nazi Donald Trump billboard after death threats
Owner says the picture will remain up as long as he remains president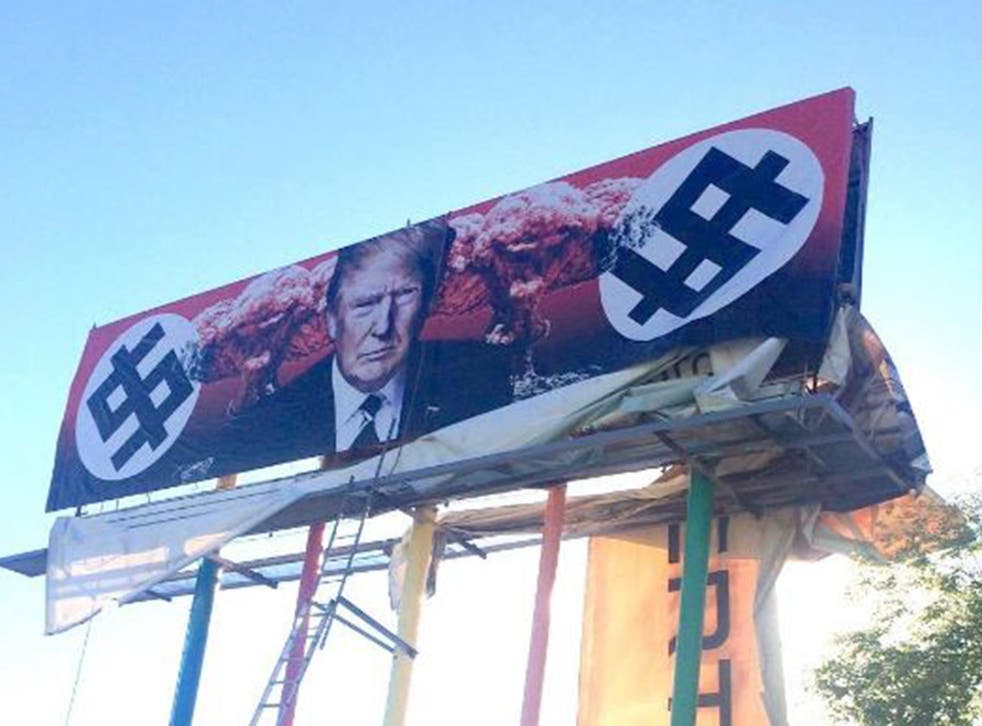 The artist behind a billboard depicting President Donald Trump as a Nazi alongside dollar sign swastikas, has refused to take it down despite receiving death threats.
Karen Fiorito said she had been inundated with "hate" since the billboard was first unveiled on 17 March in Phoenix, Arizona.
It depicts Donald Trump glaring with a Russian flag on his lapel, a picture of atomic bombs going off behind him and dollar signs turned sideways to resemble swastikas.
On the back, the word "unity" is written in English and sign language.
The image was commissioned by Phoenix-based art gallery, La Melgosa, to protest against Donald Trump's plans to build a border wall on the Mexican border, step up efforts to deport all illegal immigrants with criminal records and ban citizens from six Muslim-majority countries from entering the US.
Ms Fiorito told NBC News 12 she was trying to put "a little bit of humour" into what was a "dark" issue.
The California-based artist said: "I think a lot of people are feeling this way and I'm just trying to express what I think is on a lot of people's minds these days.
"Something that really concerned us was this idea of a dictatorship where things were going in a certain direction."
Beatrice Moore, who owns the billboard on the city's Grand Avenue which is known for its art galleries, said it will remain there as long as Mr Trump is president.
She said: "Some of these issues are so important you can't not speak out".
This is not the first time Ms Moore and Ms Fiorito have collaborated on a political message.
In 2004, Ms Fiorito was commissioned to create a billboard with the image of then President George W Bush and top government officials with the caption "Dear America, we lied to you for your own good. Now trust us".
Trump Inauguration protests around the World

Show all 14
Many artists have found their own ways to protest against Mr Trump's arrival in the Oval Office.
In October, "The Nuisance Committee" – a super PAC funded by the creators of the card game Cards Against Humanity – paid for a billboard with the words: "Donald Trump: he can't read this, but he is afraid of it" written in Arabic.
It was put up in the city of Dearborn, Michigan, which has a high percentage of Arab Americans.
It was hoped they would translate the message for their friends, but Mr Trump nonetheless won the crucial swing state by over 10,000 votes.
Register for free to continue reading
Registration is a free and easy way to support our truly independent journalism
By registering, you will also enjoy limited access to Premium articles, exclusive newsletters, commenting, and virtual events with our leading journalists
Already have an account? sign in
Register for free to continue reading
Registration is a free and easy way to support our truly independent journalism
By registering, you will also enjoy limited access to Premium articles, exclusive newsletters, commenting, and virtual events with our leading journalists
Already have an account? sign in
Join our new commenting forum
Join thought-provoking conversations, follow other Independent readers and see their replies