No Francis effect? The people's Pope fails to bring more Catholics into churches
Research suggests the 'Francis effect' is only evident among Catholics who were already highly committed to their faith
Heather Saul
Thursday 06 March 2014 14:51 Comments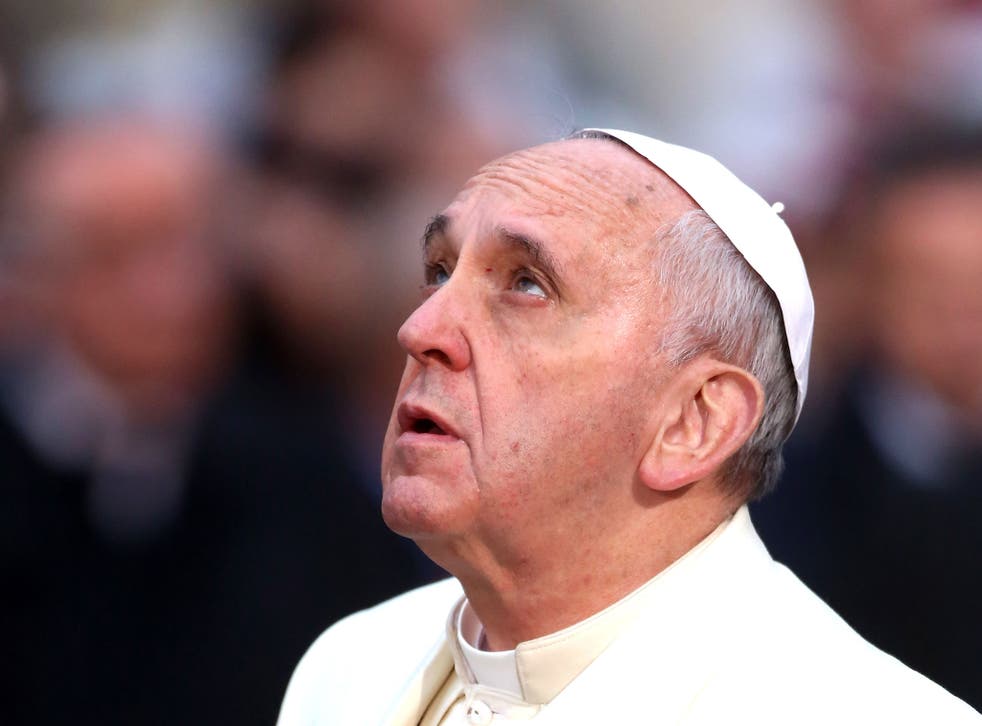 He is widely known as the 'people's Pope' and was even named the Time person of the year, but evidence to support the so-called Francis effect is somewhat lacking, it would appear.
A survey has suggested there has been no significant rise in how often Catholics attend church or in the number of those attending confession across America since Pope Francis took over the reins from Pope Benedict XVI.
Nor has there been a measurable increase in the amount of people who say they follow the Catholic faith, according to a poll of both Catholics and non-Catholics.
This comes despite a "widespread perception that he is a change for the better".
While Pope Francis is undoubtedly extremely popular across the globe, even being featured on the cover of Rolling Stone magazine and voted Best Dressed Man of 2013 by Esquire magazine, his rock-star status seems to have done little to bring Catholics in America back into the churches.
Pew's research found the Pontiff is perceived in a largely positive light, with 68 per cent of people saying he represented "a major change for the better," and only four per cent expressing a negative opinion of him.
In fact, 26 per cent even said they were "more excited" about their religion now, while forty per cent reported praying more often since his election.
Pope Francis named 'Best Dressed Man of 2013' by Esquire magazine

Show all 8
But this has not translated into numbers. Twenty-two per cent of Americans identified as Catholic - exactly the same percentage as the previous year. Forty per cent said they attend a weekly mass, a figure that also remains unchanged from the previous year.
"There has been no measurable rise in the percentage of Americans who identify as Catholic," the survey said. "Nor has there been a statistically significant change in how often Catholics say they go to Mass."
Meanwhile, only half of Catholics surveyed were impressed with Pope Francis' handling of allegations of sex abuse within the clergy.
Catholics today also appear to hold more progressive views on the religion, with many advocating the use of contraception and the concept of female priests.
The Pope recently announced it was time for the Church to be rid of its "obsession" with teachings on abortion, contraception and homosexuality, but also denounced abortion as "horrific" and a part of "a throwaway culture".
"Regardless of their expectations about what the Church will do, large majorities of Catholics say the Church should allow Catholics to use birth control (77 per cent), allow priests to get married (72 percent) and ordain women as priests (68 per cent)," the survey wrote.
"Half of Catholics say the Church should recognise the marriages of gay and lesbian couples," it added.
The survey concluded: "If there has been a 'Francis effect', it has been most pronounced among Catholics who already were highly committed to the practice of their faith."
Register for free to continue reading
Registration is a free and easy way to support our truly independent journalism
By registering, you will also enjoy limited access to Premium articles, exclusive newsletters, commenting, and virtual events with our leading journalists
Already have an account? sign in
Join our new commenting forum
Join thought-provoking conversations, follow other Independent readers and see their replies