Seven-month-old baby shot to death in gang violence becomes symbol of Mexican drug war
An image of the infant has sparked outrage at the country's escalating drugs crisis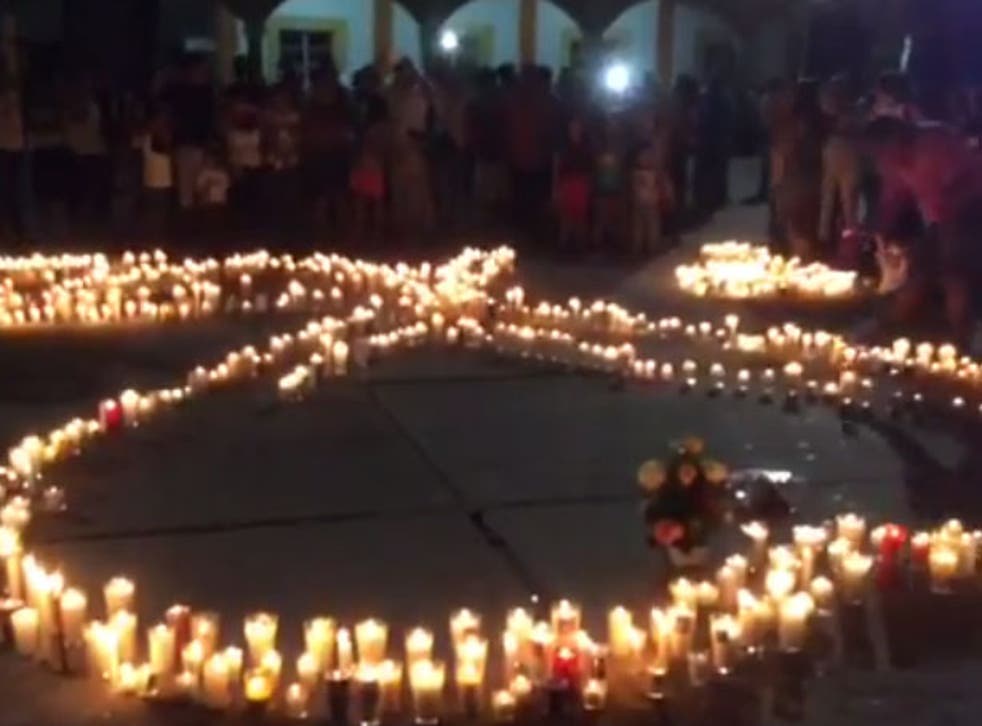 An image of a murdered seven-month-old baby and his slain parents has become a stark reminder of the devastation caused by Mexico's desperate war against drugs.
The picture, taken moments after the family were shot to death in the city of Pinotepa Nacional, shows the child in a white blood-stained baby-gro lying between his mother and father.
Several armed men are believed to have shot and killed the family on Friday evening and the incident appears to be drug-related, according to CNN.
The family has been identified as 24-year-old Juan Alberto Pano Ramos, who was carrying the infant, Marcos Miguel Pano Colon, in his arms at the time and Alba Isabel Colon, the child's 17-year-old mother.
The image has sparked outrage among Mexicans with thousands of social media users calling for authorities to see the devastating picture as a reason for putting a complete stop to the country's prolific gang violence.
Many have compared the Mexican baby to Aylan Kurdi, the three-year-old Syrian boy who was found dead on a Turkish beach after drowning in the Mediterranean sea, and who himself became a symbol of the on-going refugee crisis.
One Facebook account says: "Do you remember the Syrian boy? Do you remember how you came to be indignant and even put a little flag on Facebook? Well, this happened in Mexico, in Pinotepa National to be precise, where drug violence killed this family, including this 7-month-old angel."
Some have posted pictures of the executed baby next to the drowned Syrian toddler.
The author Octavio Martinez Michel has posted a drawing of the dead baby on top of a picture of the Mexican flag, in an opinion column for website La Silla Rota.
Mr Michel said: "Is it possible to imagine anything more unjust than the cold-blooded murder of a family carrying a baby in their arms?"
Prosecutors in Oaxaca told CNN: "A rival drug gang from [the neighbouring state] of Guerrero located [the family] and had them riddled with bullets."
They added the baby's parents are understood to have sold drugs.
According to reports, a suspected drugs trafficker was shot and killed in Oaxaca on the same day and authorities believe the dead couple worked for the alleged trafficker. Four people have been detained in connection with the trafficker's killing.
Formally launched in 2006, Mexico's drug war has continued with few signs the country's drug cartels are waning in power.
Between 2007 and 2014 more than 164,000 people in Mexico were victims of homicide, according to government data, Frontline reports.
Data from the University of San Diego estimates over half of all homicides in the country are drug related.
A study released this month found drug violence in Mexico is so fierce the life expectancy of men has dropped by several months.
In the Mexican state of Chihuahua, male mortality rates between 2005 and 2010 were "3.1 times higher than the mortality rate of US troops in Iraq between March 2003 and November 2006."
Register for free to continue reading
Registration is a free and easy way to support our truly independent journalism
By registering, you will also enjoy limited access to Premium articles, exclusive newsletters, commenting, and virtual events with our leading journalists
Already have an account? sign in
Register for free to continue reading
Registration is a free and easy way to support our truly independent journalism
By registering, you will also enjoy limited access to Premium articles, exclusive newsletters, commenting, and virtual events with our leading journalists
Already have an account? sign in
Join our new commenting forum
Join thought-provoking conversations, follow other Independent readers and see their replies