Right-wing terrorists killed three times more people in US than Islamists in past decade with attacks soaring in 2018, report says
Increase should 'serve as a wake-up call to everyone about the deadly consequences of hateful rhetoric' says Anti-Defamation League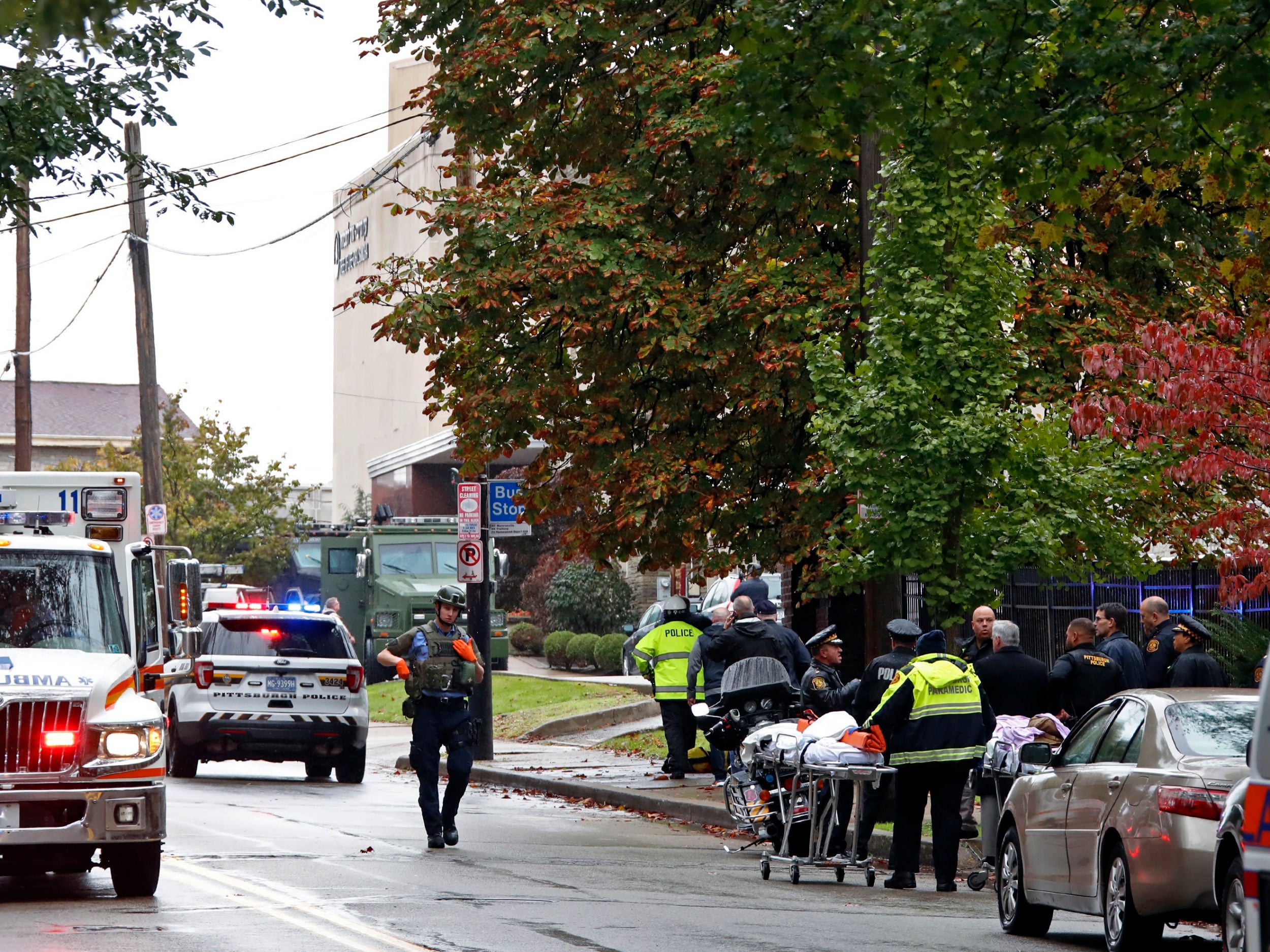 Every terrorist murder in the US last year was linked to right-wing extremism, according to a new report.
At least 50 people were killed by an attacker connected to right-wing extremism in 2018, an increase of 35 per cent from the previous year, the Anti-Defamation League (ADL) found.
The rise means nearly three-quarters of extremist murders in America in the past decade can be linked to right-wing domestic terrorism, more than three times as many as those committed by Islamists.
The figures should "serve as a wake-up call to everyone about the deadly consequences of hateful rhetoric," said the ADL, a New York-based organisation with monitors antisemitism and other hate crime.
"It's time for our nation's leaders to appropriately recognise the severity of the threat and to devote the necessary resources to address the scourge of right-wing extremism," said chief executive Jonathan Greenblatt.
The ADL counted each murder in which the killer or suspect had links to right-wing extremist groups or ideology - including white supremacism, Islamophobia, antisemitism, or misogyny. However, not all of the killings have been established as motivated by extremism.
According to the ADL's calculation, last year was the deadliest for right-wing extremist murders in the US since 1995, when Timothy McVeigh killed 168 people in the Oklahoma City bombing.
When all forms of extremism are taken into account, 2018 was the fourth deadliest for domestic terrorism in America since 1970, the ADL said. The rise can partly be attributed to the high casualty numbers in five mass shootings which accounted for 38 of the 50 deaths last year.
However, the percentage of extremist deaths linked to right-wing ideologies has also surged in the past two years. In 2017, 62 per cent of extremist murders were committed by ring-wing killers. That figure was itself up from 21 per cent in 2016, according to the ADL, which said the increase reflected a long-term trend.
In the past decade, 73.3 per cent of all extremist-related killings in the US were committed by right-wing domestic extremists. Some 23.4 per cent were linked to Islamic extremism.
Jacob Davey, who co-leads research into the extreme right at the Institute for Strategic Dialogue in London, said the threat of far right violence was growing internationally
He told The Independent: "The global atmosphere, particularly in the US but also throughout Europe and the UK, is becoming more polarised. This is empowering and emboldening right-wing voices and it's creating an environment which makes it quite easy for individuals and groups to profit off this polarisation and drive division further.
"We are also seeing some really concerted international propaganda efforts to stoke this global atmosphere of fear and hatred."
Mr Davey said digital communications had "lowered the barrier of entry" for involvement in extremist movements, while Donald Trump's presidency had also "empowered right-wing activists through dog whistle tactics".
World news in pictures
Show all 50
White supremacists carried out 39 of the extremist killings in America last year, according to ADL, although it noted one of those had become interested in radical Islam before stabbing a 13-year-old to death in Florida in March.
Eleven of those murdered in 2018 were worshippers shot dead at the Tree of Life synagogue on Pittsburgh in October. The suspected shooter, Robert Bowers, 46, allegedly shouted antisemitic abuse as he carried out the attack.
In February, 17 people were killed in the Parkland school shooting in Florida by Nikolas Cruz, who police said held "extremist" views. Cruz had posted racist and Islamophobic comments on social media and, according to the ADL also had links to white supremacism.
For the first time, ADL's annual summary of extremist killings also includes violence allegedly inspired by the so-called "incel" movement, a misogynistic online community in which "involuntarily celibate" men often express anger over their inability to form relationships with women.
In November, two women were shot dead at a Florida yoga studio by Scott Beierle, who had posted videos online complaining about the "collective treachery" of women and suggesting they should be "punished" with "crucifixion".
Support free-thinking journalism and attend Independent events
The ADL urged politicians and law enforcement authorities to "speak out against all manifestations of hate and extremism" and enact specific laws to tackle domestic terrorism.
"For too long, policymakers have focused disproportionate attention on the threat of Islamist extremism, to the detriment of readiness to address many other security issues," it said.
Last year the Washington DC-based Centre for Strategic and International Studies warned far right terror attacks on American soil had quadrupled over two years.
It noted Mr Trump's election had "energised some right-wing extremists," but said the increase began before he ran for president.
"US federal and local agencies need to shift some of their focus and intelligence resources to penetrating far-right networks and preventing future attacks," said Seth Jones, chair of the centre's transnational threats project.
Join our commenting forum
Join thought-provoking conversations, follow other Independent readers and see their replies