Ruby Franke gained millions of subscribers to her parental advice YouTube. Now she's accused of child abuse
How did a family friendly channel turn into something potentially sinister? Here's what we know about the child abuse scandal plaguing YouTube family 8passengers. Faiza Saqib reports
Friday 01 September 2023 15:04 BST
Comments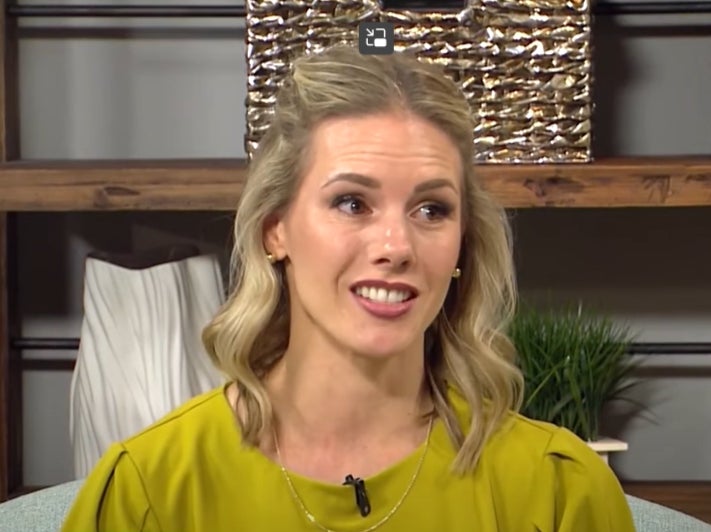 "8 passengers" was a space where Ruby Franke would share her and her family's life in Utah on YouTube.
The channel was focused on sharing parental advice as well as family vlogs featuring the 41-year-old mother, her husband Kevin Franke and six children, Shari, Chad, Abby, Julie, Russel and Eve.
The couple first founded their now-deleted channel back in 2015 and accumulated over two million subscribers before speculation began to mount in 2020 about their activities.
That June, concerned viewers contacted local child protective services after their 15-year-old son Chad claimed in a video that he had been sleeping on a beanbag for seven months.
Ms Franke had told Business Insider at the time that this sleeping arrangement was Chad's "choice" after he stopped sharing a room with his younger brother amid behavioural concerns.
Now, in the latest twist in the case, the mother-of-five has been arrested on child abuse charges.
Ms Franke's business partner, Jodi Hildebrandt, was also arrested on similar charges.
The two frequently collaborated on producing content, particularly videos offering guidance on relationships and parenting for Ms Hildebrandt's life counselling service ConneXions.
ConneXions – whose website says it offers "mental fitness training videos," one-to-one sessions with Ms Hildebrand and an "empowering joy" membership – has also previously come under scrutiny over its parenting philosophy.
Children at risk
Santa Clara-Ivins Public Safety said in a statement that it had received a report regarding a "juvenile asking for help" on the morning of 30 August.
The caller told officials that the child appeared to be "emaciated" and "malnourished" and had open wounds and "duct tape around the extremities," according to the statement.
The child is said to have been asking for food and water and "the condition of the juvenile was so severe that they were seen by Santa Clara-Ivins EMS and transported to a local area hospital."
Following this encounter, police received information that other children may also be at risk at a nearby home.
Officers arrived at the home and carried out a search, where they found another child in a "similar physical condition of malnourishment".
That child was also transported by EMS to hospital for treatment.
Santa Clara-Ivins Public Safety said that the Department of Child and Family Services was contacted and four minor children were taken into the agency's care.
Ms Franke and Ms Hildebrandt were both arrested.
"Due to the sensitive nature of this case, no additional information will be released at this time," officials said in the statement.
'Justice is being served'
Following her mother's arrest, Shari Franke, 20, has taken to Instagram to make several statements about the situation, notably posting a photo of a police car and an officer and writing: "Finally."
"Me and my family are so glad justice is being served," she wrote in another post. "We've been trying to tell the police and CPS for years about this, and so glad they decided to finally step up. Kids are safe, but there's a long road ahead."
Shari also created a document asking followers to share "questionable" or "concerning" information about Connexions or 8passengers.
"I need your help! If you have links to any questionable or concerning Connexions or 8passengers videos, please DM them to me!! It's too much for me to sort through myself," she wrote in an Instagram story.
Ms Franke's sisters Ellie Mecham, Julie Deru and Bonnie Hoellein released a statement saying that, for the last three years, they have kept "quiet" on the subject of their sibling "for the sake of her children".
They went on to say that they tried everything they could to ensure the children were safe.
The post said: "For the last 3 years we have kept quiet on the subject of our sister Ruby Franke for the sake of her children. Behind the public scene we have done everything we could to try and make sure the kids were safe.
"We wouldn't feel right about moving forward with regular content without addressing the most recent events. Once we do, we will not be commenting on it further.
"Ruby was arrested which needed to happen. Jodi was arrested which needed to happen. The kids are now safe, which is the number one priority."
Join our commenting forum
Join thought-provoking conversations, follow other Independent readers and see their replies