Russia: Barack Obama trying to damage relations with Kremlin to make job harder for Donald Trump
President-elect Trump told President Putin 'he is very much looking forward to having a strong and enduring relationship with Russia'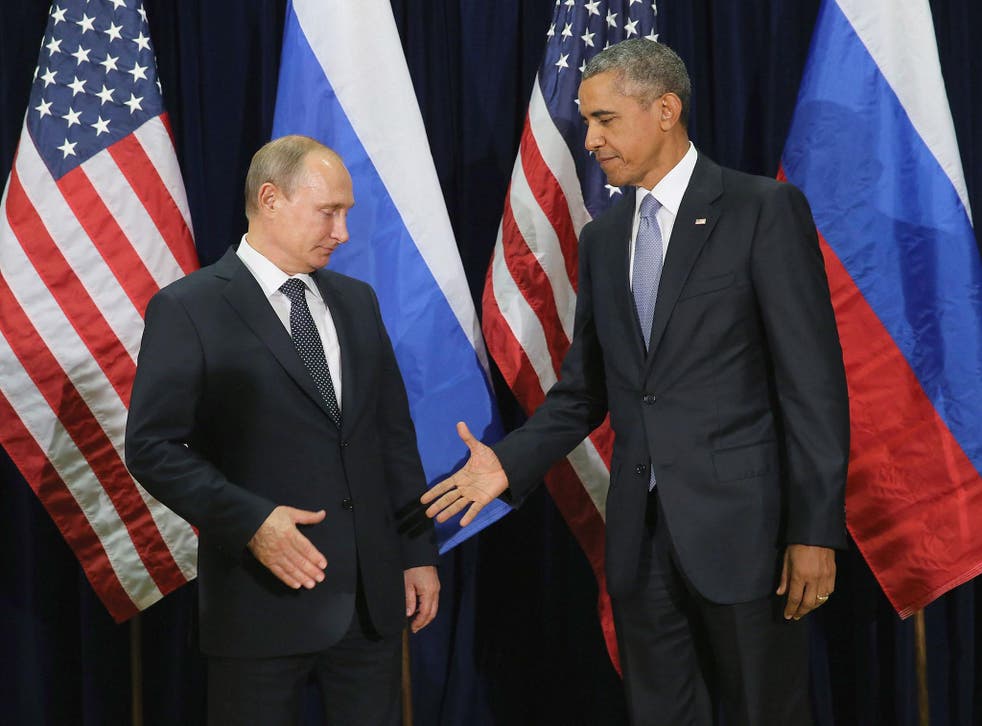 The Kremlin has accused President Barack Obama's administration of trying to damage relations with Russia to a degree that would make rebuilding them a challenge when Donald Trump becomes president.
Russian President Vladimir Putin's foreign policy adviser, Yuri Ushakov, has alleged the Obama administration is "doing everything it can to drive bilateral ties into such a deadlock" that a new administration would find it difficult to re-establish productive ties "if it wishes to do so".
Mr Ushakov said Mr Putin's phone call with President-elect Trump revealed a "shared desire to join efforts in the fight against terrorism" that creates a "good basis for future work on the Syrian problem".
Trump gets public reality check from Barack Obama
Mr Trump's office said in a statement following Monday's call that "President-elect Trump noted to President Putin that he is very much looking forward to having a strong and enduring relationship with Russia and the people of Russia."
The President-elect previously reasserted his campaign position, saying assisting the Syrian government in fighting Isis should be the US' main objective.
"I've had an opposite view of many people regarding Syria. My attitude was you're fighting Syria, Syria is fighting Isis, and you have to get rid of Isis," he said in an interview with the Wall Street Journal.
He has also been eager to mend ties with Russia, Syria's long-term ally and military backer in its civil war.
Mr Trump's position represents a major break with the Obama administration in its attitude towards Syria and Russia.
President Donald Trump life in pictures

Show all 16
Months of negotiations between Moscow and the Obama administration have failed to cement a long-term ceasefire in Aleppo, which has become the focus of the war between Mr Assad and the rebels seeking to topple him.
So far the US has tacitly supported rebels in Syria both logistically and financially and its position has been that Syrian President Bashar al-Assad must be removed from power and for democratic elections to take place to end the complex civil war, which has raged for six years.
Mr Assad said President-elect Trump will be a "natural ally" of the Syrian regime if he fulfils his pledge to "fight the terrorists".
Speaking for the first time since Mr Trump's election victory, the Syrian president said he was unsure the American billionaire would be able to keep his word and step up the fight against jihadists.
"We cannot tell anything about what he's going to do, but if... he is going to fight the terrorists, of course we are going to be ally, natural ally in that regard with the Russian, with the Iranian, with many other countries," he told Portugal's RTP state television.
On Thursday, Mr Obama he hoped his successor will "stand up" to Russia when it breaches international norms, citing the conflicts in Syria and Ukraine.
Mr Obama said he hoped Mr Trump "is willing to stand up to Russia where they are deviating from our values and international norms".
Additional reporting by AP
Join our new commenting forum
Join thought-provoking conversations, follow other Independent readers and see their replies