Stanford rape case: Armed protesters await Brock Turner's arrival at Ohio home
Turner, 21, was released from jail on Friday after serving half of a six-month sentence for sexual assault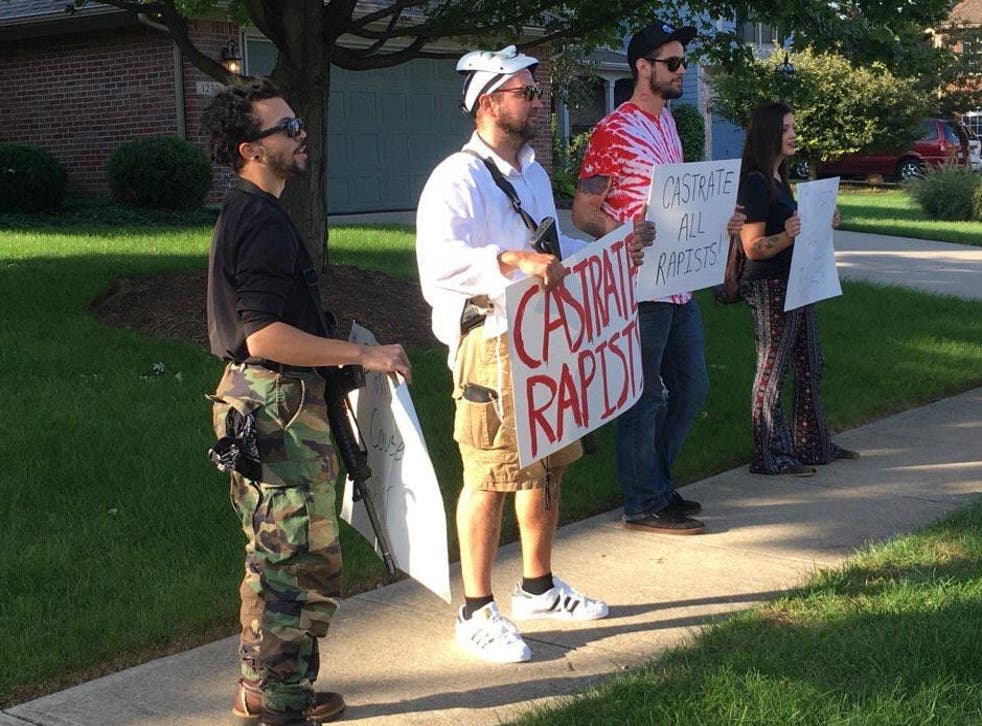 Armed protesters stood outside the home of Brock Turner – the man convicted of sexual assault while attending Stanford University – who was released from jail after serving only three months of a six-month sentence.
Turner, 21, left a Santa Clara County jail on Friday and will now serve out the rest of his three years probation. He left California for his parents' home in Ohio where he is required to register as a sex offender.
About a dozen protesters waited outside the Sugarcreek Township home on Friday, and others returned Saturday. Some brandished rifles while others brandished placards calling for Turner - whose light sentence sparked a national uproar - to be castrated.
Protesters scrawled messages into the street and sidewalk using chalk.
"He's not going to live some happy pleasant life," a protester told WCPO. "We're going to never let him forget what he did."
One mother brought her children to the protest because she saw it as a teaching moment.
"The reason we decided to bring the kids is to teach them, at a young age, that 20 minutes of wrongdoing to someone...that can ruin your life forever," the woman, declining to give her name, told WHIO.
She added that she is "furious" the Turner family lives in the neighbourhood, describing them as a "cancer to us and we need to get them out of here."
The UN's statistics on sexual violence shock, but point to change

Show all 3
Within five days of his arrival in Ohio, Turner is required to be photographed for the county sex offender registry.
Turner was convicted of the January 2015 sexual assault of an unconscious woman outside a party on the Stanford campus. Two cyclists caught Turner in the act and tackled him as he attempted to flee.
Despite prosecutors' recommendation that Turner spend six years in prison, Judge Aaron Persky sentenced him to only six months. Turner was released early on good behaviour.
Brock Turner leaves prison
Mr Persky's ruling set off a national campaign for his recall. He has since stopped presiding over criminal cases, and has defended his ruling.
Michelle Dauber, who is leading the charge to recall the judge, said: "Judge Persky's bias is a threat to the rule of law and we will continue until he is no longer a judge."
When Turner was given his lenient sentence, BuzzFeed published the impact statement read by his victim in court. In it, she outlined the effect the attack has had on her life and hoped to stand as a beacon for women and girls who feel alone in the wake of sexual assault.
"On nights when you feel alone, I am with you," she wrote. "When people doubt you or dismiss you, I am with you. I fought every day for you. So never stop fighting, I believe you."