US promises to back up Pacific allies in face of North Korea hostilities
First North Korean missile test during Donald Trump's presidency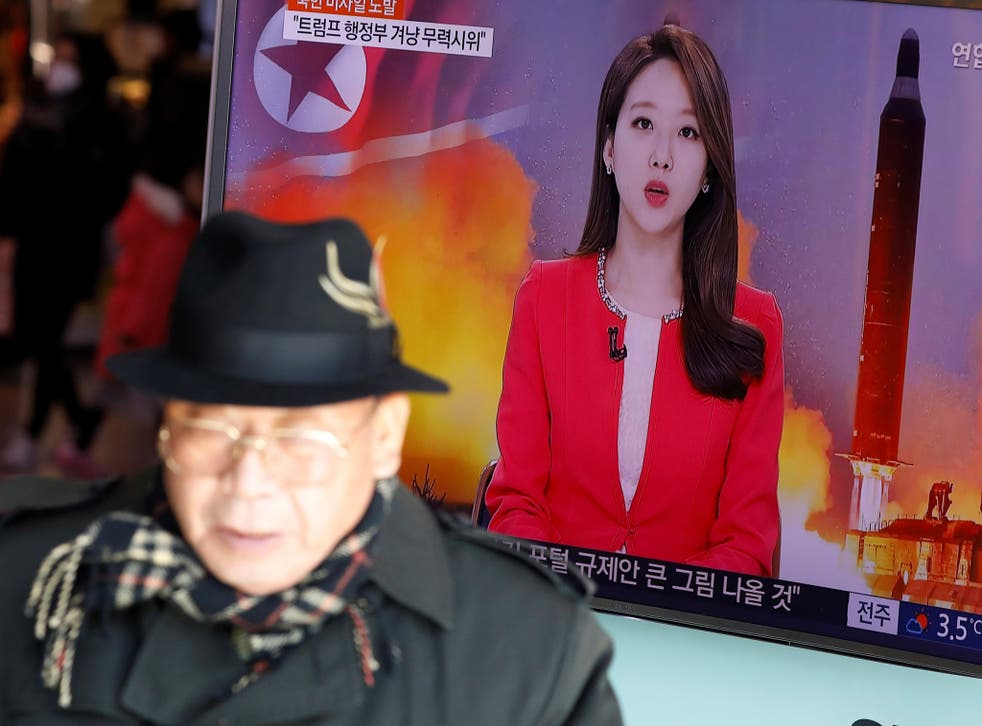 The White House has responded to North Korea's latest missile test and promised it will "reinforce" its alliances in the Pacific.
President Donald Trump said he stood behind Japan "100 per cent" in a press conference immediately following the news, which happened during a visit by Japanese Prime Minister Shinzo Abe.
A broader statement on the United States' position came from senior adviser Stephen Miller during a Sunday television interview, as UK Foreign Secretary Boris Johnson also condemned the launch.
North Korea trading despite nuclear sanctions - Inside the country's special economic zone

Show all 13
"The message is that we are going to reinforce and strengthen our vital alliances in the Pacific region as part of our strategy to deter and prevent the increasing hostility that we've seen in recent years from the North Korean regime," Mr Miller told Fox News Sunday.
"More broadly, as you know, we're inheriting a situation around the world today that is deeply troubling. The situation in North Korea, the situation in Iraq, the situation in Syria, the situation in Yemen.
"And this President is committed to a fundamental rebuilding of the armed forces of the United States that will again send a signal to the world that America's strength will not be tested."
Mr Johnson tweeted: "Condemn latest #NorthKorea missile launch. UK will continue to work with allies for strong response to this threat to int peace & security."
Speaking at one of Mr Trump's golf resorts in Florida, Mr Abe said: "North Korea's most recent missile launch is absolutely intolerable. President Trump and I, myself, completely share the view that we are going to promote further cooperation between the two nations. And also we are going to further reinforce our alliance."
North Korea must fully comply with all UN Security Council resolutions, he added.
Kim Jong-un's regime has been subject to harsh economic sanctions, including restrictions on coal shipments, because of its weapons testing.
And the country's highest-profile defector, Thae Yong-ho, the former deputy ambassador in London, has said Mr Kim hopes to control a functioning nuclear arsenal by the end of this year.
The missile launch was quickly condemned by South Korea, as well as France, Russia and Italy.
The South's foreign ministry said the test showed the "irrational nature" of a government "fanatically" obsessed with developing nuclear ballistic missiles.
Russian politician Leonid Slutsky said: "We need to work intensively on the Korean dossier and not slow down the pace for all of us." US-Russia cooperation on the matter was possible "however utopian that may appear now", he added.
The international community has pursued a policy of sanctions against Mr Kim's regime in an attempt to dissuade the dictator from striving to gain nuclear weapons.
But Mr Thae said he believed Pyongyang would stop at nothing to obtain the apocalyptic arsenal, even if it was offered trillions of dollar to do so – money that would be transformative for its starving and repressed population.
While the US now seeks stronger security ties with Pacific nations, one of Mr Trump's first acts as President was to sign an executive order withdrawing his country from the Trans-Pacific Partnership trade agreement.
The deal was meant to bring together 12 countries in a wide-ranging new relationship. Mr Abe said it "has no meaning" without US involvement and New Zealand Prime Minister John Key said: "At some point the US would want to think about how it accesses those very fast-growing markets in Asia, and what role it wants to have in Asia."
Mr Key said he hoped the 11 remaining countries could revive the pact. And Alexander Downer, the Australian High Commissioner to London, said he thought China or Indonesia could replace the US as the 12th member.
Register for free to continue reading
Registration is a free and easy way to support our truly independent journalism
By registering, you will also enjoy limited access to Premium articles, exclusive newsletters, commenting, and virtual events with our leading journalists
Already have an account? sign in
Register for free to continue reading
Registration is a free and easy way to support our truly independent journalism
By registering, you will also enjoy limited access to Premium articles, exclusive newsletters, commenting, and virtual events with our leading journalists
Already have an account? sign in
Join our new commenting forum
Join thought-provoking conversations, follow other Independent readers and see their replies