As it happened
ended
1619017233
Biden news: Bernie Sanders unveils free college plan as Merrick Garland launches police review
Rolling updates on the day's news from Washington and beyond
Joe Biden calls George Floyd's family after trial verdict
Bernie Sanders, now chair of the Senate Budget Committee, has introduced a plan to pay for free college tuition by levying taxes on Wall Street, combining two of his signature issues into a highly ambitious policy with huge implications.
In the aftermath of the Derek Chauvin verdict, Attorney General Merrick Garland has launched a wholesale Department of Justice review of the Minneapolis Police Department, a probe set to investigate whether its officers routinely "engage in a pattern or practice of unconstitutional or unlawful policing".
Meanwhile, progressive politicians including congresswoman Alexandria Ocasio-Cortez have revived the Green New Deal.
Speaking in Washington DC on Tuesday about tackling climate change, the New York representative said: "Do we intend on sending a message to the Biden administration that we need to go bigger and bolder? The answer is absolutely yes."
Her words came as reports suggest that Joe Biden will pledge to halve the US' carbon emissions by 2030 ahead of an important climate summit on Thursday.
The decision would encourage other countries to set more ambitious emissions targets, with 40 world leaders meeting for a two-day virtual conference on the issue.
The US' reported 50 per cent target almost doubles the country's last commitment, meaning that drastic changes in power and transportation will be required.
It would be an important step on the journey to net-zero greenhouse gas emissions by 2050, something the president has vowed to work towards.
1618991729
Morning, and welcome to The Independent's rolling US politics coverage.
Rory Sullivan
21 April 2021 08:55
1618992026
US expected to vow halving of emissions by 2030
Joe Biden is expected to pledge a 50 per cent reduction in greenhouse gase emissions in the US by 2030.
The vow comes ahead of a global climate conference, which will be held virtually on Thursday and Friday.
"Wow. That's ambition with a capital A," said Kim Cobb, a climate scientist at Georgia Tech.
In other climate-related news, the Dalai Lama and more than 100 other Nobel Laureates have written to Mr Biden asking for fossil fuels to be phased out.
In a letter seen by CNN, they wrote:"The burning of fossil fuels is responsible for almost 80 per cent of carbon dioxide emissions since the industrial revolution. Allowing the continued expansion of this industry is unconscionable."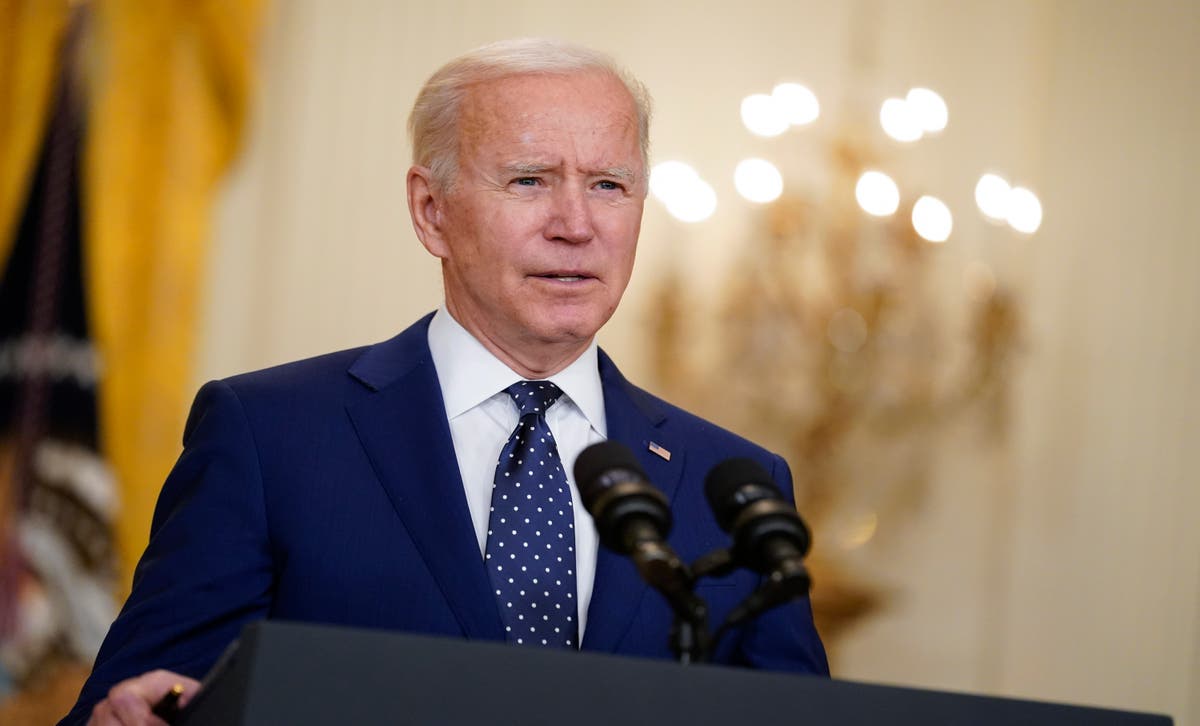 President Joe Biden will pledge to cut U.S. greenhouse gas emissions at least in half by 2030 as he convenes a virtual climate summit with 40 world leaders
Rory Sullivan
21 April 2021 09:00
1618992865
AOC reintroduces Green New Deal
Alexandria Ocasio-Cortez and other progressive politicians have reintroduced the Green New Deal.
Speaking in Washington DC on Tuesday, the New York congresswoman said they wanted the Biden administration to "go bigger and bolder" on tackling climate change.
Rory Sullivan
21 April 2021 09:14
1618994114
Chauvin conviction could be 'giant step forward' in fight against racism, Biden says
Joe Biden welcomed the conviction of the former Minneapolis police officer Derek Chauvin for the murder of George Floyd, saying it could be a "giant step forward" in the battle against systemic racism.
Speaking of Floyd's family, the president said:"Nothing can ever bring their brother and father back, but this can be a giant step forward in the march toward justice in America."
Mr Biden described racism in the US as "a stain on the nation's soul", something that "the whole world" could see in the aftermath of the murder.
After 10 hours of deliberation, a Minneapolis jury found Chauvin guilty of second- and third-degree murder as well as manslaughter.
President says it was 'really important' that former police officer found guilty on all counts
Rory Sullivan
21 April 2021 09:35
1618995314
Lisa Monaco confirmed as deputy attorney general
Lisa Monaco, the president's pick for deputy attorney general, has been confirmed in her role by the Senate.
She was approved by a decisive 98-2 margin on Tuesday, making her the second highest official in the Justice Deparment.
One of Ms Monaco's first tasks will be overseeing the proble into the storming of the US Capital by Trump supporters on 6 January.
"She is one of the nation's foremost national security experts," Senate Judiciary Committee chair Dick Durbin said.
Rory Sullivan
21 April 2021 09:55
1618996514
President Xi to take part in Biden climate summit
China's President Xi will attend the US-led climate summit this week, his government has announced.
The state-run Xinhua news agency said he would participate remotely from Beijing and would "deliver an important speech".
As China and the US are the world's biggest polluters, action is needed from both countries to adress the climate crisis.
In December, China pledged to reduce carbon emissions by 65 per cent of 2005 levels by 2030, while the US is expected to vow a 50 per cent reduction in emissions by the end of the decade.
Rory Sullivan
21 April 2021 10:15
1618997714
EU reaches climate deal ahead of Biden conference
The European Union has committed to becoming carbon neutral by 2050 on the eve of Joe Biden's virtual climate summit.
Ursula von der Leyen, the European Commission president, said: "Our political commitment to becoming the first climate-neutral continent by 2050 is now also a legal commitment. The climate law sets the EU on a green path for a generation."
In the shorter term, the bloc plans to cut greenhouse gas emissions by a minimum of 55 per cent of 1990 levels by 2030.
"It was high time for the agreement, as Europe has to show where it stands in view of the positive developments in the USA and China," said MEP Peter Liese.
Rory Sullivan
21 April 2021 10:35
1618998914
Chauvin conviction does not deliver justice for George Floyd, says Sanders
Bernie Sanders has said that conviction of Derek Chauvin does not deliver justice for George Floyd, while calling for the "cancer of systemic racism" to be rooted out.
In a series of tweets, the senator said that real justice can only occur "when we build a nation that fundamentally respects the human dignity of every person".
"The trauma and tragedy of George Floyd's murder must never leave us. It was a manifestation of a system that callously devalues the lives of Black people," he added.
Rory Sullivan
21 April 2021 10:55
1618999431
'This is life and death': AOC re-introduces Green New Deal with Ed Markey
New York Representative Alexandria Ocasio-Cortez has re-introduced the Green New Deal climate and energy proposal alongside Massachusetts Senator Ed Markey.
The Democratic lawmaker's introduction of the initiative on Tuesday alongside co-sponsors and leaders from the labour, environmental justice, and climate movements.
Progressive New York lawmaker calls for 'all-hands-on-deck approach' to climate crisis
Louise Hall
21 April 2021 11:03
1619000125
Democrats push $25 billion to electrify school buses
Democratic lawmakers are unveiling legislation that would invest $25b (£18b) to convert the nation's fleet of gasoline- and diesel-powered school buses to electric vehicles.
The move is aimed at a component of President Joe Biden's $2.3trn (£1.7trn) infrastructure plan to improve children's health.
The legislation led by California senator Alex Padilla seeks to build on the administration's effort this week to promote the electrification of school buses.
Mr Biden has said he sees the change as an important step in addressing climate change and economic inequities.
School buses make up 90% of the nation's total bus fleet and typically carry nearly 25 million children each day.
Emissions from diesel engines may contribute to respiratory illnesses in children, studies have found, and have been linked to poor academic performance.
Democratic lawmakers are unveiling legislation that would invest $25 billion to convert the nation's fleet of gasoline- and diesel-powered school buses to electric vehicles
Reporting by the Associated Press
Louise Hall
21 April 2021 11:15
Join our new commenting forum
Join thought-provoking conversations, follow other Independent readers and see their replies