As it happened
ended
1496954344
Comey testimony as it happened: Trump's lawyer hits back at fired FBI director and says he could be investigated
The Independent will be covering his testimony to the Senate Intelligence Committee live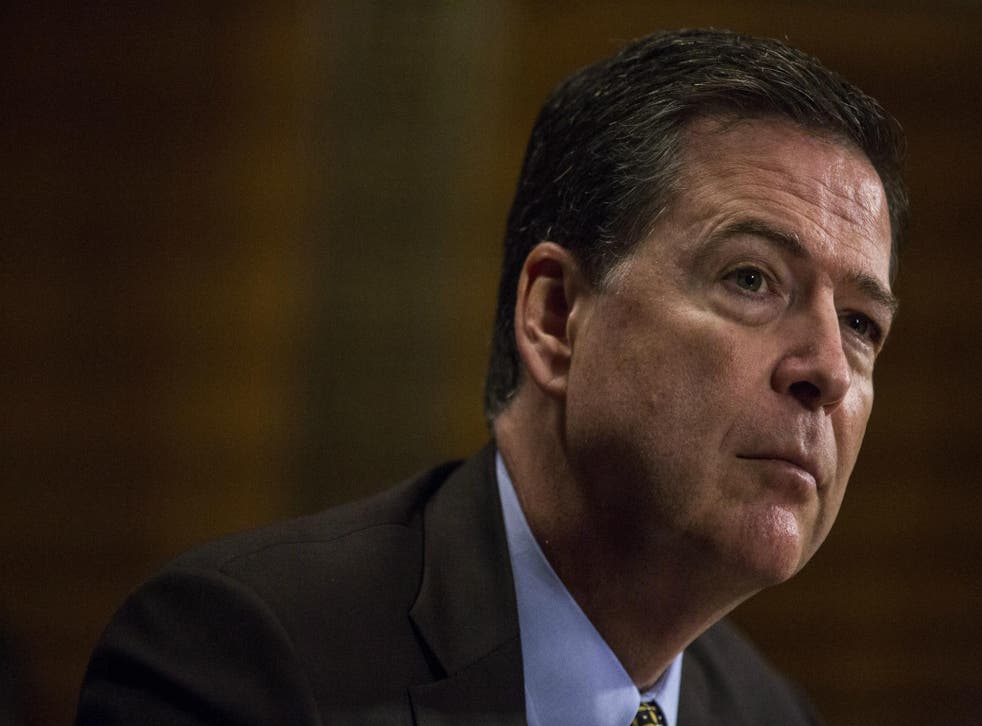 Former FBI Director James Comey is due to give evidence to the Senate Intelligence Committee about conversations he had with President Donald Trump and whether the former businessman pressured him to drop an investigation into former National Security Advisor Michael Flynn.
The committee has already released his prepared opening statement in which he will confirm under oath that Mr Trump tried to get him to drop the probe into whether General Flynn, who was forced to resign two weeks after the inauguration, had met with Russian officials during the campaign to discuss economic sanctions imposed by Barack Obama.
He will also testify about a pair of phone calls with Mr Trump where he had reportedly complained to him about the FBI's investigation into his campaign team's links with Russia, calling it a "cloud" looming over the presidency and reportedly urged mr comey to state publicly that the President himself was not under investigation.
Follow our liveblog below the video:
James Comey: Trump administration 'defamed' me and FBI with 'lies'
1496925596
Welcome to our live coverage of former FBI director James Comey's testimony to the Senate Intelligence Committee.
Adam Withnall
8 June 2017 13:39
1496927923
Mr Comey is due to appear at 10am local time - 3pm UK - but with his opening statement having been made live already, reactions have been coming in before he has the former FBI director has even opened his mouth
Adam Withnall
8 June 2017 14:18
1496928082
Mr Comey's full opening statement is below. With his opening remarks released it means the questioning he faces from the Senate Intelligence Committee becomes all important to gaining extra details about his interactions with President Donald Trump and the FBI investigation into any possible ties between the Trump campaign and Russia.
Adam Withnall
8 June 2017 14:21
1496928315
The big things to picked up out of that opening statement were Mr Trump telling Mr Comey that he both needed and expected "loyalty" and that he pushed the then-FBI chief to drop the investigation into Mr Trump's former National Security Adviser Michael Flynn and the conversations he had with Russian Ambassador Sergei Kislyak.
Adam Withnall
8 June 2017 14:25
1496928823
There was one piece of vindication for Mr Trump - that Mr Comey is set to confirm that he did indeed tell the President that he was not being personally investigated as  part of the FBI probe. That will surely be the main point his supporters will take away...
Adam Withnall
8 June 2017 14:33
1496929135
With Mr Comey's testimony being sold by some US media as "potentially the most explosive in a generation" the lines for the 90 public seats in the Senate hearing stretched back a long way. There is an overflow room with a video and audio feed - but that only holds another 100 people.
Adam Withnall
8 June 2017 14:38
1496929355
Mark Warner, the ranking Democrat on the Senate Intelligence Committee, has been ramping up the grandstanding.
Adam Withnall
8 June 2017 14:42
1496929756
Bars from coast to coast in the US are offering breakfast specials like "impeachmint" cocktails and $5 Russian vodka shots as they tune their wall-mounted TVs to  live broadcasts of Mr Comey's congressional testimony.
From Capitol Hill to San Francisco's Castro district, television "watch parties" are beckoning political junkies away from the morning rush hour to taverns, restaurants and living rooms to view an event some likened to the "Super Bowl of Washington."
Adam Withnall
8 June 2017 14:49
1496930015
For the unlucky staffers unable to get into the hearing, a bar on the Senate-side of Capitol Hill is an offering a free round of drinks per Donald Trump tweet during Mr Comey's testimony. According to the Washington Post, the President may "live tweet [the hearing] if he feels the need to respond."
Adam Withnall
8 June 2017 14:53
1496930325
Senator Angus King, an independent who votes with the Democrats, told CNN he expected many questions in the hearings to relate to Mr Comey's firing and the conversations that preceded it.
Adam Withnall
8 June 2017 14:58
Join our new commenting forum
Join thought-provoking conversations, follow other Independent readers and see their replies