Could Hillary Clinton challenge the US election results over hacking fears?
Ms Clinton's team have spoken to scientists and lawyers who claim there is a trend between electronic voting and ballots for Donald Trump.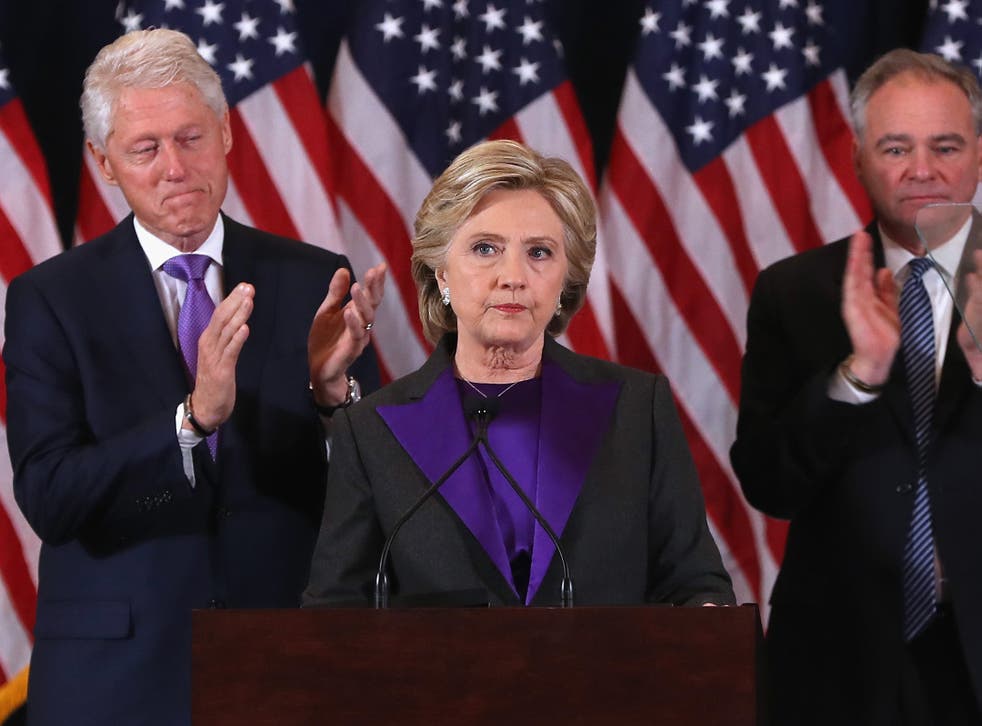 Why are we asking this now?
A group of renowned computer scientists and lawyers are urging the Secretary of State to challenge the results in three swing states because of claims of possible evidence of hacking or manipulation.
The coalition claims that counties within Wisconsin, Michigan and Pennsylvania, which relied on electronic-voting machines, voted largely in favour of Donald Trump.
The trio of key states were won by Mr Trump.
In Wisconsin for example, Ms Clinton received 7 per cent fewer votes in the counties that used electronics instead of optical scanners and paper ballots.
Based on this statistical analysis, the Democrat supposedly may have been denied as many as 30,000 votes. She lost Wisconsin by 27,000 votes.
The group have reportedly said that while they have not found evidence of hacking - the pattern needs to be looked at by an independent review
It's not the first time suggestions of hacking have surrounded US politics.
Clinton may have got the second-most amounf of votes ever despite losing
Barack Obama's White House accused the Russian government of hacking the Democratic National Committee.
Why is this important?
Mr Trump ultimately won the election by scooping up 290 Electoral College votes compared to Ms Clinton's 232.
Each state in America is assigned a certain number of Electoral College delegates, roughly relative to population size.
California has 55 and a number of states, including Delaware and Alaska, have three.
Whichever candidate wins the most votes in the state, is rewarded with all the Electoral College votes. It's a winner-takes-all system.
Mr Trump won Pennsylvania (20) and Wisconsin (10) and is likely to win Michigan (16).
But if votes are recounted in those states, and it is found Ms Clinton should be handed all those Electoral College delegates, she would have 278 votes to Mr Trump's 260.
Donald Trump outlines plans for first 100 days in office
The election of the new president must be rubber stamped on 19 December.
How long does she have left to appeal?
According to one activist, the deadline in Wisconsin for a recount is Friday, in Pennsylvania it's Monday and in Michigan it's next Wednesday.
What kind of precedent does this set?
It could encourage any candidate, in any worldwide election, to challenge a result over any unfounded accusation.
The group of scientists and lawyers, which includes voting rights attorney John Bonifaz and University of Michigan director J. Alex Halderman, has no evidence other than a trend between electronic balloting and votes for Donald Trump - according to the New York Magazine.
During what is widely regarded as the closest Senate race in history in the US – for an open New Hampshire seat in 1974 – there was a number of recounts.
Republican Louis Wyman beat Democrat John Durkin by 355 votes, Mr Durkin won a recount by 10 votes and Mr Wyman won a third by two votes.
After a review, the pair ran election campaigns all over again, and Mr Durkin conquered by around 27,000 votes.
What's the likelihood Ms Clinton will appeal?
Not likely.
The activists reportedly held a conference call with Ms Clinton campaign chairman John Podesta and campaign general counsel Marc Elias on Thursday.
However, Some political statisticians, including FiveThirtyEight's Nate Silver and The New York Times' Nate Cohn ahve cast doubt on the claims. Both men have said that the suspicious results apparently disappear when the numbers are controlled for demographic factors like education and race.
The White House is also intent on a smooth transition and President Obama has urged the world to "wait until the administration is in place".
Hillary Clinton testifies before House Select Committee on Benghazi

Show all 17
Ms Clinton is also keeping a low profile.
Her only appearances in the media since 9 November have resulted from non-political events, or by fans spotting her in public, such as out hiking and in a bookshop.
Heba Abedin however, the sister of Ms Clinton's aide Huma Abedin, is urging people to demand an election audit from the Department of Justice
Join our new commenting forum
Join thought-provoking conversations, follow other Independent readers and see their replies