Trump guilty of 'child abuse' if he ends 'Dreamers' programme, says campaign group
'Generations from now, children will read about a President who took away civil and human rights'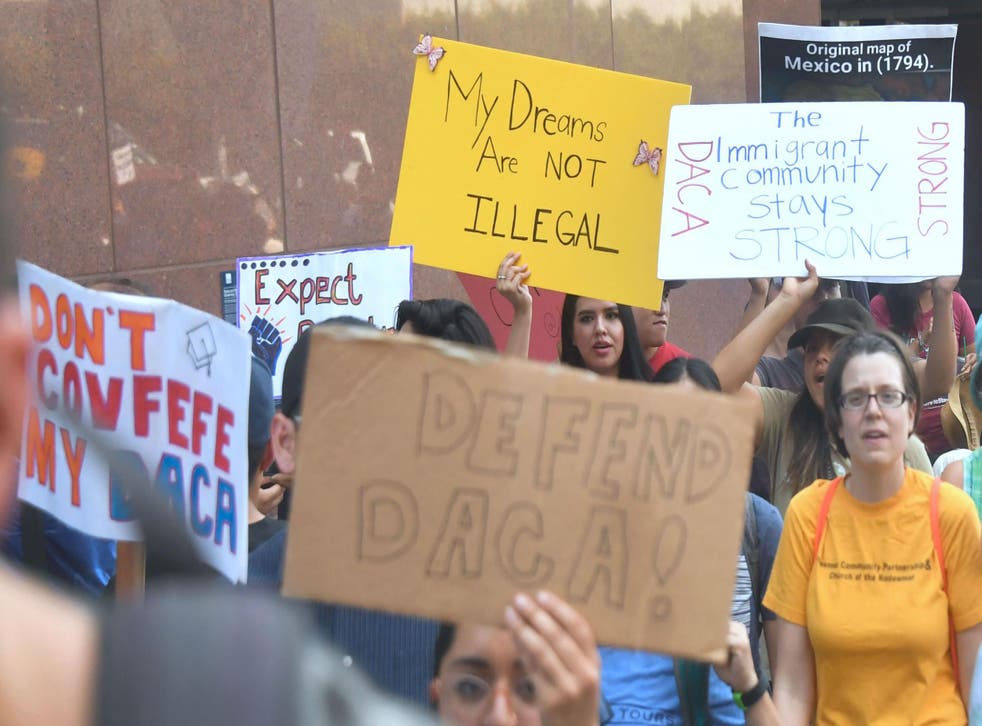 A leading campaign group has accused Donald Trump of taking away "civil and human rights" and said would be guilty of child abuse as the President appeared set to terminate an immigration programme that has allowed up to 800,000 undocumented young people stay in the US.
Mr Trump has been weighing whether or not to scrap a scheme that was introduced by his predecessor to shield from deportation immigrants who came to the US without documents. Mr Trump has said he has struggled over what to do with the Deferred Action for Childhood Arrivals (DACA) scheme. Reports suggest he will ultimately end remove the programme when the announcement is made on Tuesday.
At the same time, Mr Trump will likely seek to place responsibility for the issue on Congress by giving it six months to come up with legislation for an alternative.
"President Trump's decision to end DACA is child abuse under the guise of public policy," said a leading rights organisation.
In a series of tweets, the Anne Frank Centre for Mutual Respect, a group that campaigns for the protection of human rights, said Mr Trump was set to make a decision that would become notorious.
"Happy Labour Day - and remember that America works successfully because of the 800,000 immigrants under DACA who are taking no one else's jobs," it said.
"Generations from now, children will read about a President who took away civil and human rights."
Trump defends Arpaio pardon
Reuters said the decision to give Congress six months to come up with a an alternative, first reported by Politico, represented a compromise of sorts after top Republicans and business leaders asked Mr Trump to keep the programme
The 800,000 or so dreamers are a fraction of the estimated 11m undocumented immigrants in the United States, most of them Hispanic.
World news in pictures

Show all 50
During the election campaign, Mr Trump as a candidate promised to deport all of them, but many Americans have rallied to support the young adults who have spent large parts of their lives in the United States.
The decision, to be announced on Tuesday, will seek to placate both sides in the immigration debate at a time when the president is also grappling with North Korea's nuclear program and Houston's recovery from Hurricane Harvey, Reuters said.
The Anne Frank Centre has previously criticised the President immigration policies, most notably an executive order to ban immigrants and refugees from predominantly Muslim countries, along with his proposal to build a wall on the Mexico border.
"President Trump is beyond the wrong side of history," said Steven Goldstein, the organisation's executive director. "He is driving our nation off a moral cliff."
Register for free to continue reading
Registration is a free and easy way to support our truly independent journalism
By registering, you will also enjoy limited access to Premium articles, exclusive newsletters, commenting, and virtual events with our leading journalists
Already have an account? sign in
Register for free to continue reading
Registration is a free and easy way to support our truly independent journalism
By registering, you will also enjoy limited access to Premium articles, exclusive newsletters, commenting, and virtual events with our leading journalists
Already have an account? sign in
Join our new commenting forum
Join thought-provoking conversations, follow other Independent readers and see their replies