Donald Trump expels 15 Cuban diplomats following mysterious 'sonic attacks' on 23 US embassy staff
The move is a set-back to recent diplomatic detente
Andrew Buncombe
New York
Tuesday 03 October 2017 16:14 Comments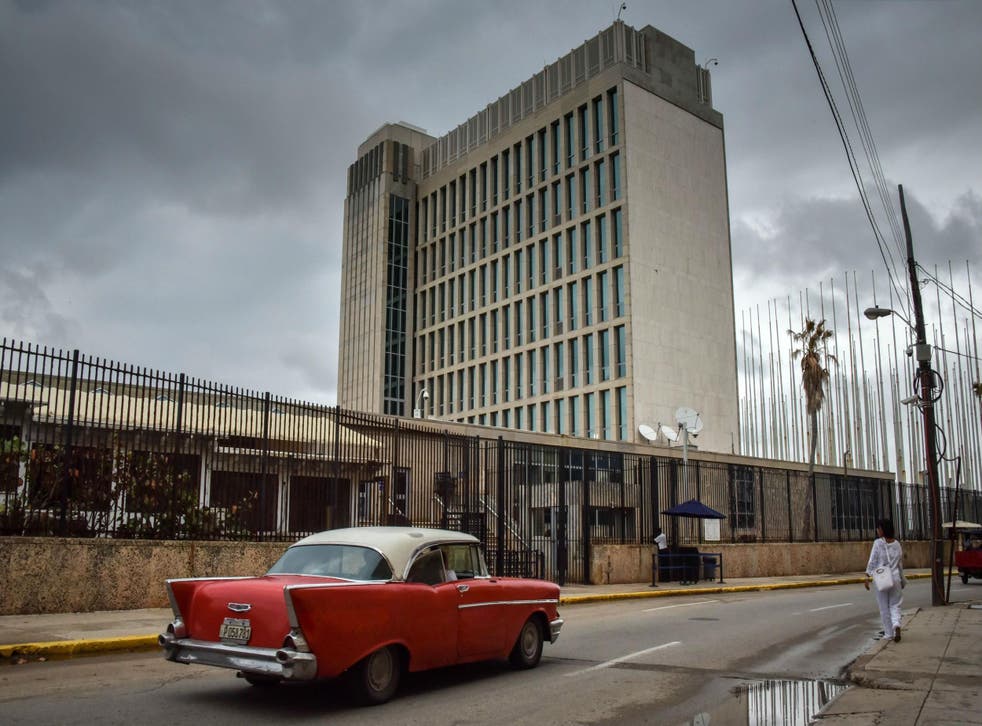 Donald Trump has expelled 15 Cuban diplomats in the latest response to the mysterious 'sonic attacks' targeting US embassy staff in Havana.
Last week, US Secretary of State Rex Tillerson announced that America was sharply reducing the number of staff at its embassy after at least 22 diplomats and their family members fell ill to mysterious illnesses. There has been speculation, the health problems were caused by sonic attacks aimed as the facility.
Cuba has stridently denied it is behind the attacks and has taken the unusual step of inviting both the Federal Bureau of Investigation and the Royal Canadian Mounted Police to travel to the island to launch their own probes.
World news in pictures

Show all 50
On Tuesday, Mr Tillerson said the US was expelling the 15 Cubans from its embassy in Washington in order to "ensure equity".
US officials in Washington told reporters the steps had been taken in order to protect American staff in Cuba. They said the total number of people who had suffered strange health issues that included hearing problems, had now risen to 22.
"Until the Government of Cuba can ensure the safety of our diplomats in Cuba, our embassy will be reduced to emergency personnel to minimise the number of diplomats at risk of exposure to harm," Mr Tillerson said in a statement last week.
A State Department official told reporters the number of expulsions was selected to make sure the US and Cuban embassies would have similar staffing levels
The US decision to expel a large portion of Cuban staff at the embassy was communicated to Cuban Ambassador Jose Ramon Cabanas on Tuesday, and the diplomats were given seven days to leave the United States, the official said.
Trump says a America has 'rejected the Cuban people's oppressors'
"We continue to maintain diplomatic relations with Cuba, and will continue to cooperate with Cuba as we pursue the investigation into these attacks," the US State Department said.
In December 2014, Barack Obama and Cuban president Raul Castro made history by reestablishing ties that were cut in 1961, shortly after his brother, Fidel Castro, stormed to power and overthrew a dictator.
The US tried to kill and overthrew Mr Castro on a number of occasions and enforced a crippling economic blockade. Some estimates suggest, the embargo cost as much as $100bn to Cuba over the decades.
The restoration of diplomatic relations, which included a visit by Mr Obama to Havana, was welcomed by many in both countries. Some disapproved, including Fidel Castro, who died in 2016.
During the election campaign, Mr Trump denounced the deal and vowed to push back the detente that Mr Obama had led. In June, he announced new restrictions on travel and business with Cuba.
"I am canceling the last administration's completely one-sided deal with Cuba," Mr Trump said.
"They made a deal with a government that spread violence and instability in the region and nothing they got, think about it, nothing they got, they fought for everything and we just didn't fight hard enough, but now, those days are over."
Register for free to continue reading
Registration is a free and easy way to support our truly independent journalism
By registering, you will also enjoy limited access to Premium articles, exclusive newsletters, commenting, and virtual events with our leading journalists
Already have an account? sign in
Join our new commenting forum
Join thought-provoking conversations, follow other Independent readers and see their replies