Donald Trump's mass deportation plan is similar to Barack Obama's – but comes with added dangers
The Obama administration has deported more people than any other president in US history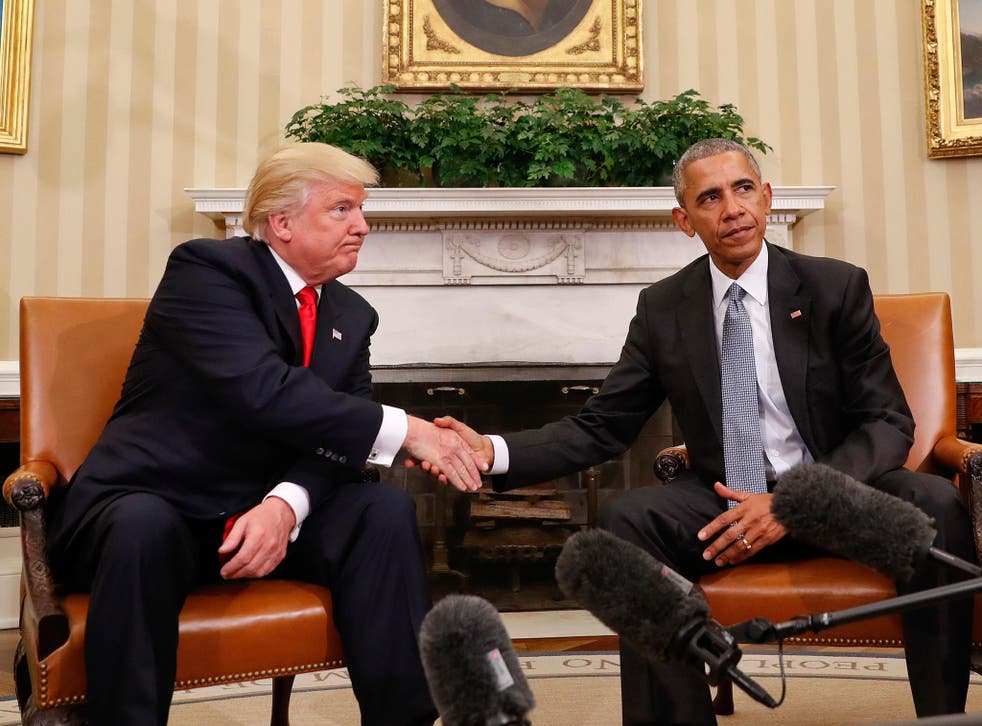 Fears among immigrant communities across the United States have risen following the election of Donald Trump, who has pledged to deport some two- to three-million immigrants immediately upon taking office.
However, at surface-level Mr Trump's promise does not sound all that different from what President Barack Obama has already implemented.
Mr Trump launched his campaign with particular focus on immigrants from Mexico, criminalising them with broad brushstrokes. In his now infamous June 2015 campaign announcement, he referred to Mexican immigrants as rapists and drug traffickers, solidified with his vow to build a wall along the already-militarised southern border.
Since his stunning defeat of Democratic nominee Hillary Clinton, he has only reaffirmed his promise to carry out mass deportations of immigrants in the US – stepping away from his earlier pledge to remove all 11 million unauthorised immigrants only slightly. Instead, he now wants to carry out the immediate removal of immigrants convicted of crimes.
President Trump protests

Show all 20
"What we are going to do," he told 60 Minutes, "is get the people that are criminal and have criminal records – gang members, drug dealers, we have a lot of these people, probably two million – it could be even three million. We are getting them out of the country, or we are going to incarcerate.
"But we're getting them out of the country, they're here illegally."
Trump: We're going to deport millions
It is unclear where Mr Trump drew his figures to determine that there are up to three million unauthorised immigrants with criminal records. Past figures from the Department of Homeland Security estimated that 1.9 million "removable criminal aliens" lived in the US in 2013.
But Immigration and Customs Enforcement (ICE) carried out some 2.5 million deportations between 2009 and 2015, under Mr Obama.
"There's a certain continuity between what has been proposed [by Trump] and what has been going on [under Obama]," Anthony Enriquez, the Equal Justice Works Emerson fellow at the Immigrant Defence Project, told The Independent. "The issue of enforcement really begins with the Department of Homeland Security, that has just grown to really gigantic proportions.
"The infrastructure to carry out his announced plans already exists. The idea of mass deportation has already been normalised."
Trump says Mexico are sending 'drug dealers and rapists' to US
Mr Enriquez explained that the Obama administration has overseen more deportations than any other US presidency. But previous legislation – such as the 1996 Immigration Reform and Control Act (IRCA) passed by Bill Clinton, and post-9/11 securitisation measures under George W Bush – led to the broader definitions of criminality makes a person eligible for removal, like lower level misdemeanors.
Mr Obama's administrative reform programmes, DAPA and DACA, include protections for immigrants with up to three non-significant misdemeanors – excluding minor traffic violations.
Despite Mr Obama's legacy as "Deporter-in-Chief" amongst immigrant rights advocates, the number of deportations have dropped in the last two years – although the number still falls at 530,000 – a trend that could likely reverse during Mr Trump's time in the White House.
"Now we have a new president who dangerously wields the imprecise term 'criminal alien'," Mr Enriquez said. "We don't know what that means."
While DAPA and DACA offer some protection for people with fewer than three non-significant misdemeanors, Mr Trump's hardline rhetoric draws some uncertainty for what the future holds when it comes to the criminalisation of unauthorised immigrants.
Will somebody convicted of low-level offences fall within Donald Trump's definition of "criminal alien"?
"Our guess is yes," Mr Enriquez said.
The concerns for immigration under the Trump administration did not end with deportation, however. Buried within his promise to deport up to three million people was the promise to also incarcerate those he could not remove.
Immigrants who face the threat of removal have the right to due process. A mass deportation operation would likely still require full removal proceedings, leading to mass incarceration and increase the likelihood of erroneous detentions.
For some, Donald Trump's dark border dreams are already a reality
Such a proposal under Mr Trump could lead to an increase in immigration detention populations from about 45,000 daily to three million.
"That is an unprecedented number of people in prison," Mr Enriquez said.
He added: "I think that goes to the sense that we don't know what his proposed infrastructure plan has. … It could very well mean building more prisons. It's not beyond the pale to imagine that his infrastructure plans are simply a wall and prisons."
Indeed, private prison stocks soared in the immediate aftermath of Mr Trump's election. Shares of CoreCivic and GEO Group (two of the US' largest private prison corporations) shot up 43 and 21 per cent on 9 November.
Mr Trump will be the 45th President of the United States, and he has offered little reason to doubt the reality of his plans to carry out mass deportations and further criminalise unauthorised immigrants – a proposal celebrated by the white supremacist groups galvanised throughout his campaign.
"I think that we have every reason to take Donald Trump at his word," Mr Enriquez said. "These first few days in his new position as President-elect, we've seen substantiation of those views with the hiring of Steve Bannon," who ran the far-right website, Breitbart – a favourite of white nationalists.
"We don't want to counsel needless worry, we want to counsel preparation," he concluded. "This is not a narrow issue directed towards non-citizens – this is for every single American, whether they were born here or not.
"We're not beating the drum for anxiety. We're saying it's up to us to protect all of our liberties against planned incursions."