Donald Trump reportedly considering starting global trade war, despite Cabinet's concerns
The President supports a plan for major tariffs on steel imports, reports say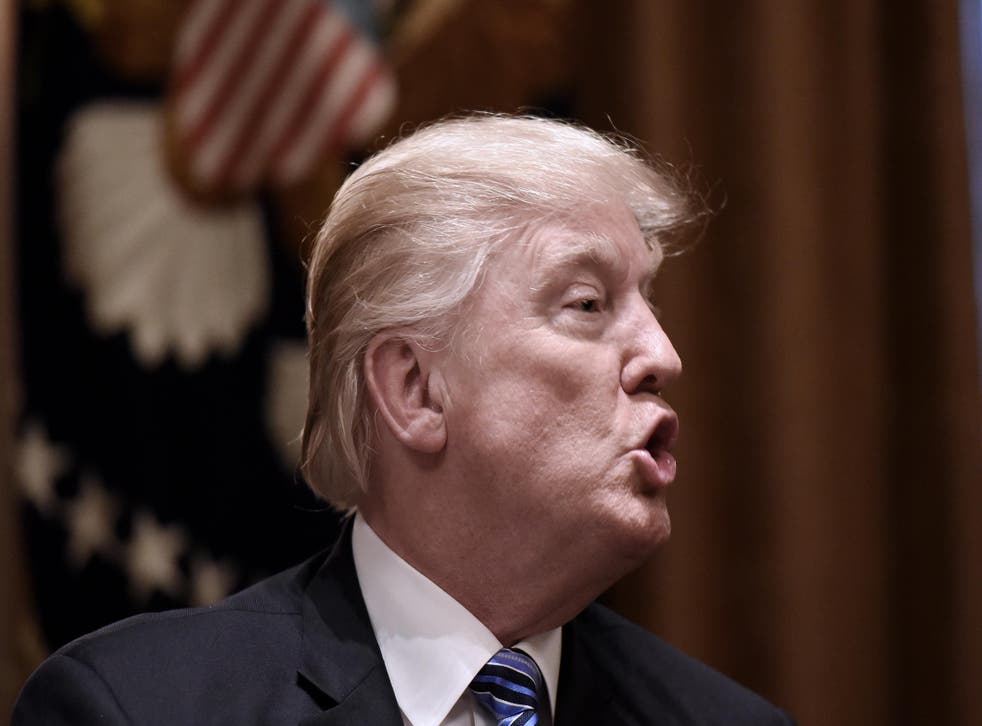 Contrary to the advice of the majority of his top aides and Cabinet members, Donald Trump is planning to impose steep tariffs on steel, reports say.
At a recent White House meeting of more than 20 top officials, the President pushed for a plan to institute tariffs of up to 20 per cent on steel imports, according to Axios.
The majority of those gathered, however, did not support the plan, fearing it could set off a trade war with disastrous consequences for the US economy. At one point, Mr Trump was reportedly informed that the majority of his Cabinet opposed the plan. He was undeterred.
The plan is reportedly being crafted by Commerce Secretary Wilbur Ross, chief strategist Steve Bannon, trade policy director Peter Navarro and senior policy adviser Stephen Miller. They propose implementing tariffs of up to 20 per cent on major steel exporters like China, in an attempt to incentivise American-made products.
Mr Trump has taken a tough line on Chinese trade in the past, accusing the country of "dumping vast amounts of steel all over the United States," and "killing our steelworkers and our steel companies". But the current plan could also have negative impacts on US allies like Canada, Mexico, Japan, Germany and the UK.
There's also no guarantee it will work. When former President George W Bush implemented similar tariffs in 2002, the resulting spike in steel prices put 200,000 workers out of a job, according to a study financed by steel-buying companies. The tariffs ended when the World Trade Organisation ruled them illegal.
The controversial orders Donald Trump has already issued

Show all 9
Back in December, when Mr Trump was reportedly considering a five per cent tariff on some imports, experts cautioned that these "America first" trade policies could trigger a global trade war.
A team from Deutsche Bank cautioned that "the biggest threat to growth is a possible protectionist turn, which could depress global trade and even trigger trade wars". Willem Buiter, chief economist at Citi, told clients that this war "could easily trigger a global recession."
Because of this, Mr Trump has been discouraged by many from pursuing these protectionist policies. But in a recent meeting with President Moon Jae-in of South Korea, Mr Trump charged ahead, bemoaning the trade deficits that he feels are hampering the US economy.
"The fact is that the United States has trade deficits with many, many countries, and we cannot allow that to continue," he said. "And we'll start with South Korea right now. But we cannot allow that to continue."
The results of a study on foreign steel shipments, which Mr Trump ordered two months ago, are expected any day.
In April, Mr Trump started an international row by proposing tariffs on Canadian lumber and dairy. The tariffs have yet to be imposed.
Join our new commenting forum
Join thought-provoking conversations, follow other Independent readers and see their replies