Hillary Clinton condemns Donald Trump's 'dangerous' Twitter tirades while attacking President as 'creep'
Defeated presidential candidate appears on the Graham Norton Show after breaking toe in accident 
Lizzie Dearden
Saturday 21 October 2017 01:38 Comments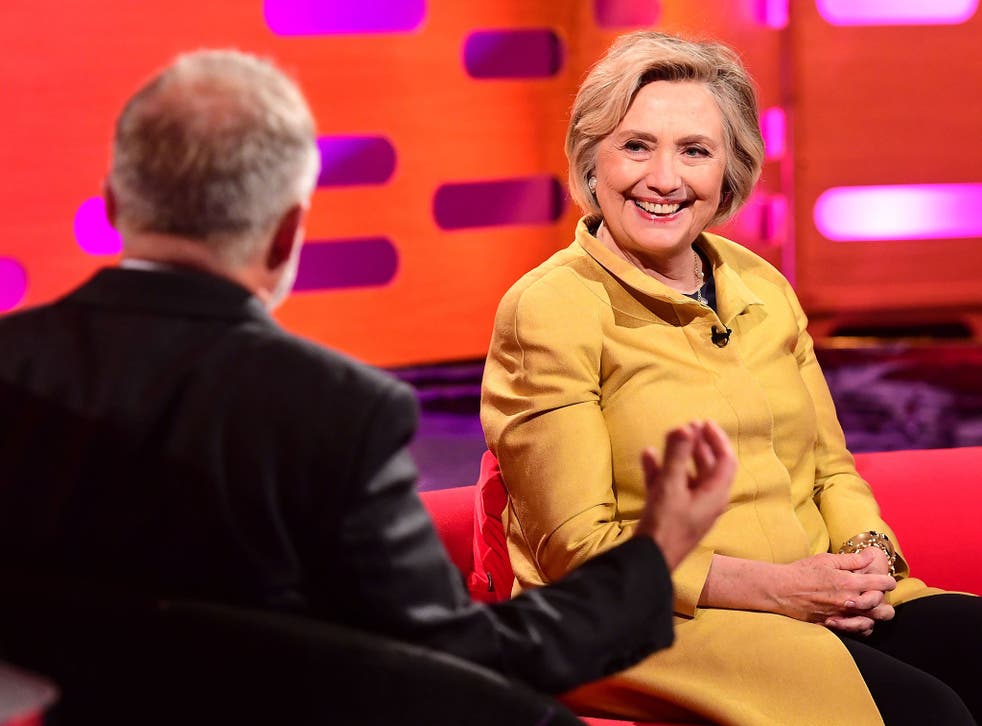 Hillary Clinton has condemned Donald Trump's "dangerous" Twitter tirades, while describing the President as a "creep".
The defeated presidential candidate was wearing a surgical boot during her appearance on the Graham Norton Show, which followed a series of media appearances on her UK book tour.
"I was running down the stairs in heels with a cup of coffee in hand, I was talking over my shoulder and my heel caught and I fell backwards," she explained, praising the care she has received under the NHS.
"I tried to get up and it really hurt. I've broken my toe."
When asked how she felt about Mr Trump criticising her book on Twitter, Ms Clinton said she "ignores" most of his tweets but was concerned about those on international affairs.
"The most dangerous thing he does is conduct diplomacy on Twitter," she added. "So he is trading insults with Kim Jong-un, which is just like catnip for Kim Jong-un.
"He just loves the idea that he's in a Twitter insult-fest with the President of the United States.
"He does things that are not only upsetting but kind of inexplicable."
Barack Obama implies Trump has set US back 50 years in first political speech for a year
Mr Trump has been accused of raising international tensions with tweets directed at North Korea, Iran, China and other nations.
Having repeatedly taunted North Korean dictator Kim during escalating nuclear tests, Mr Trump hinted at military action earlier this month, writing: "Presidents and their administrations have been talking to North Korea for 25 years, agreements made and massive amounts of money paid hasn't worked, agreements violated before the ink was dry, makings fools of US negotiators. Sorry, but only one thing will work!"
The President has also recently posted tweets wrongly attributing a rise in Britain's crime rate to international terrorism and spreading conspiracy theories involving the FBI, Russia and the Democrats.
Ms Clinton, who has entered barbed exchanges with the President on social media, said it would be impossible to respond to all of his tweets "because there are so many".
She added: "I do respond when I think what he has said is hurtful and unfair, and really causing problems for people."
Donald Trump's least presidential moments so far...

Show all 30
Ms Clinton gave the example of the recent hurricane that struck Puerto Rico, when she urged Mr Trump and his administration to increase relief efforts on Twitter.
Reliving her shock defeat in last year's presidential election, which is the subject of her book What Happened, the Democrat said she felt "terrible and so responsible" for her opponent's victory.
Ms Clinton said he "played a different game" in televised debates, adding: "He loomed over me.
"I knew he was there and I regret not saying, 'You are not going to intimidate me, back off you creep!'"
The former Secretary of State also told how she tried to avoid attending Mr Trump's inauguration alongside other former first ladies and presidents.
Ms Clinton said she and her husband contacted the Bush and Carter families before confirming their attendance.
"I wanted him to rise to the occasion of being our President and a President for everybody…that didn't happen," she added, calling Mr Trump's inaugural speech "a dark and divisive…cry from the white nationalist gut".
George W Bush was also said to be unimpressed, reportedly calling summing up the speech with the verdict: "That was some weird s**t."

Register for free to continue reading
Registration is a free and easy way to support our truly independent journalism
By registering, you will also enjoy limited access to Premium articles, exclusive newsletters, commenting, and virtual events with our leading journalists
Already have an account? sign in
Join our new commenting forum
Join thought-provoking conversations, follow other Independent readers and see their replies