Trump says US justice department part of 'deep state' and demands action against top Clinton aide Huma Abedin
Ms Abedin faces no legal charges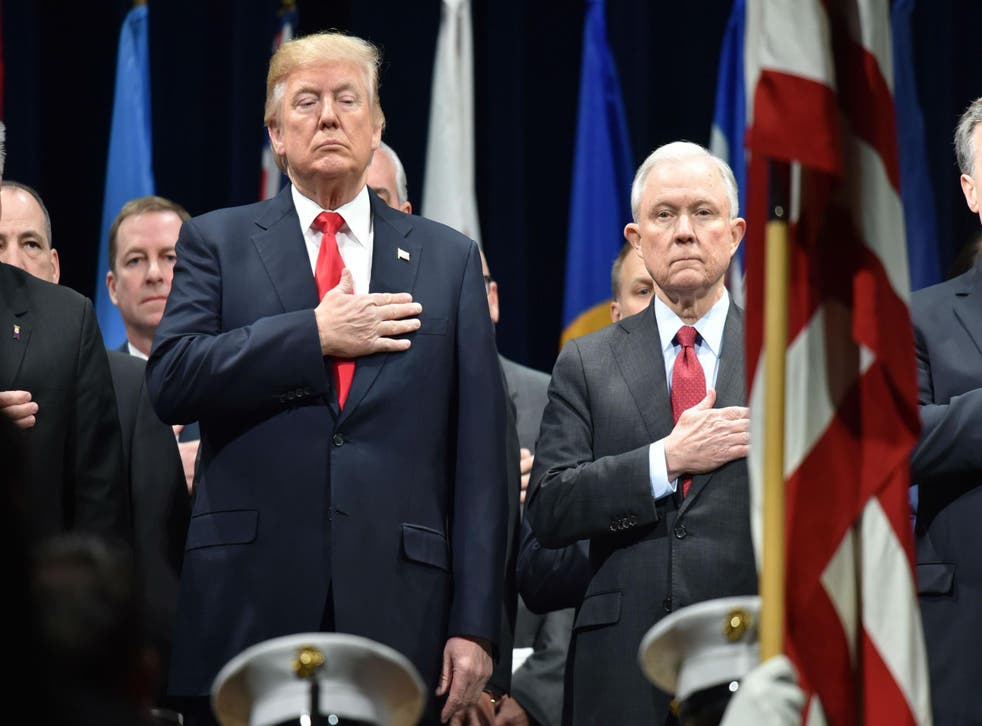 Donald Trump has termed his own Justice Department part of the 'deep state', as he called for it to take action against Hillary Clinton's former top aide, Huma Abedin.
In one of a series of early morning tweets, Mr Trump claimed Ms Abedin had been accused of disregarding basic protocols and put classified passwords into the hands of foreign agents.
His comments appear to have been made after such allegations were made by the The Daily Caller, a conservative publication that is among Mr Trump regular sources of news. The website claimed Ms Abedin had forwarded "sensitive State Department emails, including passwords to government systems", to her personal Yahoo email account before every single Yahoo account was hacked.
Ms Abedin, 41, who worked as a senior aide to Ms Clinton both at the State Department and ten during her election campaign, did not immediately respond to Mr Trump's comment. The Department of Justice also did not respond to specific questions. It said in a statement that it "declined to confirm or deny the existence of ongoing investigations".
Last week, the State Department released a large number of Ms Abedin's emails relating to her work while employed by the government, following a Freedom of Information request by the conservative legal watchdog Judicial Watch.
Judicial Watch spokeswoman Jill Farrell told The Independent: "In this case, thousands of documents have been released by the State Department. They include documents include classified information being passed on unsecured networks – this was through the Clinton email server."
Trump: 'Hillary Clinton lied many times to the FBI. Nothing happened to her. Flynn lied and they destroyed his life.'
Ms Farrell claimed "too many people" had been given immunity by the FBI as it launched its probe of Ms Clinton's use of a private email server – an issue that remains rallying cry for conservatives and supporters of Donald Trump, despite him defeating her in the 2016 election more than a year ago.
She said it was only appropriate that a full investigation be carried out by the Department of Justice. Asked why Attorney General Jeff Sessions had not yet launched such a probe, she said: "It has not happened yet."
The approximately 3,000 emails released by the State Department were found on the laptop of Ms Abedin's estranged husband, disgraced former congressman Anthony Weiner, who was found guilty of "sexting" with a minor.
The emails have in themselves become part of the Democrats grievances against the FBI and former Director James Comey.
Hillary Clinton's life in pictures

Show all 10
In July 2016, at the conclusion of an FBI investigation into Ms Clinton use of a private email server she kept at her home in Chappaqua, New York, Mr Comey while the former secretary of state had been "careless", investigators concluded her actions did not warrant a prosecution. "Our judgment is that no reasonable prosecutor would bring such a case," he said.
Mr Comey's ruling was deeply controversial, not only among critics of Ms Clinton but reportedly within the FBI itself. Yet four months later, in another dramatic twist to the presidential election less than two weeks before voters went to the polls, Mr Comey announced he was reopening the investigation after discovering new information – the emails that had been found on Weiner's computer.
Nine days after that, on November 6, Mr Comey announced investigators declared his team had nothing relevant to Ms Clinton's case on the laptop and that the decision not to prosecute her stood.
Ms Clinton has often said she believed Mr Comey's behaviour was one of the key reasons she lost to Mr Trump.
"If the election had been on October 27, I would be your president," she told later told a women's conference. "It wasn't a perfect campaign, but I was on the way to winning until a combination of Comey's letter and Russian WikiLeaks."
Mr Trump's use of the phrase "deep state", echoes previous attacks he and his supporters have made on the nation's intelligence community, especially those officials appointed by his predecessor Barack Obama, that he has claimed have been working against him.
Yet it is not clear why he used the phrase, which implies the existence of an entrenched bureaucracy opposed to him, in relation to the Justice Department. He not only appointed Mr Sessions, but also his deputy, Rod Rosentein.
Mr Trump's tweet was one of a flurry in which he has returned to work and marked the start of the new year. In one tweet, he accused Pakistan of failing to act sufficiently to take on terror groups operating out of its territory, in another he attacked the "failing New York Times", he claimed his sanctions on North Korea were forcing a rethink by "Rocket Man", and attacked the nuclear deal agreed with Iran by Mr Obama.
Join our new commenting forum
Join thought-provoking conversations, follow other Independent readers and see their replies