Donald Trump's press secretary promotes 'tremendously successful' Trump Hotel during official briefing
Sarah Huckabee Sanders comment constitutes 'ethics violation', according to former White House ethics chief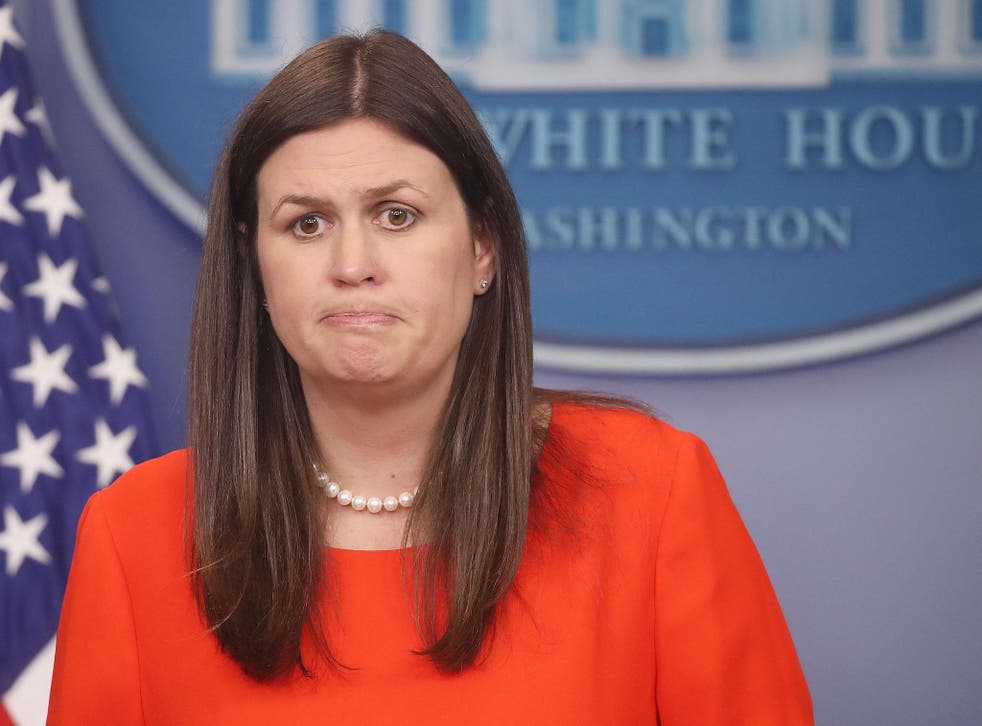 Donald Trump's press secretary used an official briefing to promote the billionaire's "tremendously successful" Hawaii hotel in what experts have said is an "ethics violation".
Sarah Huckabee Sanders was asked why the President had stopped off at Trump International Hotel Waikiki before he left the state to continue his tour of the Asia-Pacific region.
She told reporters: "It has been a tremendously successful project and he wanted to say hello and thank you to the employees for all their hard work."
Mr Trump visited Hawaii for a briefing from US Pacific Command military leaders, and paid his respects to those killed in the 1941 Pearl Harbour attack during a stop at the USS Arizona memorial.
But his reception was not uniformly positive. Protesters mocked his past birtherism claims about Barack Obama with signs that read "Welcome to Kenya", and brandished others that said "Immigration gave me my family" and "Aloha means goodbye".
Ms Sanders' comment again blurred the lines between Mr Trump's business and political lives, setting ethics experts on edge.
Norm Eisen, White House ethics czar under Mr Obama, tweeted: "ETHICS VIOLATION by @PressSec: under 5 CFR § 2635.702, can't promote Trump's businesses--same violation as @KellyannePolls committed."
He was referencing a similar misstep by Kellyanne Conway, Mr Trump's adviser, when in February this year she promoted Ivanka Trump's fashion products live on Fox News – from inside the White House press briefing room.
Donald Trump's least presidential moments so far...

Show all 30
This summer it was revealed the Trump International Hotel in Washington, a few blocks from the White House, had raked in nearly $2m (£1.5m) in profit in the first quarter of 2017, despite having been predicted to lose even more than that.
The hotel, which opened last autumn, is in the Old Post Office building in Pennsylvania Avenue, which the Trump Organisation rents from the federal government.
Members of Mr Trump's inner circle and other Republican leaders have often been spotted in the hotel's bar and restaurant, while foreign cash has poured into the building.
Join our new commenting forum
Join thought-provoking conversations, follow other Independent readers and see their replies