Donald Trump: Mitt Romney 'chickened out' from the race
The Republican said: 'If I had asked him to drop to his knees, he would have dropped. He was begging me.'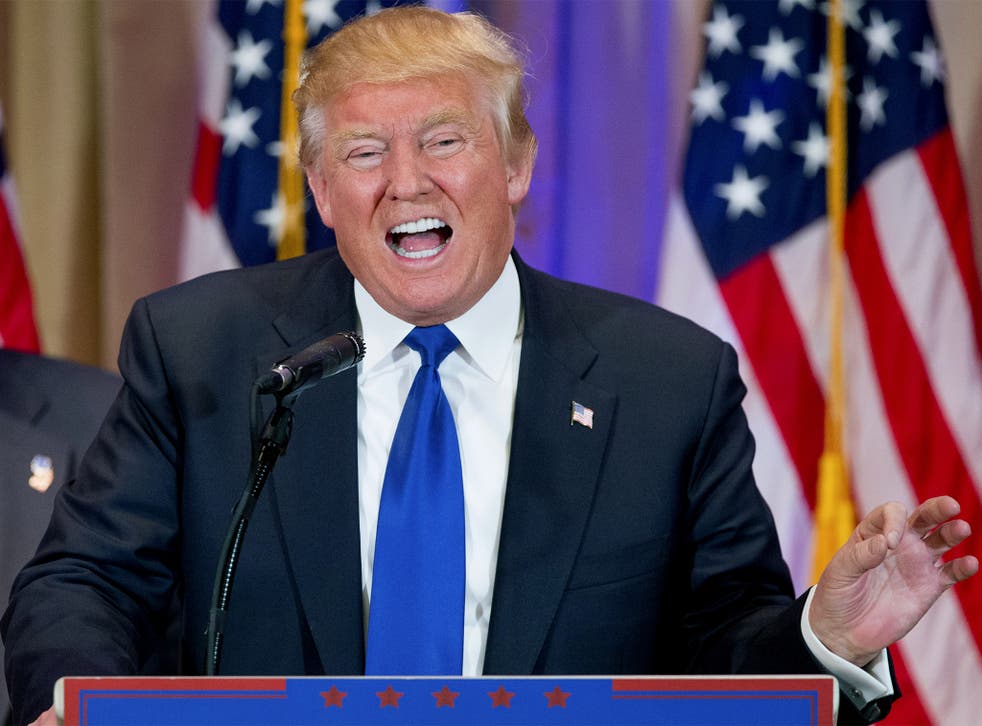 Donald Trump has delivered an angry response to Mitt Romney's attack on his bid for presidency, claiming Mr Romney was begging him for cash in 2012 and "chickened out" of the presidential race.
Surrounded by American flags and his slogan "Make America Great Again", Mr Trump told a packed room of supporters in Maine: "He [Romney] failed badly. That was a race [in 2012] that I have to say absolutely should have won. I don't know what happened to him. He just disappeared."
Mr Trump acknowledged that he had backed Mr Romney in 2012 and said he supported Mr Romney financially.
"I could have said: "Mitt, drop to your knees," and he would have dropped. He was begging me," said Mr Trump.
"He let us down. It's one thing when you lose and you work and you work. But he let us down. He went away. His campaign manager was terrible. Stuart Stevens or something."
Mr Trump said Mr Romney "chickened out" in 2016 against Hillary Clinton and that he was a "choke artist".
Citing his growing popularity in the polls, he said: "The pundits say he has [I have] plateaued - you know, plateaued?"
"I'm very proud of this. This is not a plateau, this is a movement," he added.
Mr Trump asked security guards to take out three protestors from the rally within 15 minutes of the start of his speech. He said he had been criticized for being "too soft" and "too harsh" on people at his rallies.
"So now I've adopted a nice: "alright, please get them out"," said Mr Trump.
Mr Romney, the 2012 Republican presidential nominee, asked voters earlier on Thursday to "make the right choice", warning that Mr Trump's economic plan would sink the US in a recession and that Mr Trump could not remember details from his healthcare plan.
"Dishonesty is Trump's hallmark: He claimed that he had spoken clearly and boldly against going into Iraq. Wrong, he spoke in favor of invading Iraq. He said he saw thousands of Muslims in New Jersey celebrating 9/11. Wrong, he saw no such thing. He imagined it," Mr Romney said.
"Donald Trump tells us that he is very, very smart. I'm afraid that when it comes to foreign policy he is very, very not smart," Mr Romney added earlier in Utah on Thursday.
His comments were supported by Ohio Governor John Kasich and Senator John McCain.
New Jersey Governor Chris Christie jumped in to the debate in an attempt to justify his endorsement of Mr Trump. His facial expression went viral after he stood behind Mr Trump on Super Tuesday, looking uncomfortable and even "scared".
"I am not a full-time surrogate of Mr Trump," he told the press.
Celebrities have joined the call to bring Mr Trump down, including comedian John Oliver on The Daily Show and Miley Cyrus, who threatened to leave the US if he becomes President.
Join our new commenting forum
Join thought-provoking conversations, follow other Independent readers and see their replies