Five-year-old Muslim girl cries when she sees Donald Trump winning US election
The vast majority of American Muslims voted for Hillary Clinton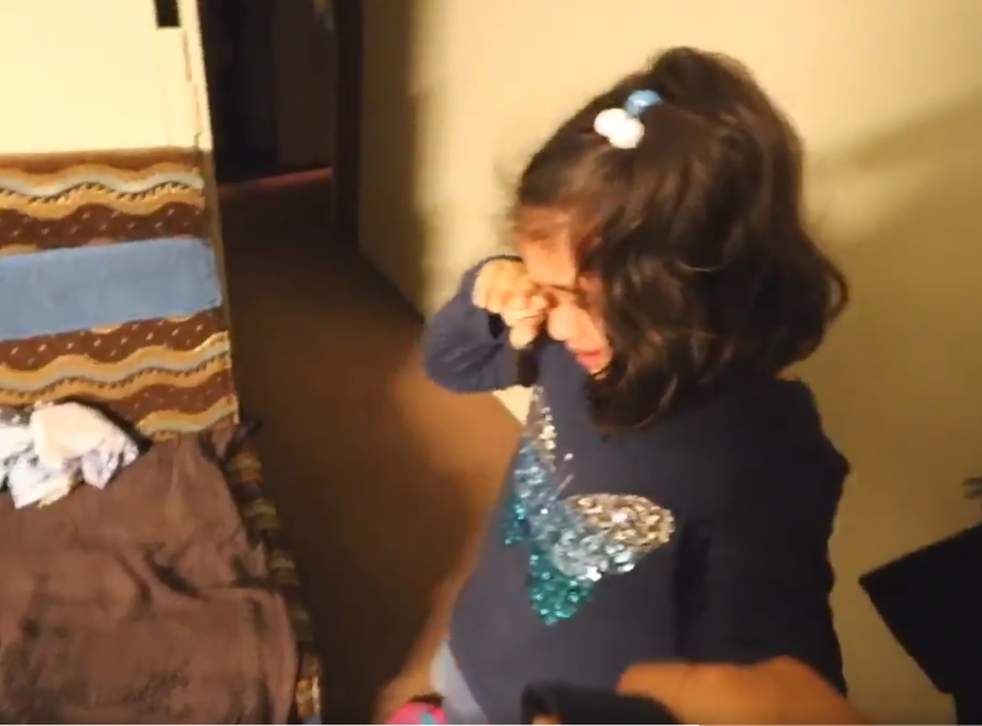 A man has shared a video online of a five-year-old Muslim girl crying at the news Donald Trump was defeating Hillary Clinton to become President of the United States.
As the Republican politician, who once said he would ban Muslims entering the country, stormed to a shock victory, Muslim Americans across the country expressed fear and sadness, as well as defiance, on social media.
YouTube personality Adam Saleh, 23, tweeted the video of his niece Reema late on Tuesday night in the United States, as Mr Trump first pulled into the lead. Overnight his post was retweeted more than 5,500 times.
Following the Paris attacks in December, Mr Trump wanted to stop Muslims from entering the United States entirely until he could "figure out what is going on". He later backtracked slightly, saying during the second presidential debate: "The Muslim ban is something that in some form has morphed into extreme vetting from certain areas of the world."
But Muslim Americans do not appear to have been comforted.
Iranian American actor Pejman Vahdat wrote on Twitter on Wednesday: "I'm a MUSLIM AMERICAN and I am terrified to my core. I'm scared 4 my family 4 my country 4 my friends. Please please stay safe."
Another woman wrote: "'Everyone needs to relax' I AM A MUSLIM AMERICAN WHO IS ABOUT TO BE LIVING UNDER A TRUMP PRESIDENCY. DO NOT TELL US TO RELAX."
A third user, Jahan, said: "As an Arab Muslim living in America, I am incredibly scared for not only my people, but for minorities eveywhere."
Many feared Mr Trump's victory, which has been applauded by members of the Klu Klux Klan, could see an increase in racism and hate crime.
Mr Trump has also previously said Mexicans are rapists and has suggested building a wall to keep them out.
The President-elect's supporter base was overwhelmingly white, with the majority of Hispanic, Black, and Asian voters favouring Hillary Clinton.
A national survey of 800 Muslims in October suggested 86 per cent would vote for Ms Clinton.
Bill Doherty, Professor of Family Social Science at the University of Minnesota and a practising psychotherapist, launched a "Citizen Therapists Against Trumpism Manifesto" during the summer, which has been signed by more than 3,000 US psychotherapists. He said it was possible that Mr Trump's win would lead to a rise in hate crime, as happened in the UK after the anti-immigration Brexit campaign.
"Clients are coming in with a lot of emotional distress related to Trump and the campaign," he told Refinery29. "Anxiety is the top one, particularly among minority people and immigrants. There is fear that they will be deported, and a fear that they will be ostracised in the country.
"We're also seeing women who have had experiences of sexual abuse [experiencing] a triggering of flashbacks of their experiences."
He said although he did not know yet if hate crime had increased, it appeared anecdotally that it could.
"I don't know if there's data yet on hate crimes but we are certainly hearing the stories," he says. "Bullying is increasing, an example being a high school basketball game with a school that had a lot of Latino athletes and people in the crowd from the team were chanting 'Trump Trump Trump' and 'Build the wall,' that sort of thing."
US Presidential election: key moments in pictures

Show all 12
Mr Saleh, has 235,000 followers on Twitter and often makes YouTube videos -- or vlogs -- with his niece Reema.
At the start of the election night clip, Reema can be heard telling her uncle: "I'm voting for Hillary Clinton and Bernie Sanders".
As the results roll in, she starts to cry uncontrollably, at one point burying her head in the sofa. She only calms down when Mr Saleh assures her that Trump has not won yet.
Thousands of Twitter users expressed sympathy with Reema, while other Muslims shared proud and defiant messages on the social media site.
A user called Hasib tweeted: "We stand strong as Muslims. We support all transgressed, voiceless, rights impeded Yesterday, Today, & Tomorrow Unapologetically Muslim"
Writer and activist Imraan Siddiqi said: "We refuse to be the victim and refuse to capitulate to conditions that allowed a white supremacist to assume the highest office in the land."
Register for free to continue reading
Registration is a free and easy way to support our truly independent journalism
By registering, you will also enjoy limited access to Premium articles, exclusive newsletters, commenting, and virtual events with our leading journalists
Already have an account? sign in
Register for free to continue reading
Registration is a free and easy way to support our truly independent journalism
By registering, you will also enjoy limited access to Premium articles, exclusive newsletters, commenting, and virtual events with our leading journalists
Already have an account? sign in
Join our new commenting forum
Join thought-provoking conversations, follow other Independent readers and see their replies