Donald Trump 'will not change his rhetoric' when he meets Mexican president
The Republican candidate is poised to deliver a speech outlining his position on immigration
Andrew Buncombe
New York
Wednesday 31 August 2016 03:28 Comments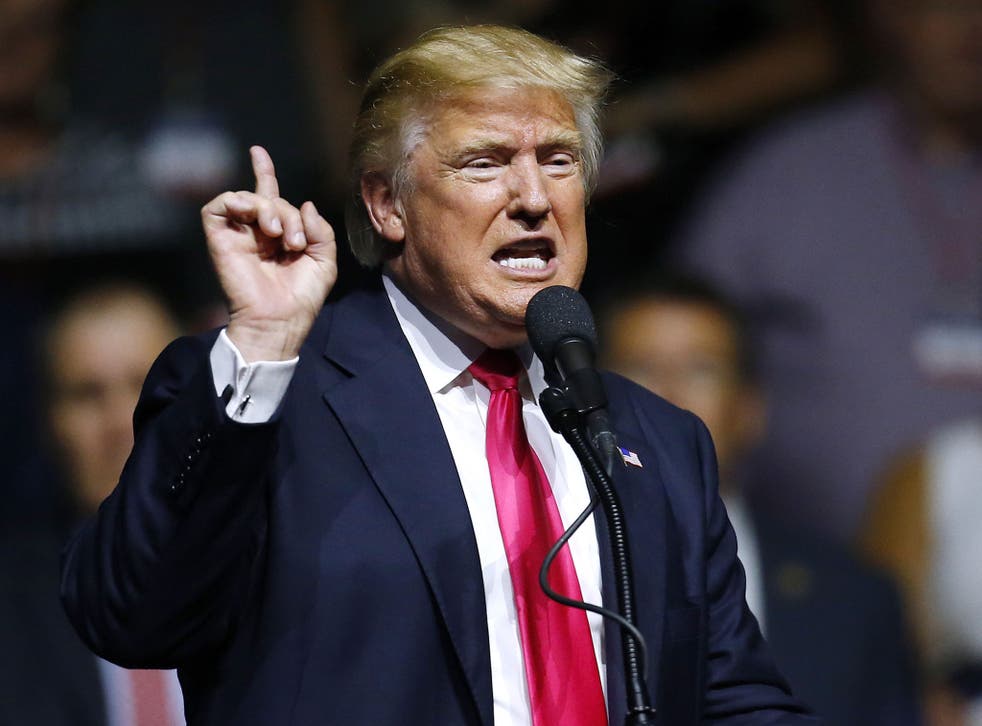 Donald Trump has not changed his position on an amnesty for undocumented immigrants and will not alter his rhetoric when he meets with Mexico's president, his campaign chief has said.
Speaking on NBC ahead of trip to Mexico, Kellyanne Conway, was asked if Mr Trump would change his approach in his meeting with President Enrique Pena Nieto. She said, "I think you'll see a very presidential Donald Trump."
Asked if the tycoon planned to stand by his campaign position of forcing out people living in the US illegally, she said, "He's made very clear that he hasn't changed his position at all when it comes to enforcing the law."
The comments campaign ahead of what may emerge as the political stunt of the campaign.
The already strange presidential campaign of Donald Trump reached utterly bizarre levels on Tuesday night when the New York tycoon said he was going to make a rapid dash to Mexico to visit the country's president ahead of delivering a much-anticipated speech on immigration. There were reports he may even make his address while in Mexico.
US media had said the Republican candidate had been weighing up the prospect of a high-profile, attention-grabbing trip to meet with Mexican President Enrique Peña Nieto. Then, Mr Trump announced on Twitter that he was indeed going.
"I have accepted the invitation of President Enrique Pena Nieto, of Mexico, and look very much forward to meeting him tomorrow," he wrote.
The Mexican president confirmed on his own Twitter account that Mr Trump had accepted his invitation and that the tycoon and he would meet in private.
10 of the scariest things Donald Trump has ever said
The Mexican leader invited both Mr Trump and Democratic presidential nominee Hillary Clinton to visit Mexico last Friday, his office said in a statement provided to the Washington Post on Tuesday night. Although the statement said no meetings had been confirmed, it said both campaigns received the invitations "on good terms."
Mr Trump, sensing an opportunity, decided over the weekend to accept the invitation and push for a visit this week, the Post reported.
The prospect of the unprecedented trip comes as Mr Trump is juggling what could be the most challenging policy decision of his campaign - namely his position on immigration. The 70-year-old stormed to victory in the Republican primary contest by promising to build a wall along the Mexican border, force Mexico to pay for it, and to deport the estimated 11m undocumented migrants from Central America.
People who will flee America if Donald Trump wins

Show all 8
Yet conscious that he needs to reach out to Hispanic voters if he is to have any chance of winning the White House, Mr Trump has in recent days been reviewing his position on the issue. In what observers said was a softening of his views, Mr Trump has spoken warmly of those migrants who have travelled to the US illegally but then contributed to their families and to US society.
After one such roundtable meeting this month with Hispanic leader, his new campaign manager said Mr Trump's stance on deportations was "to be determined".
On Tuesday night, Mr Trump delivered a speech in Everett, Washington, where he again vowed that he would help those in the country who were struggling.
"I will fight for you," he declared. "I will fight for you like no one ever has before."
Mr Trump is scheduled to speak on immigration Wednesday evening in Phoenix. Yet, some reports said Mr Trump may choose to deliver his speech from Mexico.
The Associated Press said that foreign trips by presidential candidates, even to a neighboring country such as Mexico, were an enormous logistical and security undertaking. It said it was unclear whether Mr Trump could receive clearance from Secret Service to make the trip or whether his small campaign team could organise the logistics in time for even a short visit.
New Jersey Governor Chris Christie, a close adviser, has been among those pushing Mr Trump to make the trip, the news agency said. Mr Christie made his own successful trip to Mexico City in September 2014, and has a warm relationship with the Mexican president.
The Mexican president has strongly opposed Mr Trump's comments and denied suggestions thta Mexico would pay for a wall. On Tuesday night, there was intense speculation as to what the Mexican leader had to gain from inviting the former reality television star to meet with him. There was no immediate response from the campaign of Hillary Clinton.
Register for free to continue reading
Registration is a free and easy way to support our truly independent journalism
By registering, you will also enjoy limited access to Premium articles, exclusive newsletters, commenting, and virtual events with our leading journalists
Already have an account? sign in
Join our new commenting forum
Join thought-provoking conversations, follow other Independent readers and see their replies