Georgia special election: Donald Trump attacks Democrat Jon Ossoff for not living in congressional district
The candidates don't want to talk about Mr Trump, but he doesn't want to talk about anything else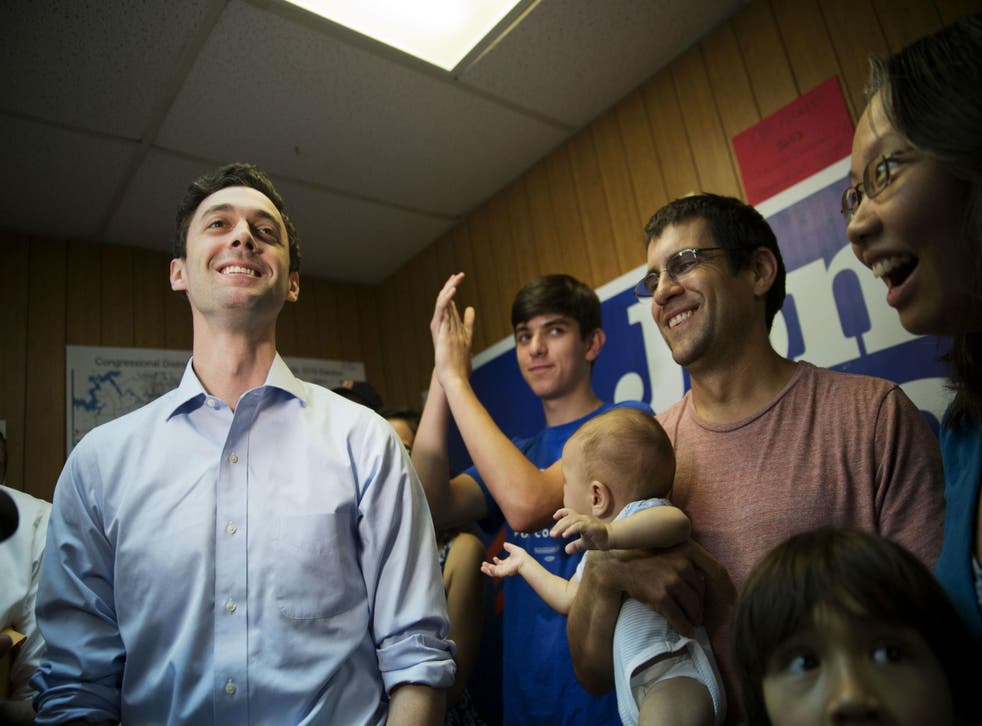 Donald Trump has launched a fresh attack on the Democratic candidate in a special election that many see as a referendum on his presidency and which his opponents hope will deliver him a bloody nose.
As polls opened in Georgia's 6th congressional district, Mr Trump repeated his criticism of Democrat Jon Ossoff, accusing him of being "weak on crime and security".
He also claimed the 30-year-old would raise taxes and said he did not live in the district. "Karen Handel for Congress. She will fight for lower taxes, great healthcare strong security-a hard worker who will never give up," he said.
Mr Trump's comments came as Democrats across America, desperate for a win after the surprise loss to Mr Trump last November, have poured millions of dollars into the contest in Georgia, making it the most expensive congressional race in history. They hope a win here will inspire the party's grass roots, and lead to a turnaround of fortunes in the 2018 midterms.
The seat, which has been held by Republicans since 1979 and was once the district of Speaker Newt Gingrich, became vacant after incumbent congressman Tom Price joined Mr Trump's cabinet.
Both Mr Ossoff and Republican Karen Handel, 55, a social conservative who previously served as a senior state official, have focussed on local issues rather than talk about the national situation. Reports suggest Ms Handel originally kept some distance between herself and Mr Trump, though the President visited to support her campaign.
On Tuesday morning, as the most recent poll, commissioned by WSB, put Mr Ossoff on 49 points and Ms Handel on 48.9, Mr Ossoff again tried to talk about his district, centred on the frequently well-heeled suburbs north of Atlanta.
Jon Ossoff answers questions on eve of polling day for Georgia congressional election
Appearing on CNN, he was asked repeatedly about the national implications and whether the contest was about Mr Trump.
"I'm sure there are national implications, but it's my job to consider them," said Mr Ossoff, who lives with his girlfriend a few miles outside of the district but who grew up here. "My job is to be focussed on representing the people here, not a national political circus."
Yet if the candidates have been less than enthusiastic to talk about Mr Trump, the President has repeatedly sought to insert himself into the contest, even though his national approval ratings are low.
It is not as though Mr Trump even did particularly well here in a traditionally solid Republican area during the presidential election. Indeed, while Mitt Romney bettered Barack Obama by 23 points in 2012, Mr Trump beat Hillary Clinton in the district by less than two points.
World news in pictures

Show all 50
Reuters said unprecedented sums of money have poured into the two candidates' campaigns. Total spending in the race topped $56m, according to the Centre for Responsive Politics, a watchdog group - nearly double the previous record.
With all that money sloshing around, at times the contest has become nothing less than ugly. One television advert paid for by a conservative political action group, linked Mr Ossoff to last week's shooting attack on a Republican baseball practice game outside of Washington DC.
"The unhinged left is endorsing and applauding shooting Republicans," the ad's narrator says, as it shows images of injured congressman Steve Scalise being carried away on a stretcher. "When will it stop? It won't if Jon Ossoff wins on Tuesday."
Both Mr Ossoff and Ms Handel condemned the advert. "The man is fighting for his life. I think it's disgraceful to politicise it, and I think Secretary Handel should call for it to come down," Mr Ossoff told reporters on Monday.
Ms Handel's campaign said in a statement: "For any group to use the shootings this week for political or personal benefit is shameful. This group should be ashamed."

Join our new commenting forum
Join thought-provoking conversations, follow other Independent readers and see their replies