HR McMaster: Who is Donald Trump's new national security advisor?
Serving three-star general is the third choice for the job after the first resigned and the second turned it down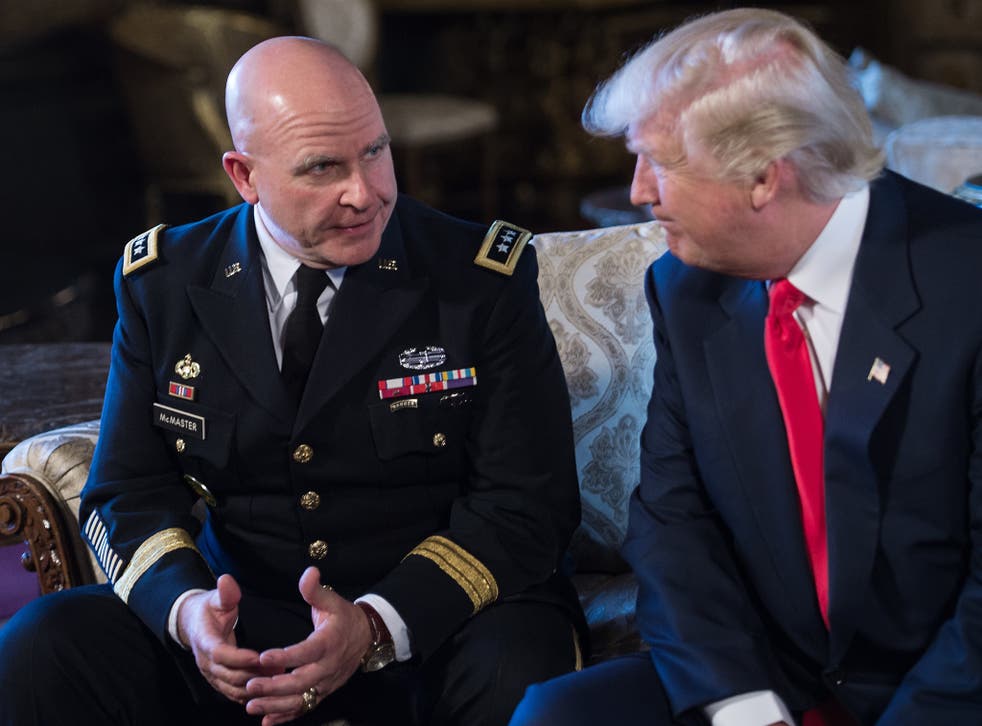 Donald Trump has named Lieutenant General Herbert Raymond "HR" McMaster as his new National Security Adviser after Lt Gen Michael Flynn was forced to resign.
Mr Trump called his choice "a man of tremendous talent and tremendous experience".
With little foreign experience and no military background, the US President has appointed a number of serving or retired generals to key posts in his cabinet.
General McMaster fits into the same category.
The three-star serving general was educated at the US Military Academy, more commonly known as West Point.
However, General McMaster was initially seen as a "rebel" within the military establishment after he published his PhD thesis as a book in 1997.
It argued that military officers were to blame for the failures of the Vietnam War because they had not told Washington about what was really happening on the ground
He would however, go on to prove himself on the battlefield, rising to prominence during the Gulf War.
After commanding the US 2nd Army Cavalry Regiment in one of the biggest tank battles since the Second World War, he was awarded a Silver Star - the US military's third-highest decoration for valour in combat.
He has gone on to be "widely acceptable" in military and intelligence circles and become the "opposite of Michael Flynn", according to Jacob Parakilas, the Assistant Head of the US & Americas programme at Chatham House.
He told The Independent: "McMaster went from being seen as kind of rebel within the military service who wrote a PhD thesis on how army officers failed to tell their political bosses what was actually going on – leading to a tragedy and a failed war – to being widely acceptable in the establishment.
"Whereas Flynn went from being widely respected to being much more controversial."
General Flynn was forced to resign last week when it was revealed he had been secretly talking to Russian officials about the economic sanctions and a false assurance he gave that he had not discussed the issue of sanctions.
Senior officials in Mr Trump's team were told a month ago by the acting US attorney general they feared the falsehoods made him vulnerable to potential blackmail from Moscow.
His appointment had previously generated controversy over his previous statements suggesting fear of Muslims was "rational" and called Islam a "political ideology" that "hides behind" religion – comparing it to a "malignant cancer".
Dr Parakilas said General McMaster's appointment was in-keeping with the appointment of General James "Mad Dog" Mattis as Defense Secretary as was looking for someone who can run an administration with minimal controversy.
He said: "McMaster is a widely respected strategic thinker, he has a record of military achievement and he is very widely respected among national security professionals from both the democratic and republican sides.
"I think [Mr Trump] is aware he has got to get this pick right because if he is burns through national security advisors very, very quickly then it will appear to the outside world that he is incapable of managing the national security of the country.
"That means it would appear to the outside world that he won't be able to manage the crises that will inevitably happen in his presidency."
In pictures: Protests, pomp and Donald Trump

Show all 30
Dr Parakilas said Gen McMaster could push Mr Trump's policy in a more "conventional" direction and could influence future policy decisions such as whether to reinstate a revised "Muslim ban".
"The extent to which he will be able to steer him away from things like that will depend a lot on how successful he is in building alliances with Congress, with the State department, with the Defence department to win the internal bureaucratic battle against people who would be in favour of it like Steve Bannon", he explained.
General McMaster is unusual in that he is still a serving member of the military and will remain so during his tenure.
This means he is obliged to say yes to the President whereas as another national security pick, retired Vice-Admiral Robert Harward, refused the post last week after reportedly being told he could not bring in his own team and despairing of the chaos within the White House.
Join our new commenting forum
Join thought-provoking conversations, follow other Independent readers and see their replies