Jill Biden's 'virtual' guest-list includes transgender teen, Dreamer and advocate for gun reform
First Lady also invites childcare worker and advocate for broadband internet in Native communities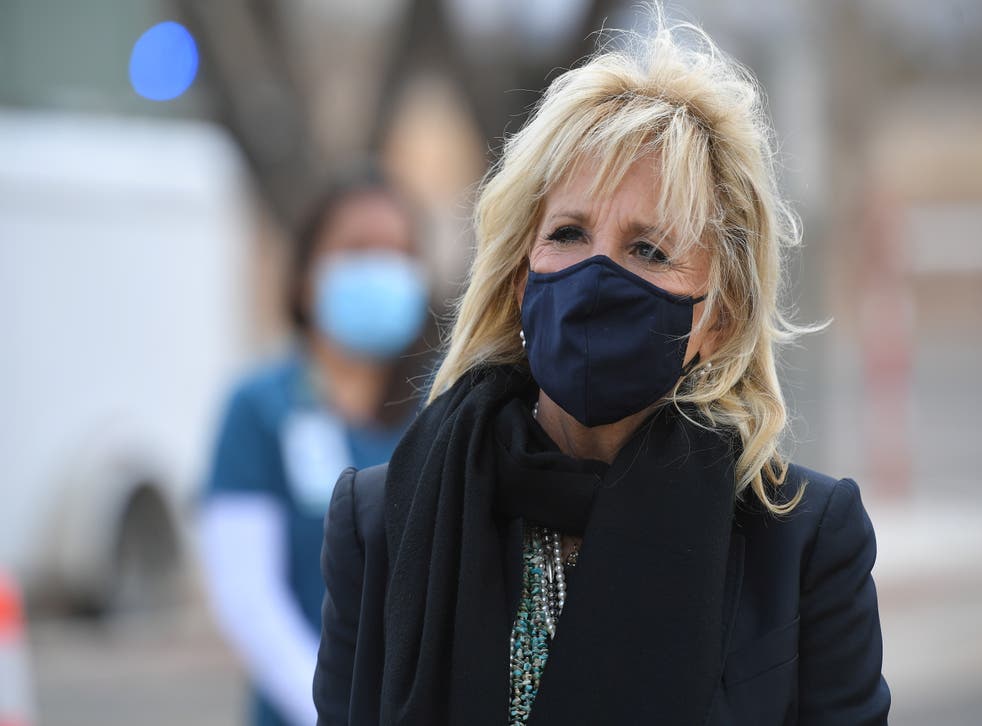 Leer en Español
First Lady Jill Biden has invited five guests to virtually attend President Joe Biden's address to a joint session of Congress on Wednesday night.
Because of Covid-19 protocols, guests will not sit in the traditional viewing box in the House chamber to listen to the speech.
Each of her guests represent a community impacted by the policies the president will address in his remarks.
Maria-Isabel Ballivian is the executive director of Virginia's Annandale Christian Community for Action Child Development Center, which serves 200 at-risk children in Fairfax County, according to the White House.
The president's American Families Plan – which he will detail in his speech – would provide universal preschool education for all American children and federally fund childcare and paid family and sick leave.
After her aunt was killed by her husband, Tatiana Washington of Milwaukee, Wisconsin, become involved in gun violence prevention efforts. Her aunt's husband was a Milwaukee police officer, she said during a virtual event on Wednesday.
She works with gun control advocacy group March for Our Lives and is the executive director of a youth organisation focussed on preventing gun violence.
She also became involved with Black Lives Matter organising efforts in Wisconsin following the police killing of Jacob Blake in Kenosha in August.
"It's time to address the root causes of violence, because enough is enough," she said.
Mr Biden's American Jobs Plan would provide $5bn for community-based gun violence prevention programmes.
He also has urged Congress to pass several pieces of gun control legislation, including renewing an assault weapons bans and issuing a ban on high-capacity magazines. He also has signed six executive orders directing the Justice Department to crack down on gun violence.
Javier Quiroz Castro, a registered nurse from Mexico who lives in Houston, is a recipient of the Deferred Action for Childhood Arrivals programme for people who arrived in the US with migrant families as children.
In his speech, Mr Biden is expected to press Congress on his expansive immigration reform proposal to put millions of immigrants on a path to citizenship.
Stella Keating – the first transgender teenager to testify in the US Senate during Equality Act hearings last month – is a 16-year-old high school sophomore from Tacoma, Washington.
In February, Democrats in the House of Representatives passed a version of the Equality Act, which would extend federal civil rights protections to include sexual orientation and gender. But its passage – uniformly opposed by Republicans – will face a GOP blockade in the Senate, dodging the president's pledge to sign it into law within his first 100 days.
He covered key parts of the legislation – ensuring equal rights protections around sexual orientation and gender in health, housing, education and credit – in an executive order signed on his first day in office.
Theron RutynaI is a technical director of the Red Cliff Band of Lake Superior Chippewa, which promotes broadband internet access to Native American communities in Wisconsin.
Dr Biden recently completed her third visit to the Navajo Nation within eight years to promote coronavirus vaccination efforts and hear about challenges to healthcare access in Tribal communities during the pandemic, which has claimed more than 1,200 Native lives.
The public health crisis has also underscored existing inequities in healthcare as well as broadband internet access, running water and sufficient plumbing, among other issues facing Indian Country.
Mr Biden has made nationwide broadband internet access, particularly in lower-income, rural and Tribal communities, a key component of his infrastructure-focused American Jobs Plan.
Join our new commenting forum
Join thought-provoking conversations, follow other Independent readers and see their replies